Wrist corsages are trending for prom season and summer weddings. I'll show you the basics of how you can DIY a beautiful silk flower wrist corsage with a high fashion look for your special event, without the designer price tag.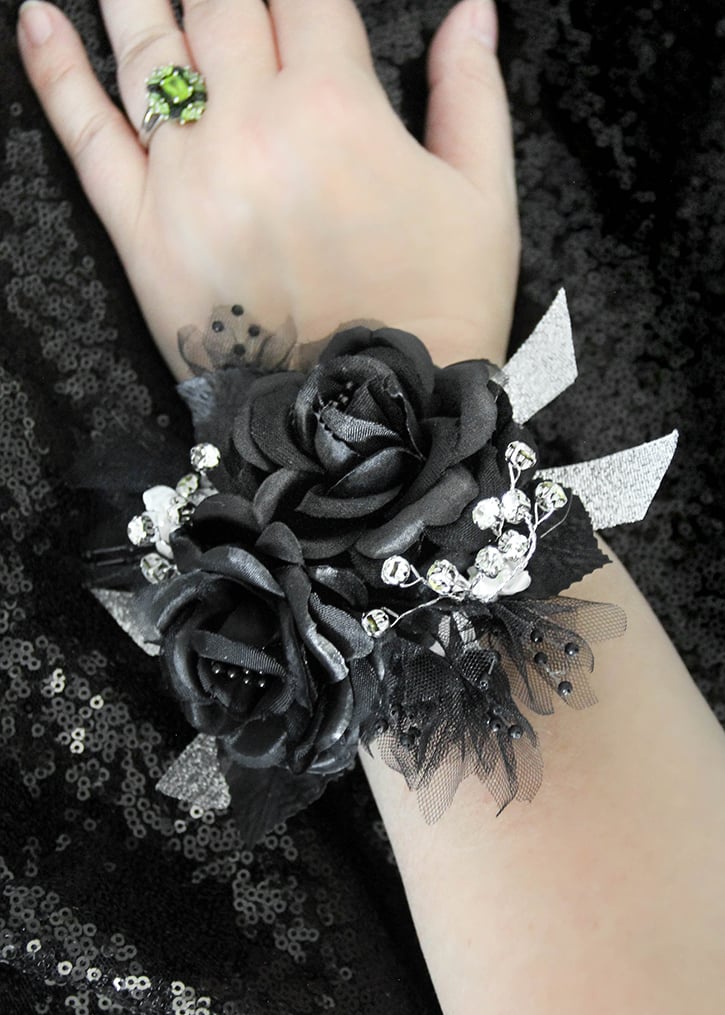 Get the look you want.
The dress corsage tradition has been modernized to fit current styles and can be seen adorning fashion runways and even some of your favorite celebrities on the red carpet! A wrist corsage is an easy way to wear this chic-again fashion statement. Sure, you could buy one, but here a few reasons why you should make your own. First, ready made ones can be pricey, especially ones made with fresh flowers. Those can start to wilt quickly, and are very fragile. A wrist corsage made with silk flowers can be worn more like a piece of jewelry, and make a nice keepsake from a special occasion.
For weddings, it's easy to coordinate with colors and theme. It can also be easy to make coordinating multiples and matching boutonnieres for the wedding party.
For proms and formal occasions, you can create something unique to go with your dress. It can be a statement piece, or something simple and elegant that enhances the overall look you are going for.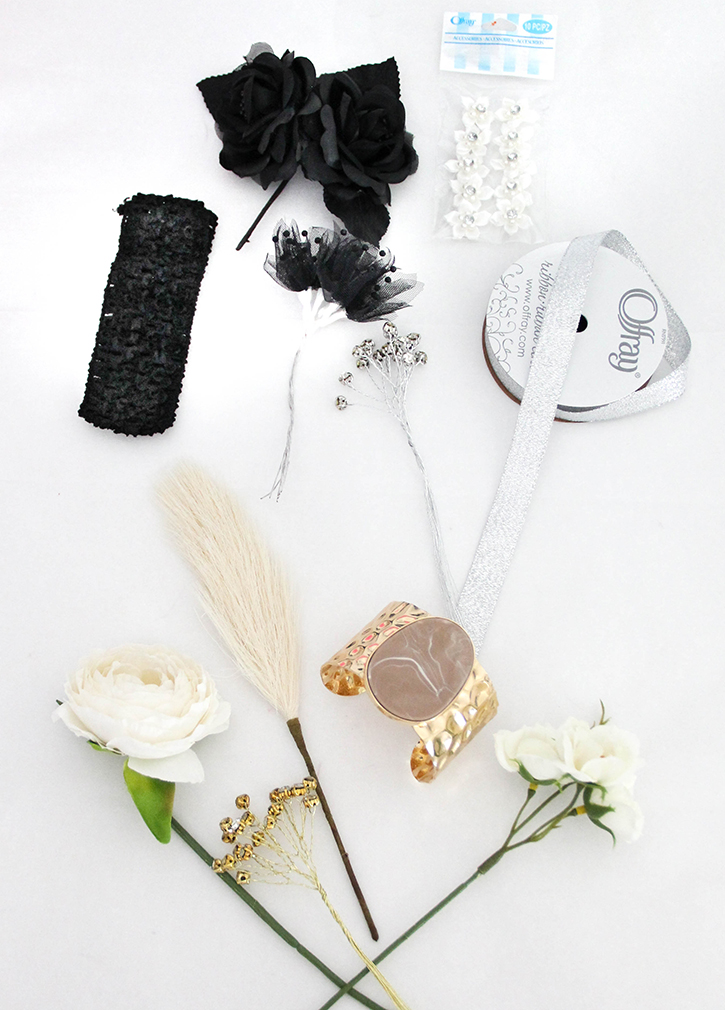 Basic corsage materials.
First of all, after choosing your dress, decide on the color scheme or theme you want. It can be modern, natural, casual, dramatic, bold or extravagant. The wedding supplies department at a craft store can be a great source for a wide variety of inexpensive elements such as single flower picks, sprays of pearls, beads and rhinestones.
Floral departments these days offer very realistic flowers, succulents, leaves and even dried flowers for a more natural look. You can also find some impressive oversized flowers there sometimes!
If you want a more unusual look, seek out other departments for more unconventional materials like shells or jewelry elements.
For a base, you can use blank cuff bracelets like this from the jewelry findings department or online from craft stores. Or use a thrifted cuff bracelet with an interesting texture or color for a more interesting one of a kind look.
Another alternative to make the wristband for your wrist corsage is to use any elastic material, even sturdy hair ties! Wide elastic headband material comes on a spool, with several colors available. These make good options if you want something that wears more comfortably, or to make multiple wrist corsages.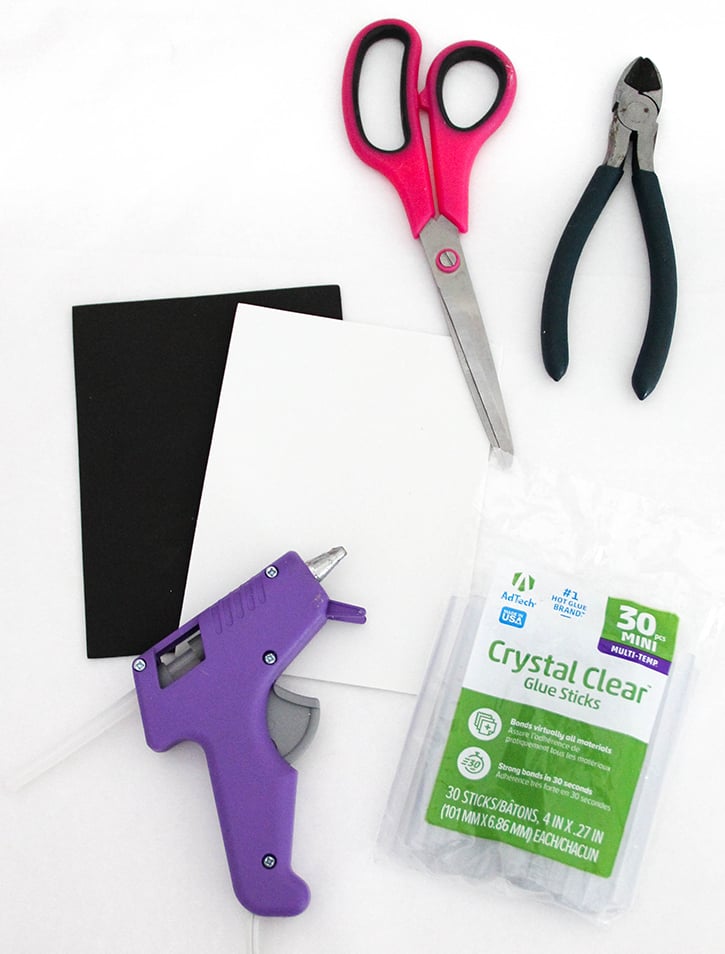 The tools you'll need.
For this project you will need craft scissors, floral shears or wire cutters, a glue gun and plenty of glue sticks.
You can use felt, but I recommend craft foam for it's durability and softness. This flexible craft foam comes in sheets and is available in a wide variety of colors. You might want to use a neutral color like white or black, or any color that matches your arrangement.
A measuring tape and pencil might also come in handy.
It's helpful to lay down a piece of baking parchment-yes, baking parchment-on your work surface. Anything that might get stuck on with hot glue will peel cleanly off the surface after it cools.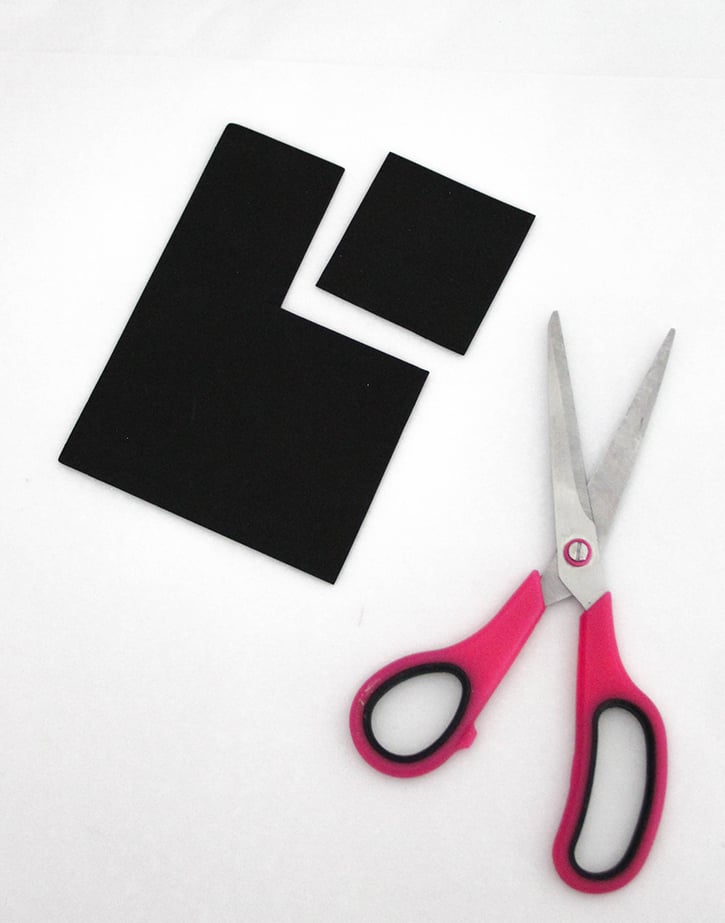 First steps.
Think of the corsage as a mini flower arrangement. You will need a base to glue the pieces in the arrangement to, before attaching it to the wristband. For attaching to an elastic band, cut two pieces of craft foam, each a couple of inches square or in a rectangle shape.
Craft foam is ideal for this part of the project. You could use felt, but the foam is also soft and flexible. It won't wear down as as quickly, and hot glue adheres to it with a strong bond. Another advantage is that it's waterproof, so it won't stay damp if it gets wet.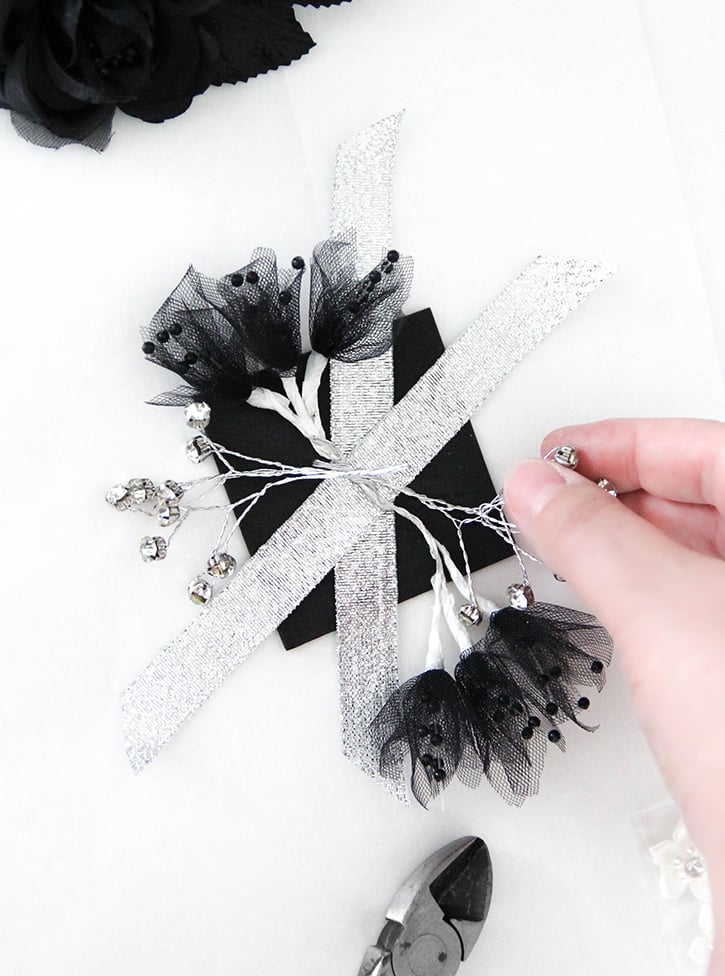 First design: Elastic Wristlet
Trim off any excess wire from the picks, down to about an inch or so. It makes them easier to work with and arrange.
Before gluing anything into place, lay out the overall design of arrangement on one of the squares of foam. If you're using any ribbon, cut the strips or make the loops. Use flatter pieces or anything with a thin stem on the bottom, and layer pieces with thicker stems on top. Once you have the arrangement you want, you can take a picture of it to use as reference as you rebuild it.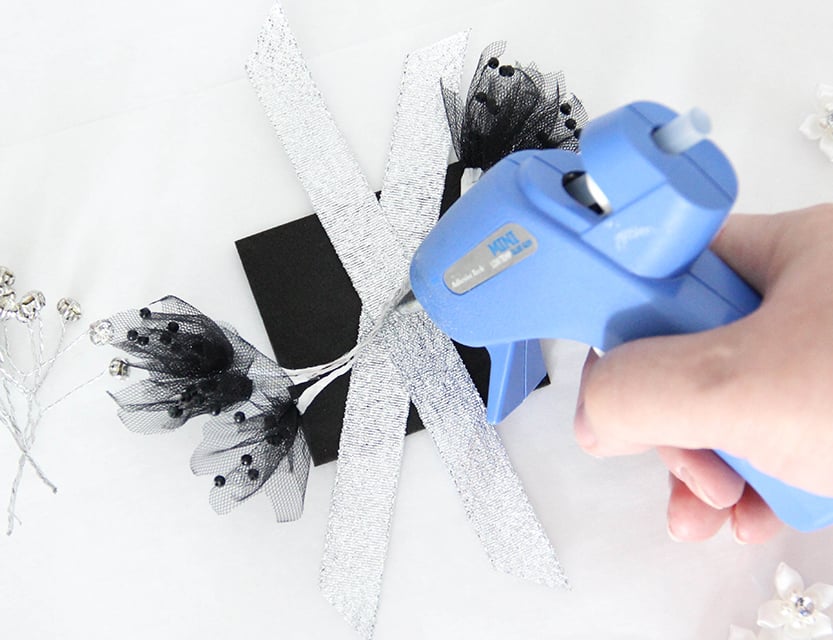 Putting it together
Start with gluing the bottom layers, and work your way up. Tack elements into place with the hot glue as you reassemble the arrangement.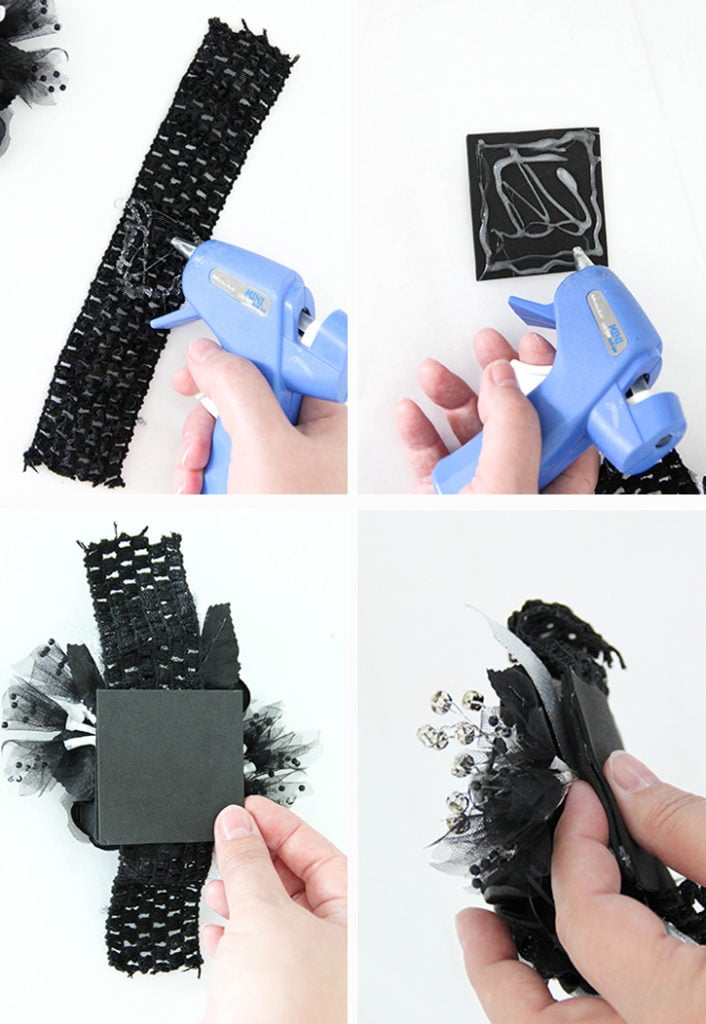 If you are using elastic material on a spool, measure enough of it to wrap around your wrist comfortably without slipping off, with some extra to overlap on the bottom of the wristlet.
Glue the square of the foam with the corsage arrangement to the front center of the elastic. Then glue the other foam square to back center of elastic to make a back for the corsage. Seal the edges of the foam squares together with glue by pinching them together until the glue cools.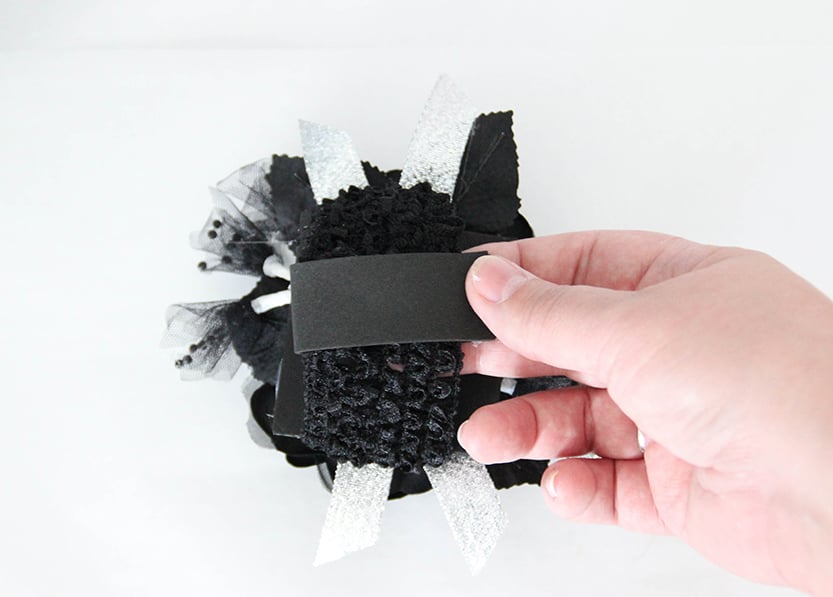 Finishing touches.
Take the ends of the elastic material and glue them together so that the ends overlap. Make it neat by cutting a half inch wide strip by of foam long enough to fold over the seam, and glue the ends together. This make a tab that will cover the seam and prevent snagging and wear on the wristlet.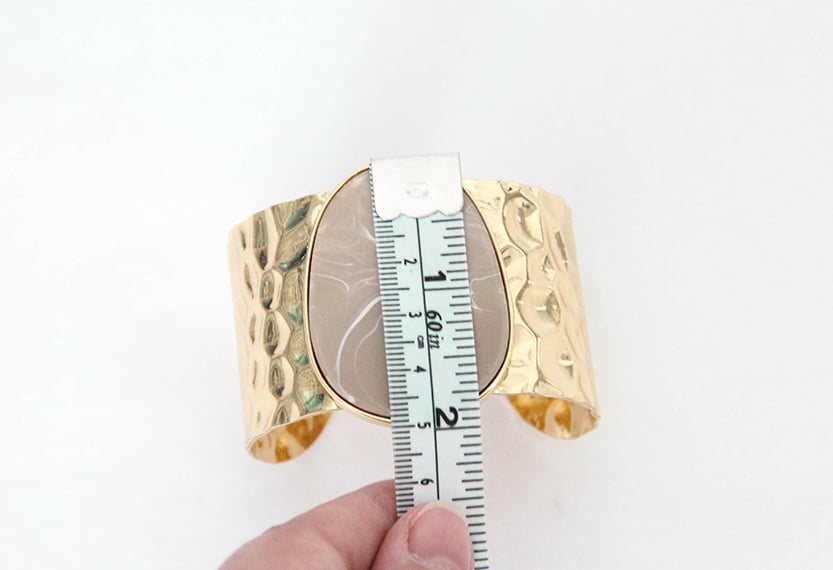 Second design: Bangle Bracelet
Choose a comfortable cuff bracelet wide enough to hold the corsage arrangement you're going to add to it. This thrifted bangle bracelet has a flat central decoration that makes a great foundation to attach the corsage to. Measure the width of the bracelet so that you know what size to cut your piece of craft foam.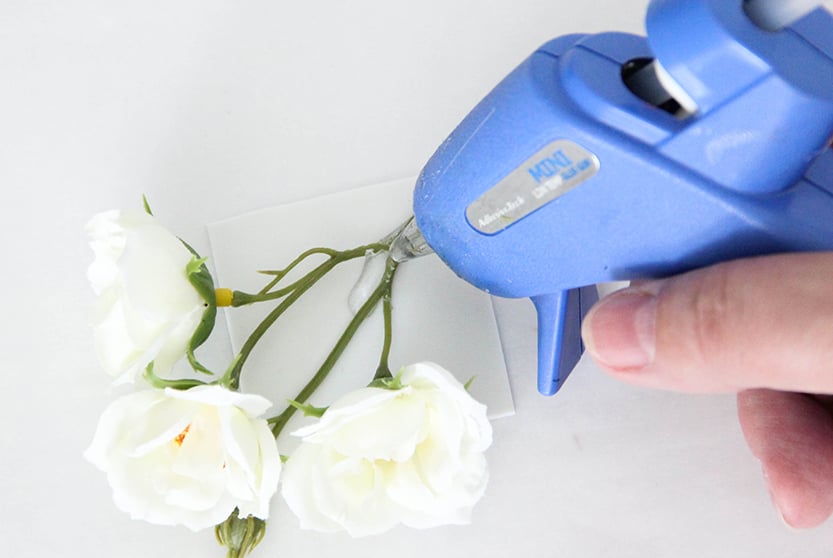 This time, cut out a single piece of foam to cover the top of the cuff. Arrange the corsage and reassemble it, just like the steps from the first wrist corsage.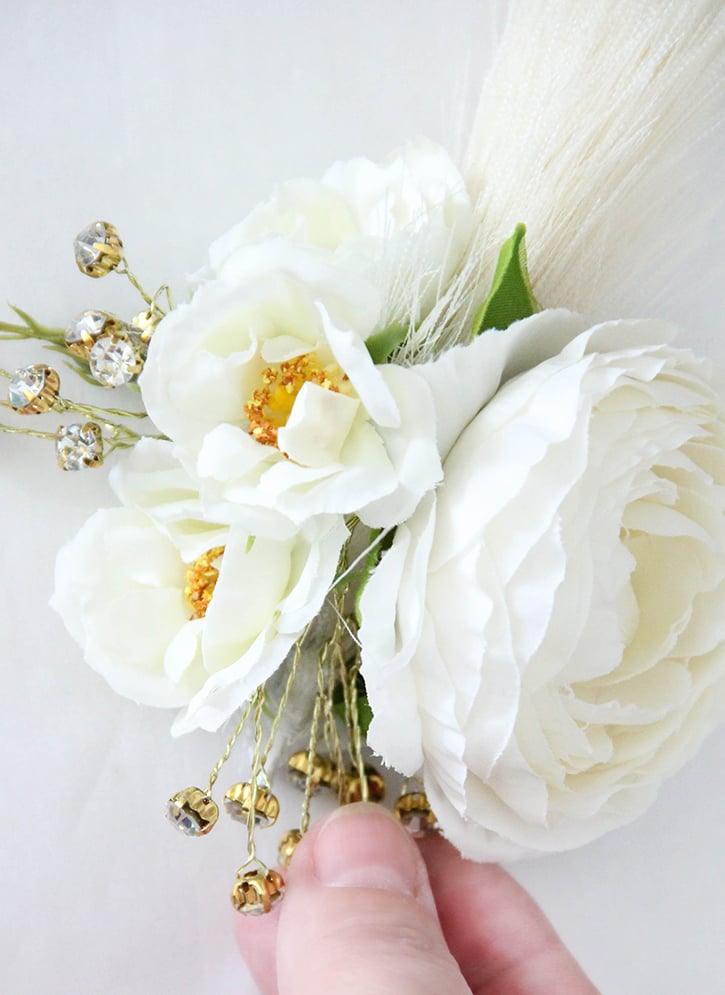 Add some bling with sprays of rhinestones. They can have thin wires and can be tucked in on the sides and tacked down with hot glue.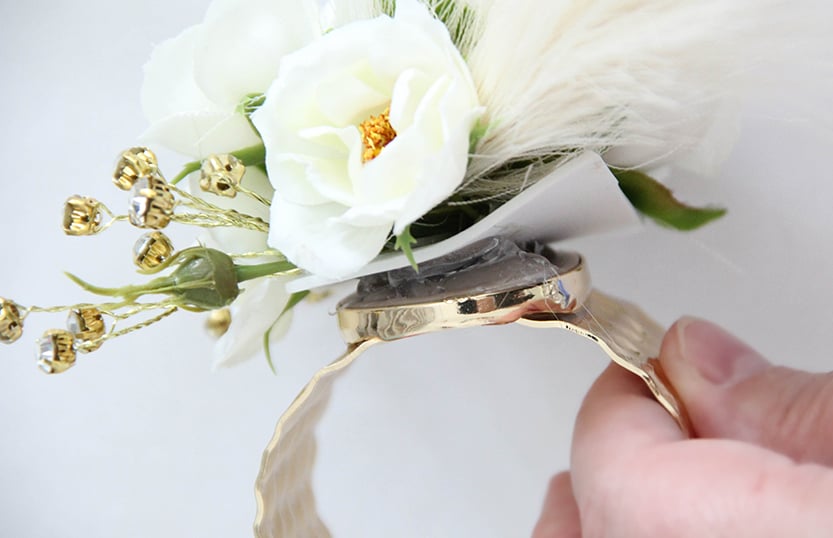 Once your corsage is completed, adhere the arrangement on foam to the top of the bangle with hot glue.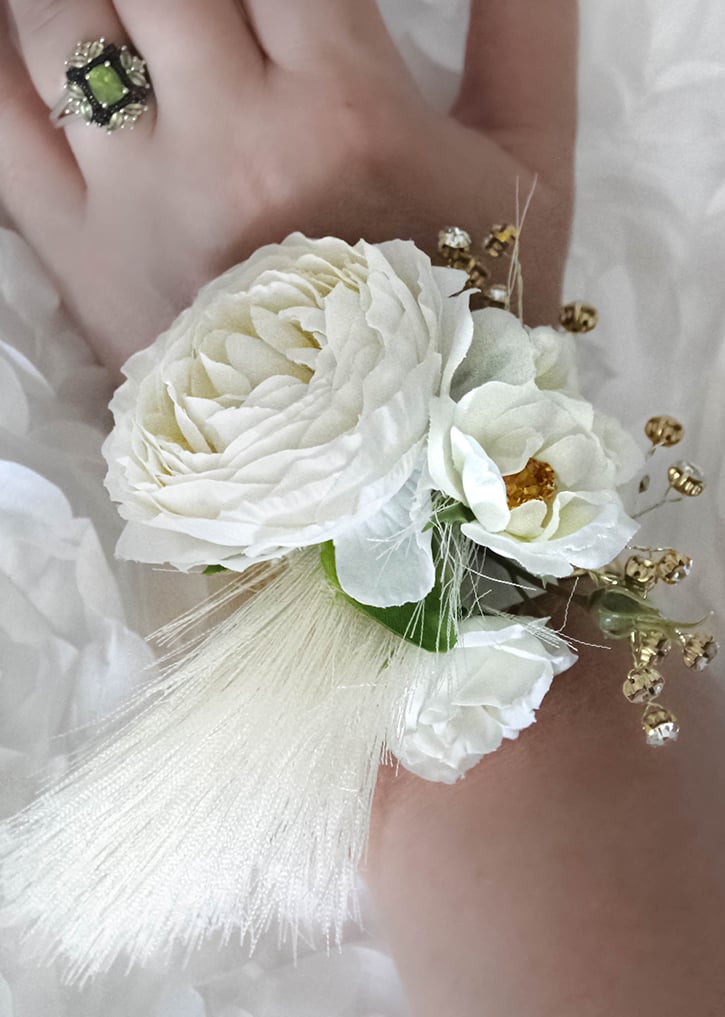 Now it's ready to wear!
Wrist corsages are commonly worn on the left wrist. Wear it on the right if you're left handed. The idea is that they are so ornamental and delicate, they should be worn on the hand you don't primarily use to prevent damaging them or snagging them.
You can custom make a beautiful silk flower wrist corsage with a high fashion look for any special event. A beautiful wrist corsage made with silk flowers wears more like a piece of jewelry that could be worn again on special occasions. They can be kept as a memento from your wedding day, and you can make some to gift to the special people in your wedding party. Make your prom or formal dance even more memorable by creating a unique wrist corsage to complete your look as you make your grand entrance!
Related project: DIY Hanging Jewelry Holder