Handcraft a Vintage Valentine Wreath that you'll fall in love with! Use die cut ephemera and three dimensional elements like ribbons and paper flowers to create a look that adds nostalgic charm to your décor.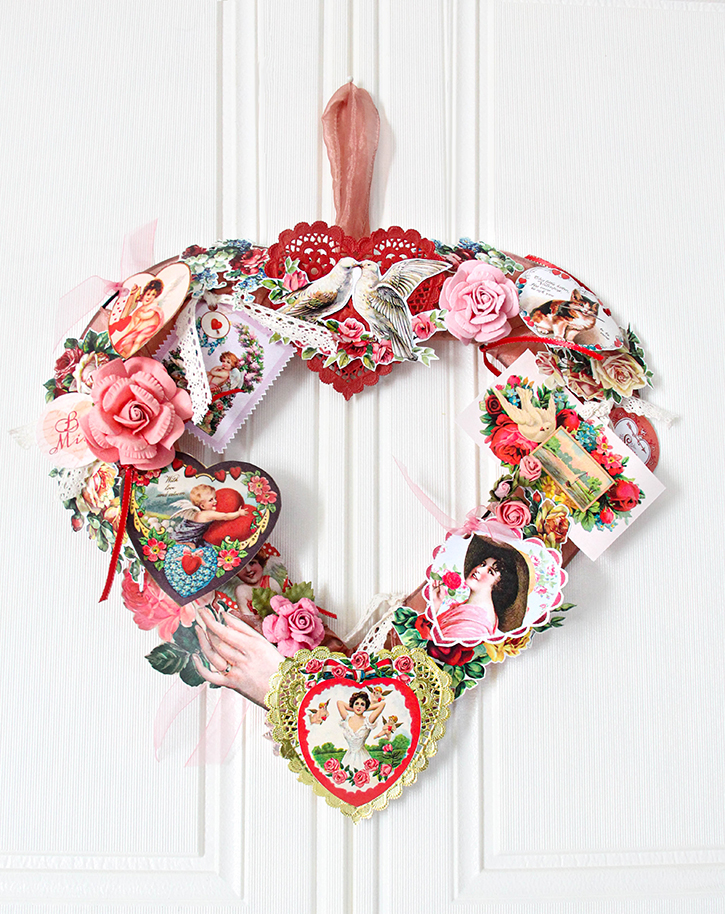 Here is a fabulous idea for a wreath to hang up on a wall or enclosed door to decorate for Valentine's Day. The holiday is just around the corner, and sweetheart-themed craft supplies, décor, giftwrap and cardmaking supplies are everywhere, along with all kinds of Valentine cards. So, the materials to make your own version are readily available. Also, this project is fairly easy and and can be completed in a short period of time.
You could work with a contemporary look, or even a cute midcentury retro style. I wanted to create something that visually transports us back in time with a romantic Victorian theme. I used lacy elements and roses, along with antique hearts, doves, cupids, and old-fashioned sweet sentiments. Your wreath can be more simple, but this is a fulfilling project if you have maximalist tendencies like me!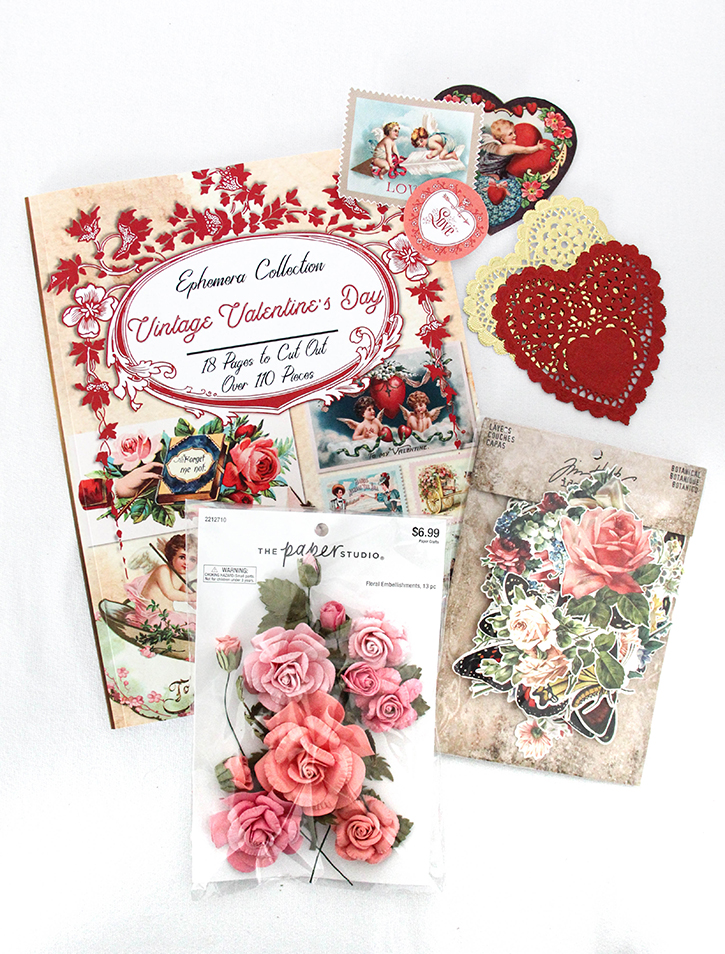 Finding Ephemera
Ephemera are generally things printed for a specific occasion or purpose and aren't meant to last long after their original use. Things such as postcards, greeting cards, ticket stubs, invitations, etc. Even photographs are considered ephemera. The packs of kid's valentines for sale at a lot of stores are a good example of this. You could easily find some of these to use for a contemporary style of this project.
If you prefer a more retro look for your wreath, there is a wide array of clip art in vintage styles online, even some available as printable digital files. I went for this book of swoon worthy Victorian clip art reproductions of antique valentines.
The Tim Holz die-cut scrapbooking layers are available at craft stores or online. These are beautiful reproductions of early 20th century botanicals. They are a wonderful design element to use for craft projects with a cottagecore look.
Add some three dimensional detail with flowers, like these lovely papercraft roses from the scrapbooking department. You could also add a lacy element to your wreath with some small bakery supply doilies like these.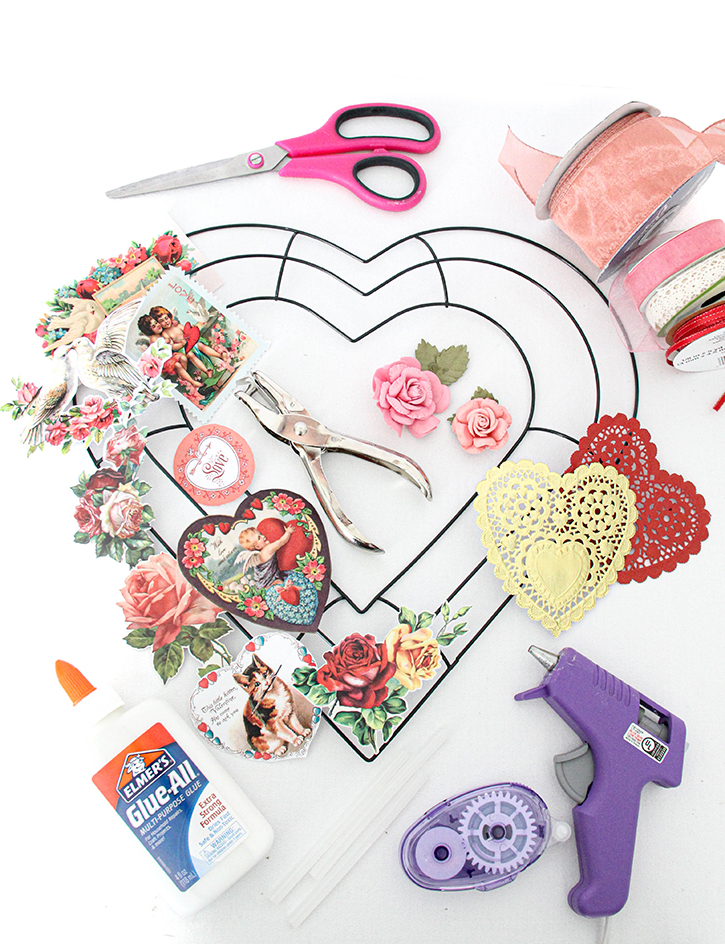 Wreath materials
Along with valentine cards and any seasonal paper decorations you would like to use, find a wire wreath frame from the floral design department at your local craft store. Use any shape you like for this project. The 13″ heart shaped frame I used can be found at Joanne craft stores, or on their website. They might also be in stock at Dollar Tree.
A spool of ribbon about 2" wide, or strips of fabric to wrap around the frame will be needed also. This will create a base to glue pieces to. Two or three spools of different ribbons or yarn, and a hole punch will be needed to tie some of the elements on to the frame. You will also need some sharp craft scissors, and a low temperature glue gun with extra glue sticks. Elmer's glue-all and adhesive dots are really ideal for attaching paper to paper, so you might want to have those on hand too.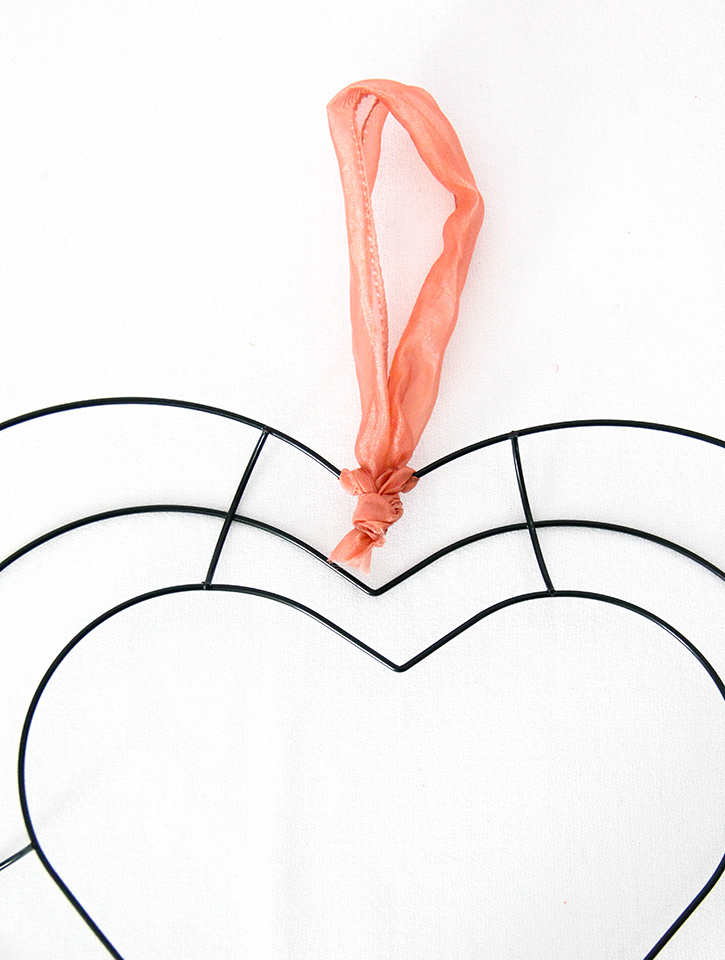 Make a hanger for your wreath
Choose one of your ribbons to make a hanger for your wreath. Cut about a 10″-12″ length of ribbon. Tie this into a loop and tie onto the back top of the frame, or glue it on. If you like, attach the hanger to the left or right side of the frame, so that it hangs at angle.
Wrap the wreath frame
Next, wrap wider ribbon or fabric around the entire wreath frame. About a 2″ width works perfectly for a 12″-13″ size wreath frame, with at least 50″ needed. It can be any color or material you like. I had this sheer wired ribbon on hand that happened to be a good color choice with the theme. Bear in mind that some of this material might show when choosing a base color.
Start wrapping by attaching the end of the ribbon on the back of the frame, at the top. Wrap loosely around the sides, so that the ribbon can be adjusted. It doesn't have to overlap much. When you get all the way back to the top, attach that end of the ribbon to the frame where it meets your starting point. This will create a base to glue pieces on to, with gaps in it to tie pieces to the frame.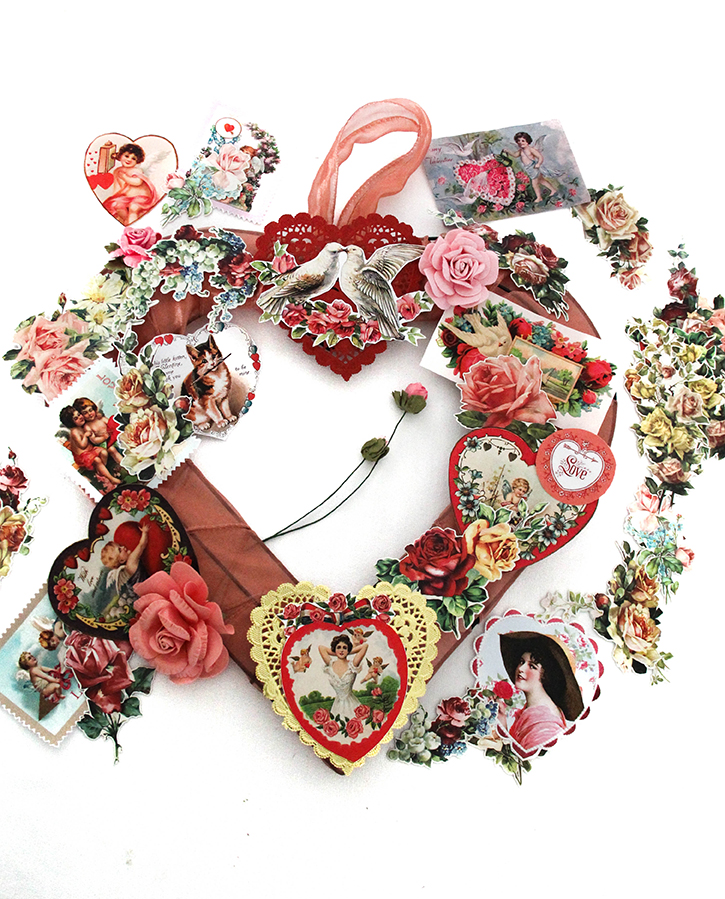 Plan your layout
To get the look you want, take the time to cut out and trim any pieces of clip art beforehand. Single out any elements you might want to use on your wreath. Lay the pieces out on the wreath before you begin attaching any of them. Playing with placement and composition of your elements before gluing or attaching anything to your wreath will save time and materials. Once delicate paper items are attached with hot glue, they cannot be removed without tearing them.
Use Elmer's Glue-all or adhesive dots to stick paper pieces to paper. For instance, if you want to layer some of the elements together into a single piece, like I did the doves clip art to a paper doily. Since these adhesives don't attach almost instantly like hot glue, it's easier to adjust your layers into place. Also, this gives a smoother look to layers of thin paper.
Application
Attach some valentines to the wreath frame by using a hole puncher, and running a short strip of ribbon (about 4″ long) through the hole. Carefully tie onto the wire of the frame through the gaps in the wrapped ribbon base. Don't trim off the ends of ribbons, let them flow or stick out for more color and texture. This will add dimension to the wreath by letting some pieces be loose yet still securely attached.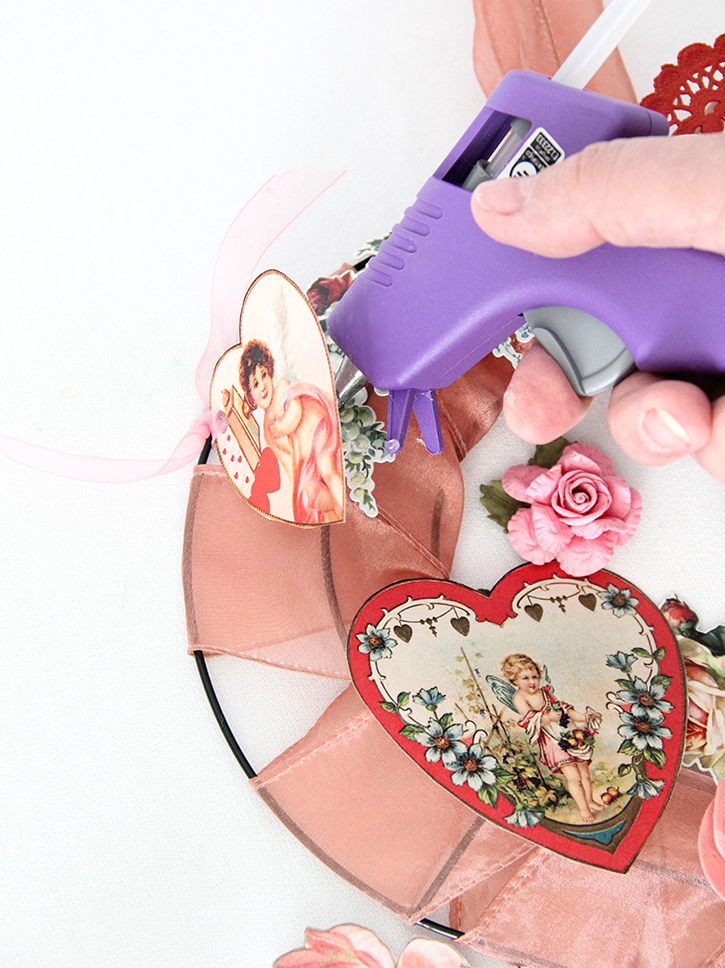 These can be loosely tacked down with a small dot of glue if you like. Hot glue some pieces directly onto the wrapped ribbon surface. Build layers on the frame by overlapping the edges of your design elements a bit. This will bring dimension and depth to the overall look of the wreath.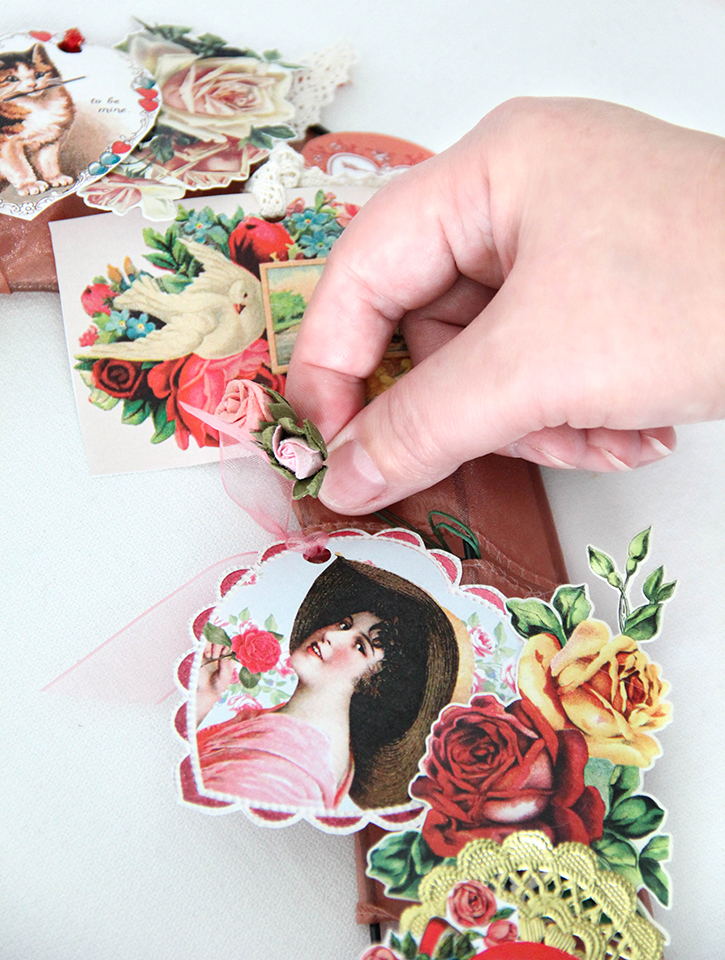 Glue or tie on flatter pieces to the wreath frame as you go along. Add more three dimensional design elements like paper flowers as a finishing touch to your vintage Valentine wreath.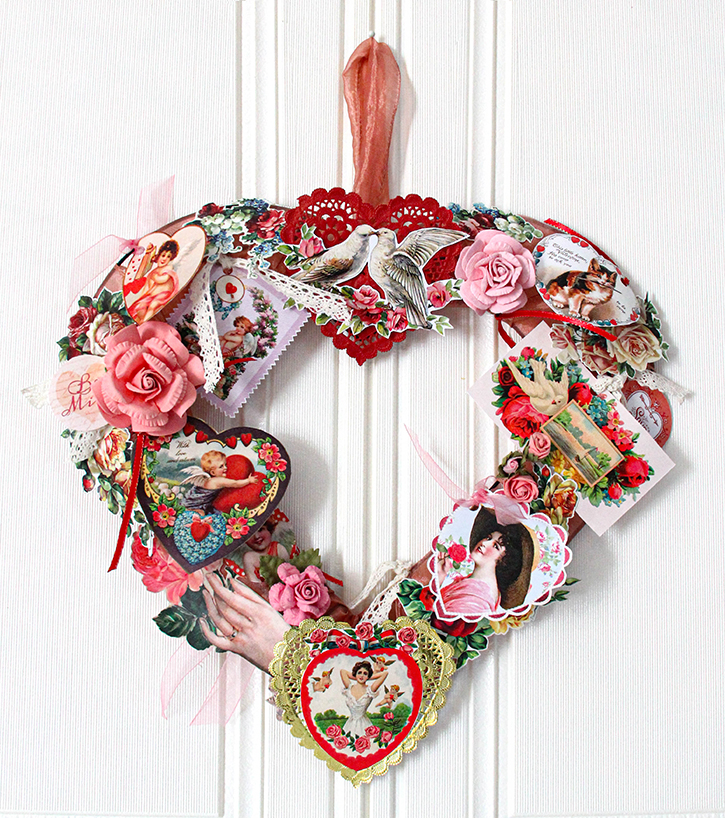 Your wreath is sure to be eye-catching and sweet, no matter what style you choose. Handcrafting your own vintage Valentine wreath is a fun project for Valentine's Day decorating, and will bring a touch of romance to your surroundings.
For another whimsical seasonal decorating idea, try making this DIY Love Letter Garland for Valentine's Day.