Create a wintry scene on your tabletop with this DIY Woodland Christmas Diorama. It's easy to make using a fish bowl or other large clear container.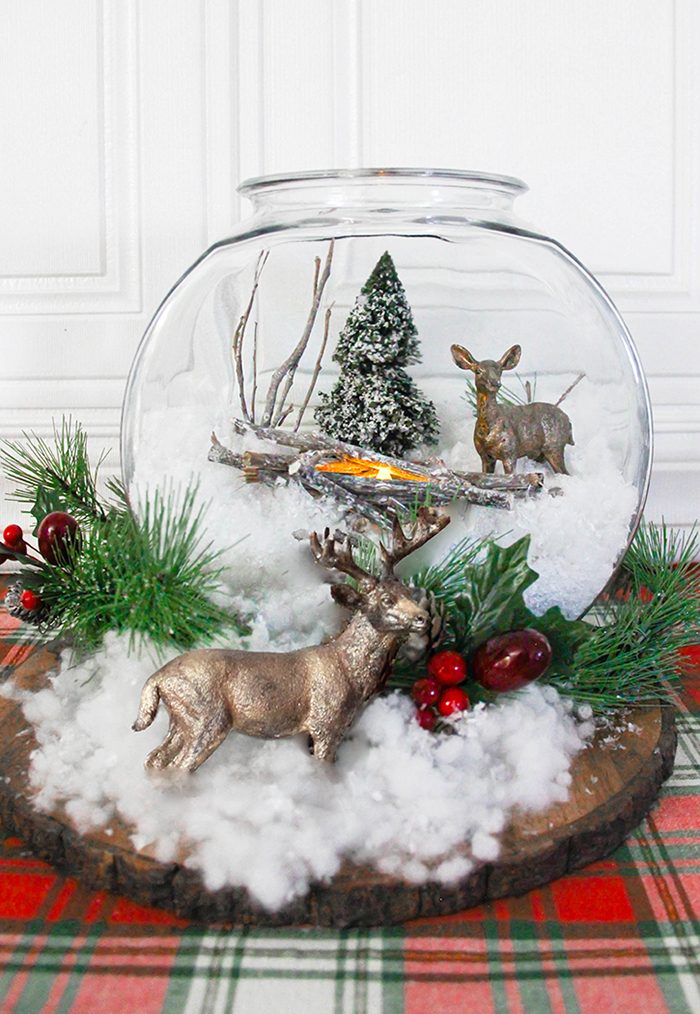 I made this diorama with a snowy woods theme using a classic glass fishbowl as the container for the little world I wanted to create. Any large clear container will work for this project. Such as a decorative lantern or jar. You can create your own diorama using any theme you like! Use it as a centerpiece on a dining room table, a coffee table, a mantel or sideboard.
Set the scene with figurines and items that fit the theme. Miniature trees, figurines and artificial snow are the basics for any Christmas setting. Also, there is really no glue involved in putting one together; it's just a matter of assembling the pieces to create a three dimensional picture.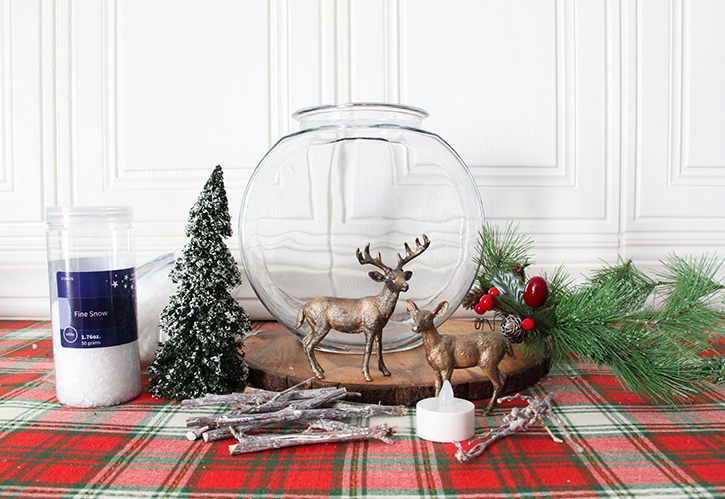 Gather your materials.
Staying with the woodland theme, I selected this miniature snowy pine tree. This is a Christmas decoration, but you could also use miniature trees from the model making department at a craft store. I also selected some real twigs from the yard and a flameless led candle to create a campfire effect. These realistic miniature buck and doe figurines can also be found at a craft store or online. You could leave them looking realistic, but I had given them a more stylized bronze finish for a previous project. And the bronze finish looks fine.
A 12″ live edge log cutting board from the kitchen made a nice platform to set the 9″ x 9″ fishbowl on, to create another level of the diorama. Get creative with things around the house and use a cutting board, platter or tray for your project. I set the fishbowl down inside a piece of garland, a candle ring could also work. I used a thicker artificial snow to build up the scene, along with a fine artificial snow to add sparkle.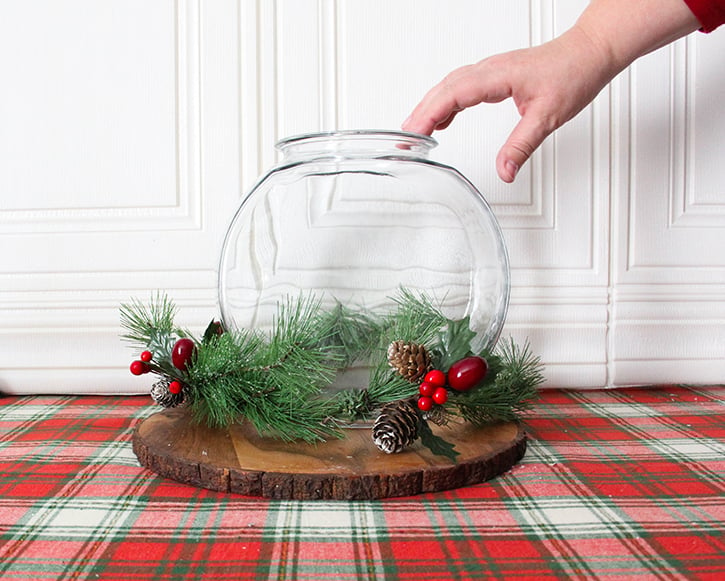 For this project, I arranged in place on the tabletop. I set the fishbowl down toward the back of the cutting board, with garland laid in a ring around its base.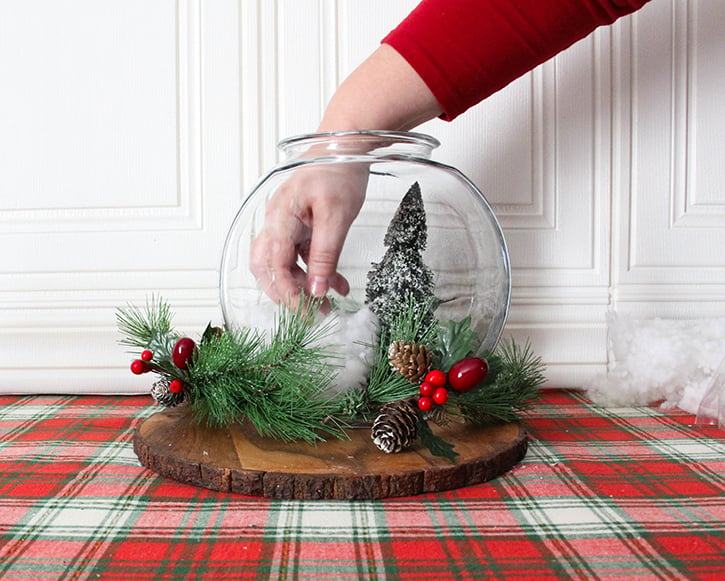 Add a base layer first.
If any trees is taller than your container, set it in first. Place a small piece of Styrofoam inside to hold up heavier items like figurines that might sink into the snow. Pack a base layer of the thicker artificial snow inside to hold things into place. The snow has a texture of little beads of fiber fill, so it can be pulled into clumps and shaped into place.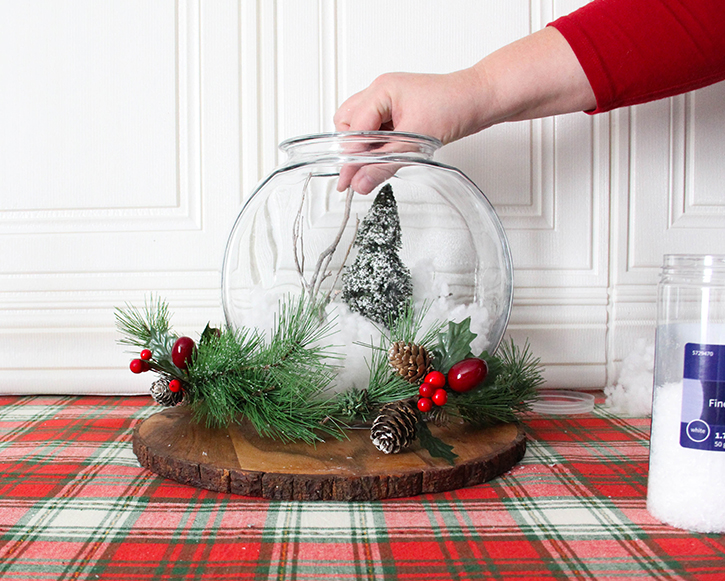 I added a twig to make a wintry tree effect, just by pushing it down into the base layer of artificial snow.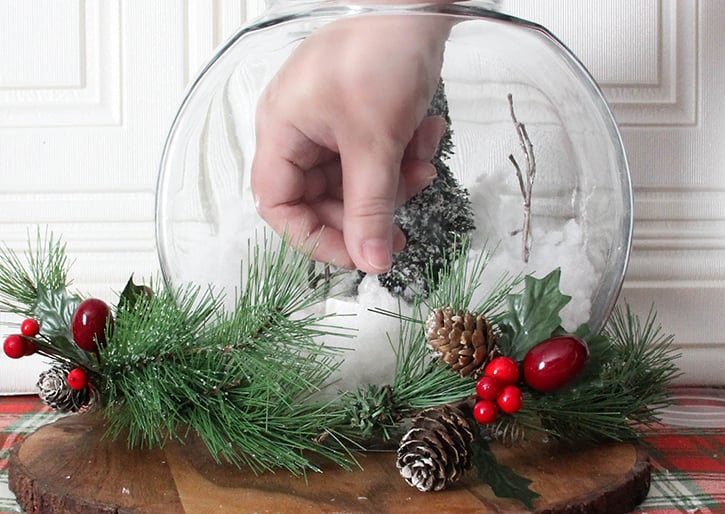 Bring in light effects.
Battery powered lights create interesting effects in a diorama. I turned on and put a flameless led tealight in place to make a little campfire inside. The flicker effect of the flame would look like a fire, and the white base blends with snow.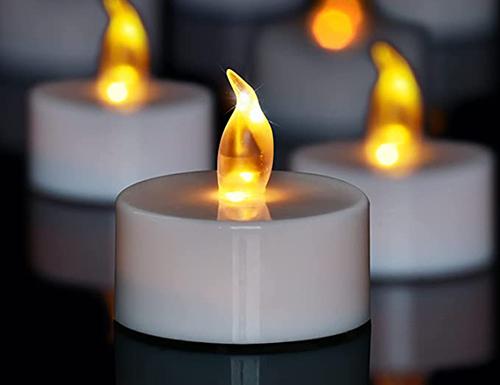 You can find tea lights for purchase at dollar stores, or at this link. Be sure to use a new one with a fresh battery so that it doesn't need to be replaced once it's in position.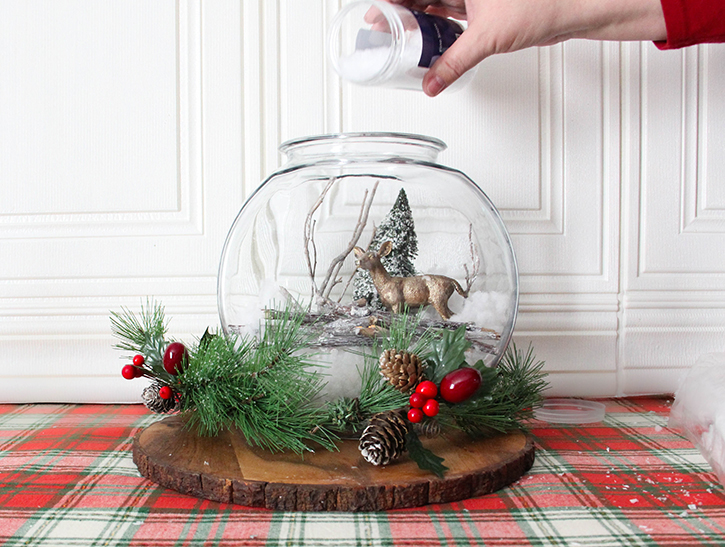 Let it snow!
I placed twigs in a loose stack over the led candle to finish creating the campfire. I added a deer figurine, and sprinkled on fine artificial snow flakes for a finishing touch.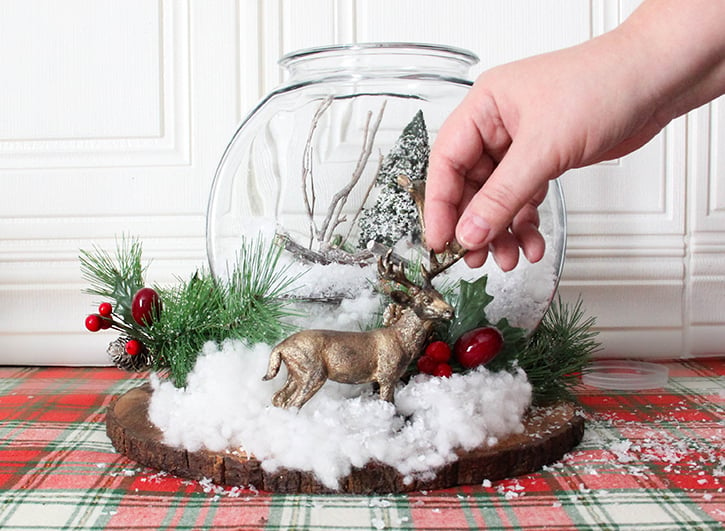 Think outside the fish bowl! I added a little more artificial snow and the other deer figurine in front the arrangement to create extra dimension. This adds another layer to the design, so that it spills outside the frame of the container. Sprinkling on snow can get messy, so clean up any crumbs of snow with a brush and lint roller. Now you have cozy seasonal display!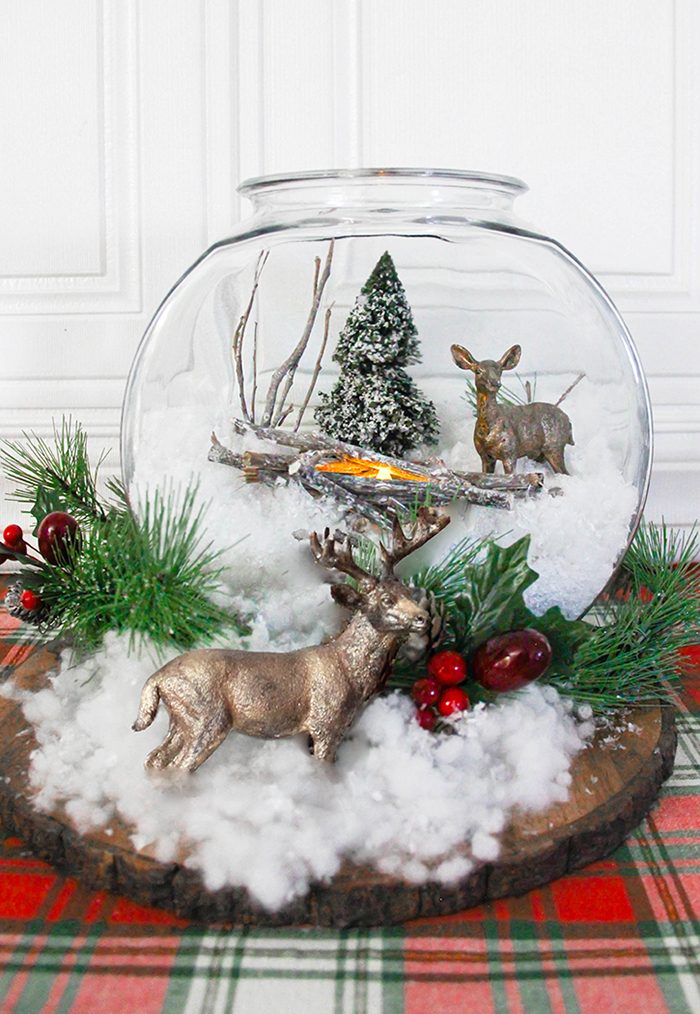 It's fun to create your own miniature world – anyone can do it! You could use snow village pieces, fairy garden décor, dollhouse furniture, elements from Christmas cards, tree ornaments, the possibilities are endless. Make a diorama in your own style. You're only limited to your imagination!
Related Craft: Winter Solstice Centerpiece