Celebrate the Lunar New Year with these easy-to-make cupcake toppers! They are simply made with dollar store plastic animal figurines, nontoxic gold paint, toothpicks, and colorful ribbon.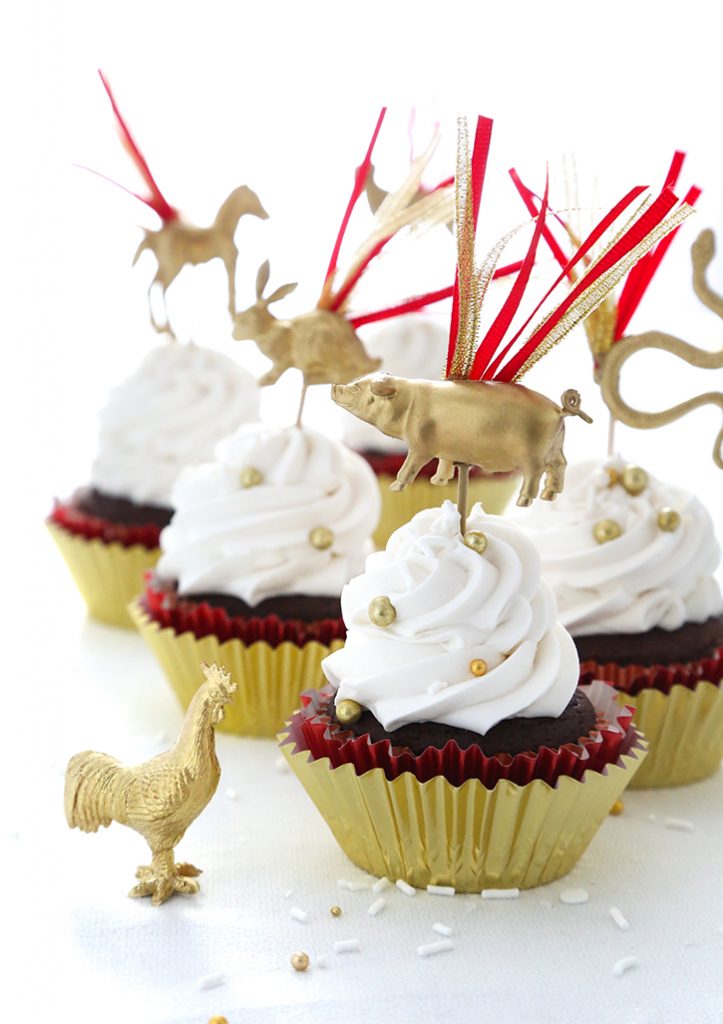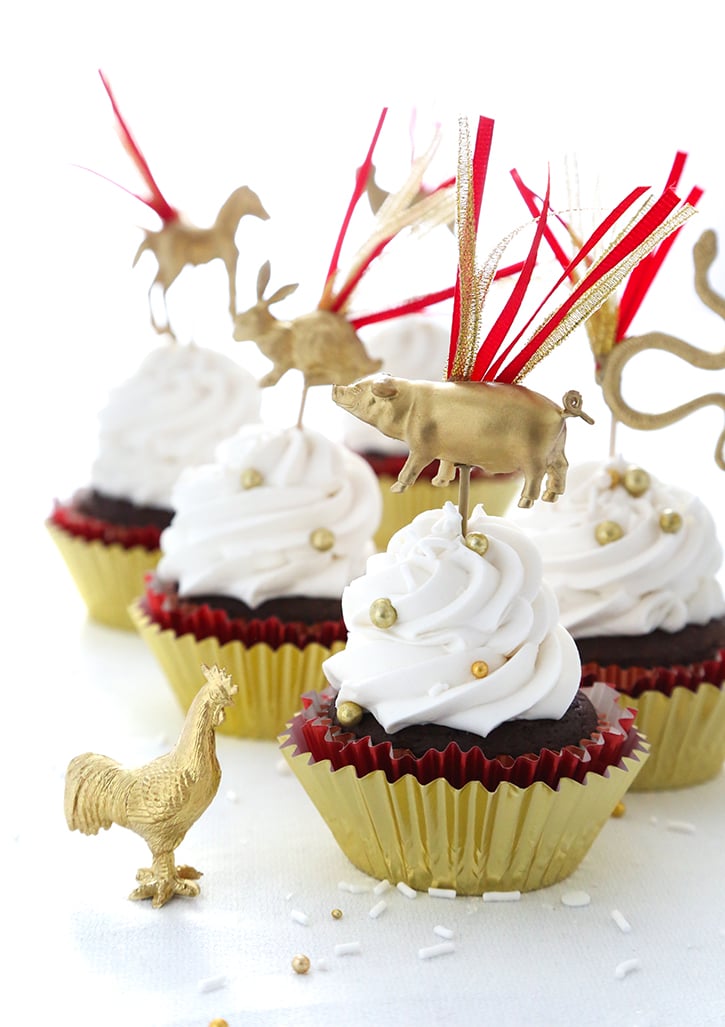 Chinese New Year begins on February 5th, and celebrates 2019's Year of the Pig. According to the Chinese zodiac, the pig is a representation of diligence, kindness, and generosity. I think we could all use a little more of that!
I thought it would be fun to make picks with all of the zodiac animals to decorate our celebratory foods. Small plastic animal figurines can be found at dollar stores (they tend to be plentiful in the toy section), or you can find the entire collection of Chinese zodiac animals already packaged for purchase here.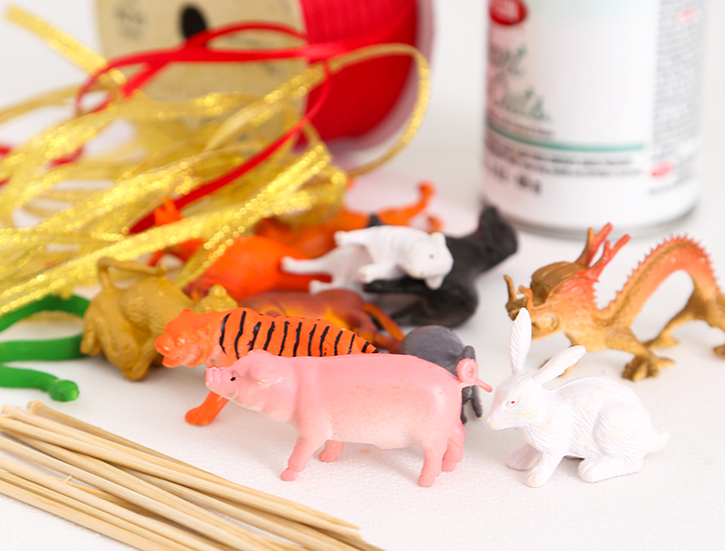 Materials needed are:
12 small plastic animal figures representing the Chinese zodiac – rat, ox, tiger, rabbit, dragon, snake, horse, sheep, monkey, rooster, dog and pig
Nontoxic gold spray paint (recommend Krylon)
2 yards each gold organza ribbon and red satin ribbon, 1/4-inch width
Super glue
Glue gun and glue sticks
Hammer and nail, or small dremmel tool with 1/32 drill bit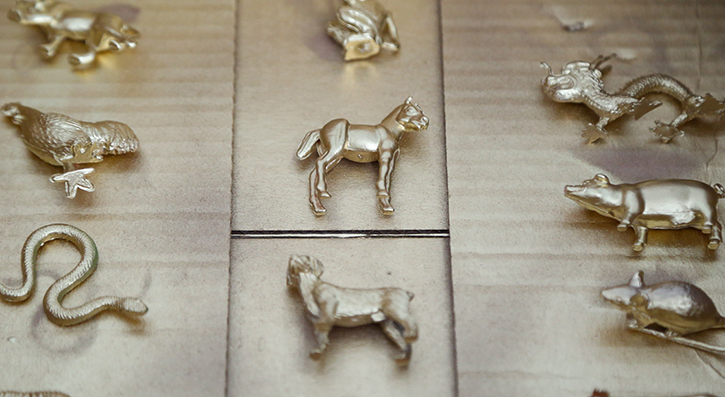 First, spray paint the animals with the nontoxic gold spray paint. I like to do this outdoors, with the animals well-spaced in a cardboard box (wear a dust mask if you are sensitive to fumes). When one side is dry, flip them and spray the other side. Pay special attention to the tops of their heads and bellies. Those places are easy to miss as you spray paint.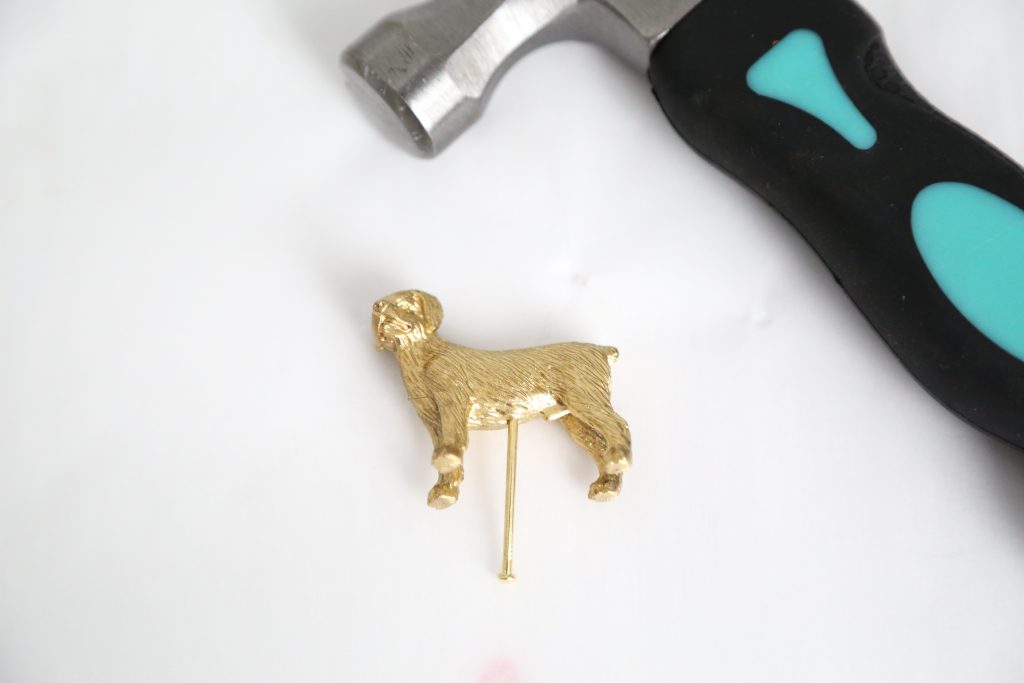 Make a little hole in the undersides of the animals. Here I've used a hammer and nail to make a hole. Do this carefully, with light hammer taps on the nail head to avoid smashing a finger. Once the nail is well-inserted, wiggle it around to make the hole bigger. The opening needs to be big enough to fit the flat end of a toothpick inside. If you're a handyperson, and have a precision Dremmel tool with small drill bits, you may find that method easiest.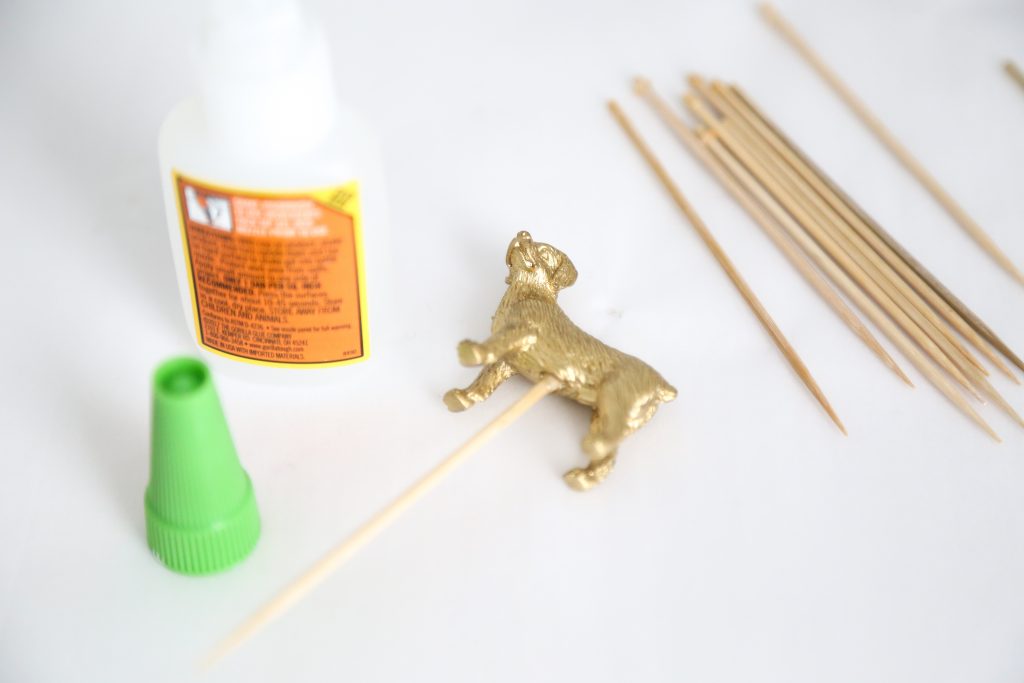 Add a dot of superglue to the flat end of a 4-inch long toothpick and insert it into the hole. Let stand until set, about 2 hours. I like using the gel superglue made by Gorilla Glue. The gel consistency prevents drips!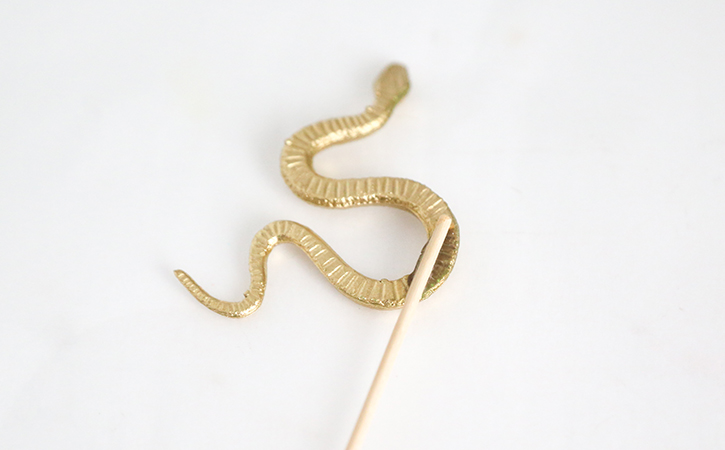 There will be a few zodiac animals that you won't be able to drill holes into, such as the snake and dragon. Simply attach the toothpicks with superglue, as well as you can manage. Allow extra drying time for these to be extra sure they are stable.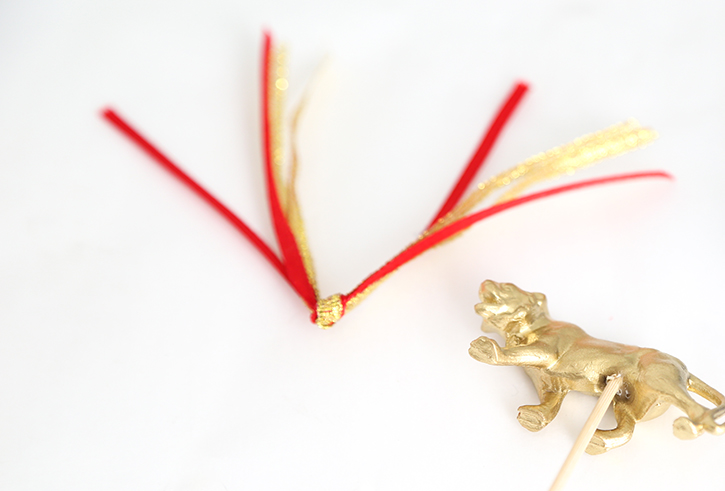 For each pick, cut two strands of red ribbon and 2 strands of gold ribbon to 6-inch lengths. Line them up and tie them together with the knot in the center.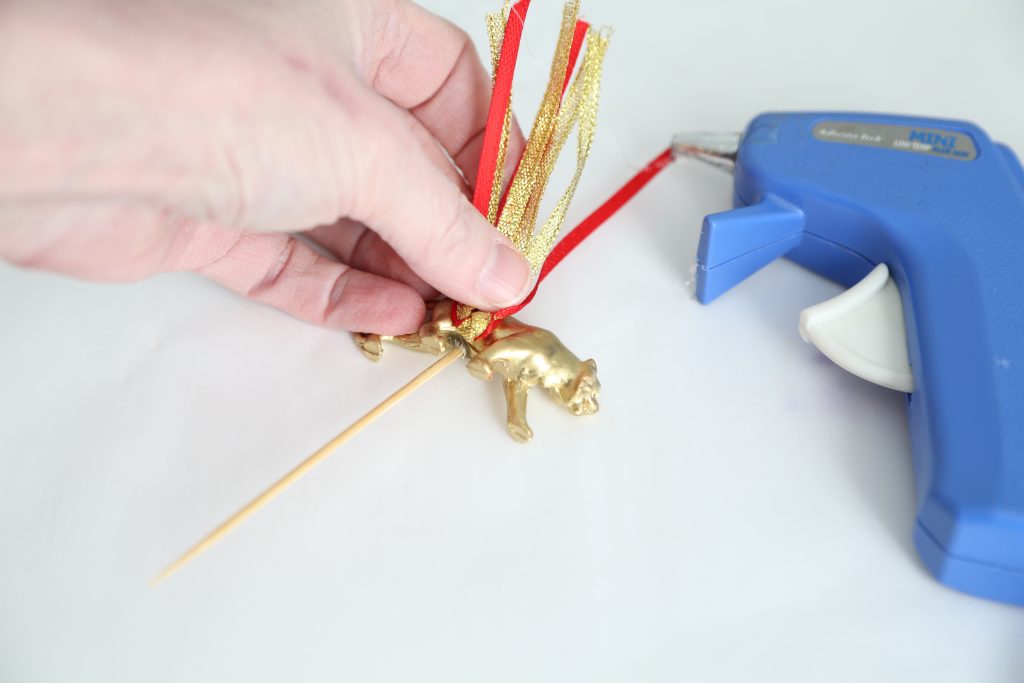 Fold the ribbon strands in half and glue them together at the base of the knot using a dot of hot glue. Once set, hot glue the ribbon to the back side of the animal figurine with the strands of ribbon pointing to the sky.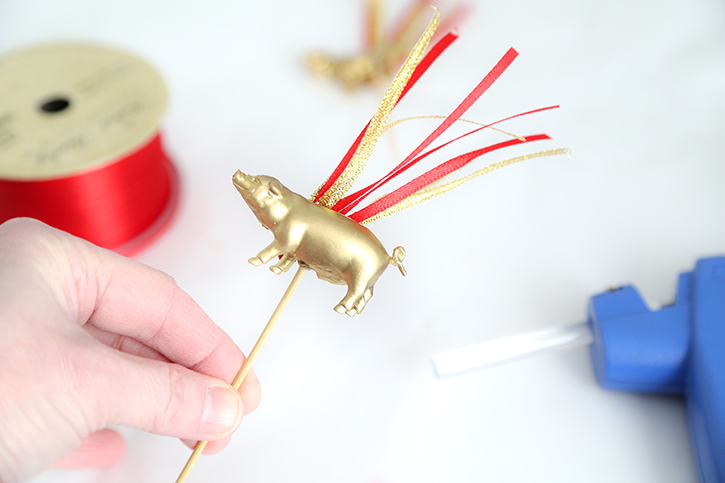 Cute piggy! Lunar New Year festivities are always filled with red and gold streamers, lanterns, and all kinds of decorations in those hues! It was only fitting to make these picks in those regal colors.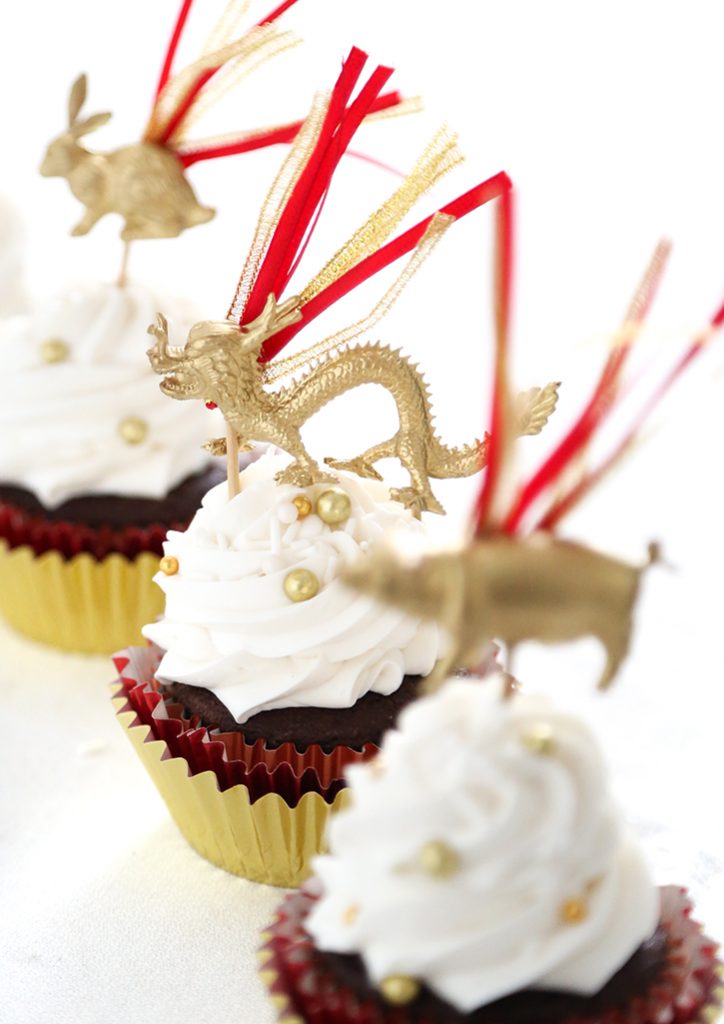 After the picks are completely set they're ready to use! Display them on all kinds of sweets, or on traditional Lunar New Year foods such as rice cakes, savory Chinese dumplings and spring rolls.
2019 happens to be Earth Pig Year with another set of good luck hues in pink and orange. Feel free to switch up the colors of these picks with pink and orange ribbon!