Our resident style expert Christen Jo shares five ways to spruce up your wardrobe with scarves!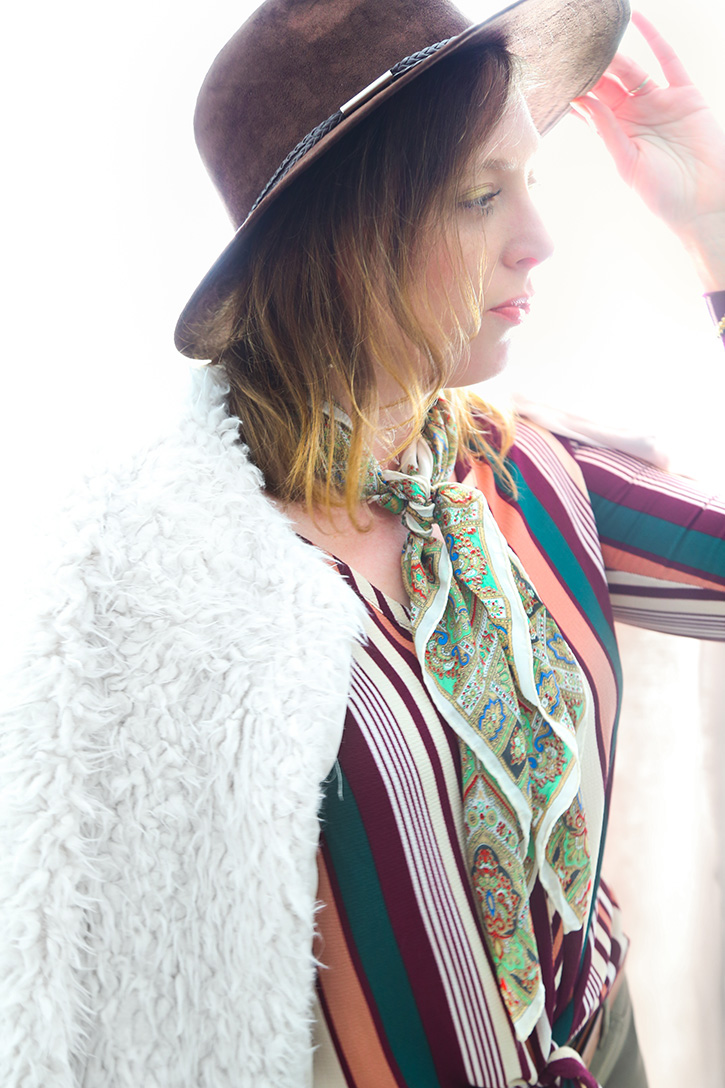 I like keeping things.
Well, I like keeping beautiful things that are in good condition. Especially accessories that truly mean something to me, like this paisley scarf that is reminiscent of a mosaic. It belonged to my grandmother. Who knew this vintage, silk scarf could feel like it contains all of the boundless energy that she held? It makes me wonder what she was like when she wore it. Did she smile? Did she wear perfume? Was she happy? To me, the scarf's style is effortless, chic, unique, romantic, and beautiful, just like she was. Are we not still longing to be like that today? I think yes.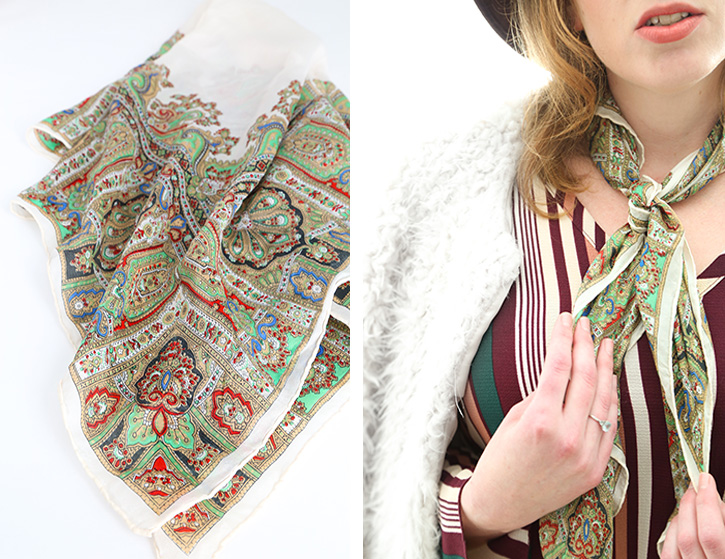 Style 1: Tied Long. This scarf is 29" X 29".
How To: Fold the Scarf in Half. Fold the smallest point of the scarf towards the middle of the other edge. Then fold each side of the scarf evenly towards each other. Continue to fold until preferred width is achieved. Tie a double knot.
Style Tips:
*Wear a larger vintage scarf tied long and loose to evoke 70's vibes. (Think David Bowie or Ally in "A Star Is Born.")
*Tie the scarf ends at different lengths for a bit of rock-n-roll carelessness.
*Mix Prints with more prints.
*Complete the look with fuzzy coat and suede hat.
Source: This silk vintage scarf was my Grandmother's in the 1970's.
Wearing a scarf belted made me feel like the "cool girl." Or maybe the "cool girl" in art school!
Style 2: Belted. This scarf is 34.5" X 32.5".
How To: Lay the scarf flat. Take the top, left point and fold towards the middle. Next, take the lower right-hand point and fold towards the middle. Then fold each side of the scarf evenly towards each other (like #1). Continue until you see the "belt" width desired. Thread the scarf through belt loops and wear. Feel free to twist the fabric or tie the knot in a bow!
Style Tips:
*Pair with high-waisted (mom) jeans for a flattering look.
*Add a solid-colored turtleneck (sleeveless too!) for art student inspiration.
*Look for bold, bright colors!
Source: This vintage, floral-printed Liz Claiborne (Rayon) scarf is from the local Goodwill and priced at $2.99 plus tax. Most likely from the 80's or 90's, this scarf is in perfect condition with the original tag! Shop in-store or online for more amazing finds!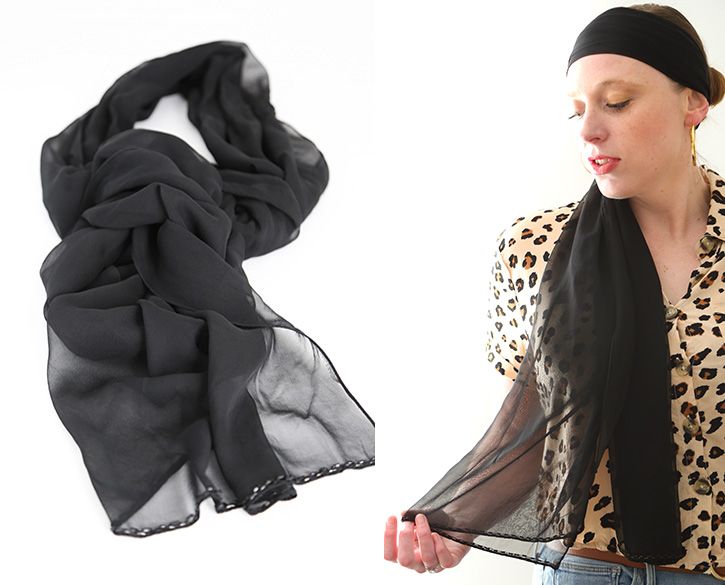 Style 3: Head Scarf. This scarf is 75" X 16".
How To: For this look, fold the scarf in half or until desired width. Place the scarf in a location that looks and feels comfortable. Tie at the back of the neck and off to the side. This allows the scarf ends to brush the front and back of your ensemble.

Style Tips:
*Pair the headscarf with a leopard-print top for added glamour points.
*Add gold hoops for Diana Ross inspo.
*Look for different fabrics here!

Source: This black, sheer scarf with beaded-detail came with a dress that my Aunt gave me. (Another tip: Keep pieces that come together separately, so you'll be encouraged to think outside of the box and wear them separately!)
There are so many ways to tie a head scarf, but this boho-inspired version can be worn with all kinds of prints and fabrics. Here it gets a chic update with a beaded scarf worn with leopard print.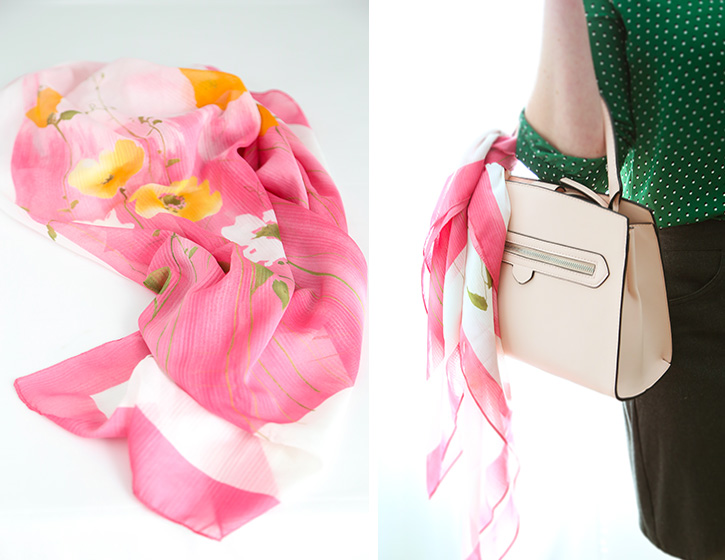 Style 4: Bag It: Add softness and whimsy easily by tying your favorite scarf onto the handle of your purse. This scarf is 34" X 34".
How To: Fold the scarf as described in Style 1: Tied Long. Tie and knot the scarf onto the handle.

Style Tips:
*Go for color and pattern!
*Choose lightweight, flowy fabrics that look effortless.
*Create a monochromatic look by choosing a purse and scarf in the same color family.
Source: This vintage, silk, floral-printed scarf was my Grandmothers in the 70's too!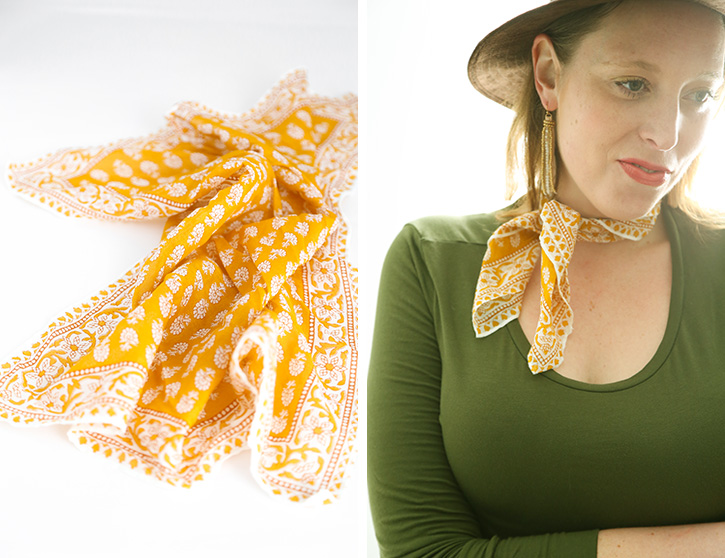 Style 5: Petite Side Knot: Tie a small, square scarf off to the side of the neck–for a classic look! This scarf is 22" X 22".
How To: See the "How To" steps on #1. Or simply twist. Tie and knot. Keep scarf or bandana turned to the side of the neck.

Style Tips:
*Pair with a solid-colored top for a less-is-more look.
*Combine with a denim dress or shirt.
*Mix in a Western-inspired belt or a pair of boots.
*Do not combine all of the above!

Source: This Madewell scarf ($12.50) will make any basic tee look anything but basic!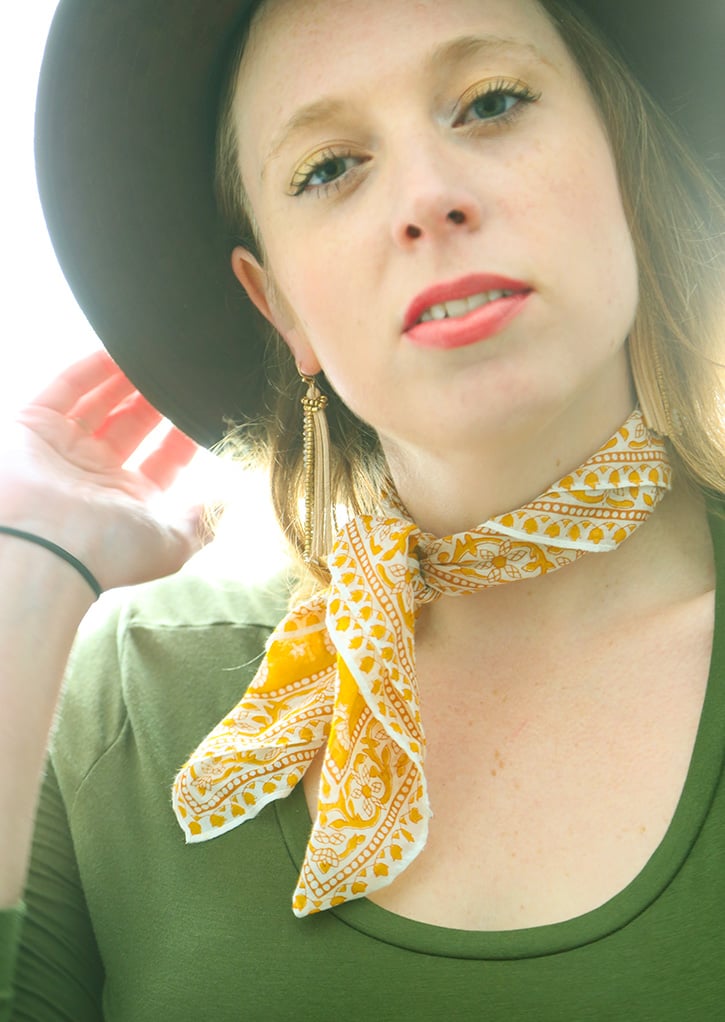 Final Style Tips:
*Check your closets and your Mom's closets (and your Mom's Mom's closets!).
*Check your local thrift stores
*Always look for print, color, and fabrics that speak to you!
*If it feels comfortable and authentic–go for it!

A Few Final Thoughts:
You don't always have to buy something brand new to look fresh and well put-together (but you can of course!). You don't have to wear vintage to achieve a "vintage" look. And those precious pieces for special occasions? Don't save them – enjoy them NOW!
My best suggestion is to shop your own closet, and graciously accept meaningful hand-me-downs from friends and family. Sometimes you don't have to spend any money for something to mean something to you. Isn't that the real gift?
Find Style by C. Jo on Instagram.