Use a surprising alternative to a conventional wreath for spring decorating by using a window frame. A DIY floral window frame will freshen your décor for the season.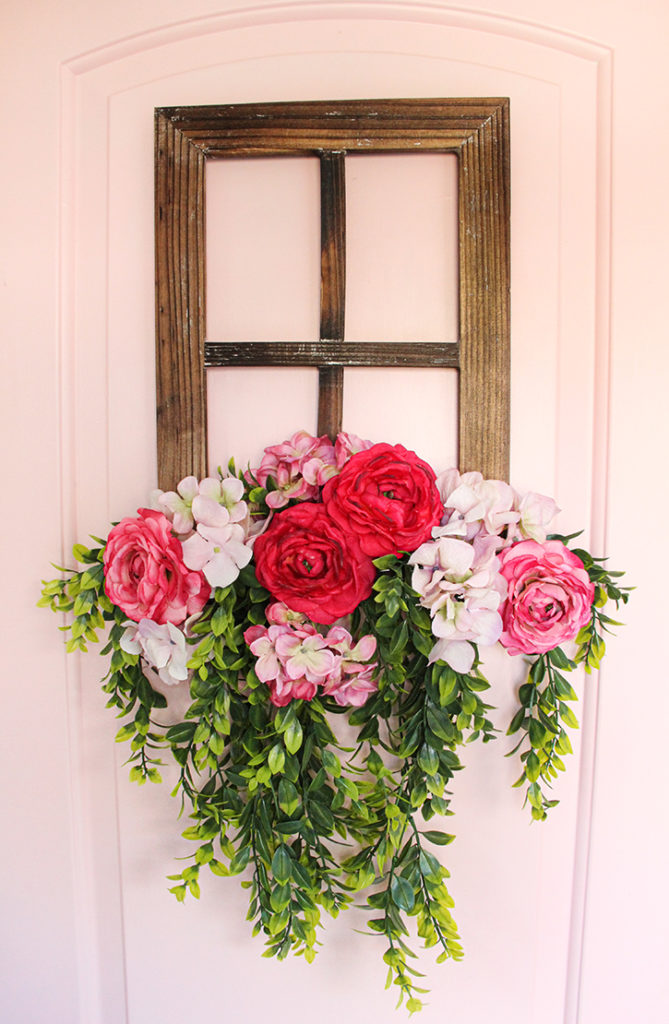 A rustic spring floral window frame makes a different statement hanging on a front door, or brings in an bit of an outdoor feel as wall décor. Many versions of this can be made with any silk flowers or with dried flowers. Even the highly realistic imitation succulents that are available would look fabulous as part of this wall décor! I was going for an English country inspired, cottage core influenced look. I chose bold, billowy silk roses and hydrangeas in shades of pink, along with branches of trailing boxwood, to give it a more luxurious feel.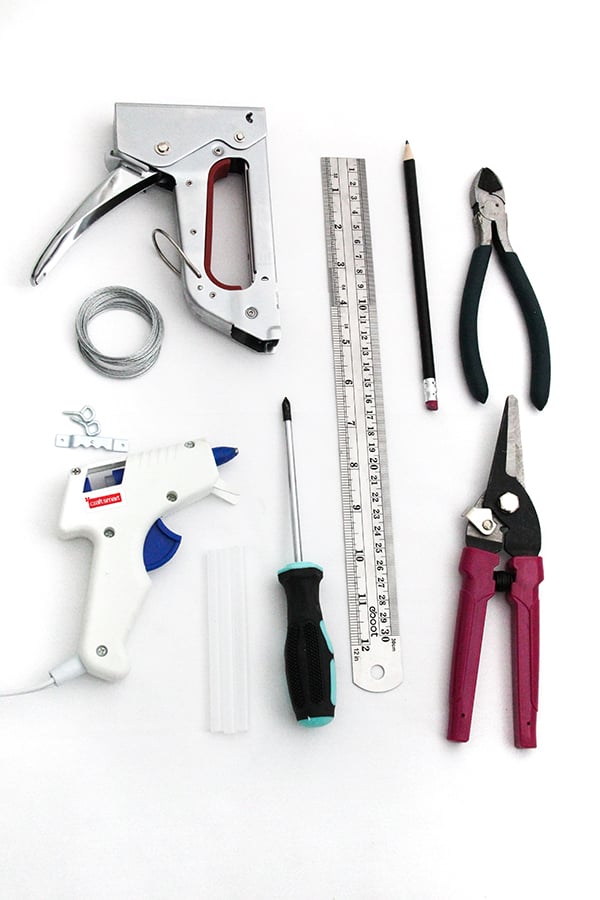 Tools and supplies.
The basic tools you will need include a staple gun, a hot glue gun, wire cutters, and floral shears. If you are adding hanging hardware, you will also need a pencil and a ruler for marking and measuring where to attach it to the back.
Hanging hardware that will support the size and weight of your window frame should be used. Use sawtooth hangers for a smaller, light piece. Medium or heavy D rings work best for dependably hanging larger, weightier frames (especially if the panes still have glass in them). You could use one on each side, or even one in the top center on the back of the frame for hanging on a single hook on a door. If in doubt, it's always a good idea to consult your local frame shop about the right kind of hardware to use. They might even put it on the frame for you!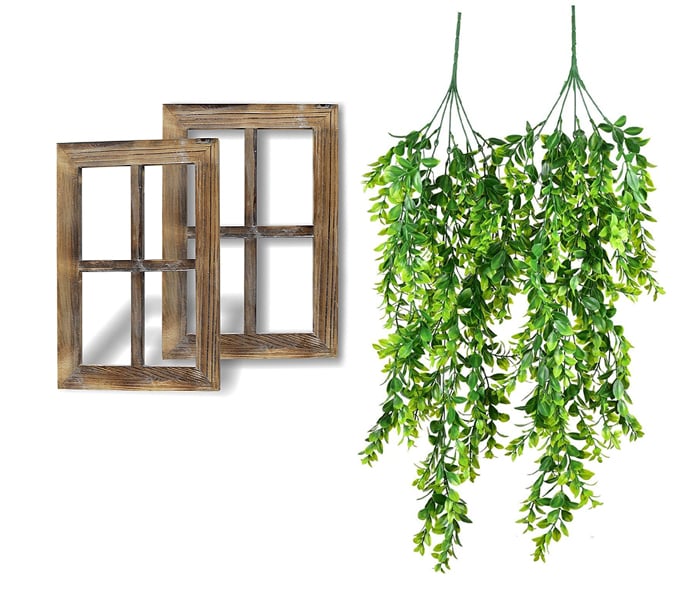 Upcycled inspiration.
The idea for this project began with using a salvaged or antique wooden window frame. It's a great way to upcycle a smaller size old window, with or without glass. If you can't find one that works, these inexpensive wall hangings can be found online. They can easily be painted or embellished. I happened to like them as is, so I sealed the frame with a couple of coats of clear polyurethane to protect the wood from the elements. The sprays of trailing boxwood I used to create more of a window box effect are also available online here.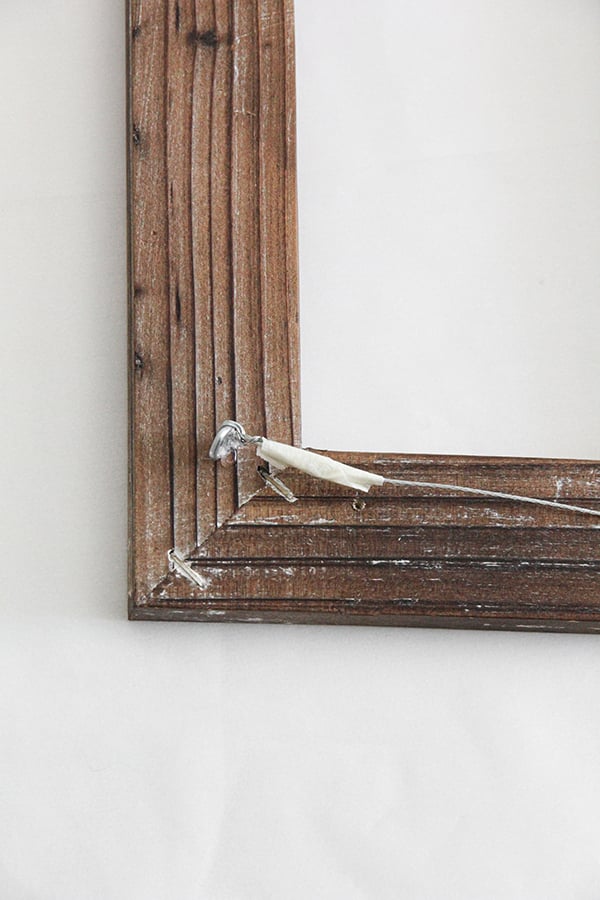 How to hang.
I used small screw eyes and a light picture hanging wire for this small, lightweight window frame. It's 11″ x 16″, and won't weigh more than three pounds with the greenery added. A light hanging wire is sturdy enough in this case to allow this piece to be displayed on a wall or a door.
To add hangers, decide which end will be the top, turn over the frame and mark evenly where the screw eyes will go. I added hanging hardware close to the top so that the wire would not show. Use medium or heavy D rings with a heavier gauge wire for hanging a more substantial frame.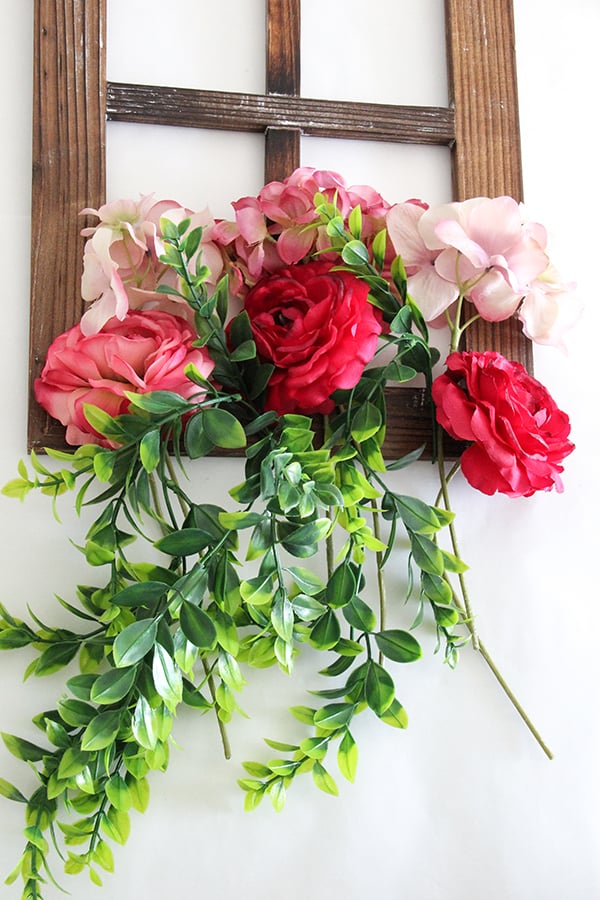 Beautiful blooms!
Next, separate any blooms or stems of greenery from the bunches or sprays they are in. Use wire cutters or floral shears as needed. Place frame face up and get a general layout of the arrangement you would like, and take a photo for reference.
Start by attaching greenery you want for the back layer first. Attach heavier sprigs and blooms by stapling over the stems. Staples will hold them on to a wood surface more strongly than with glue alone. Using wire cutters, trim excess stems off just about even with the bottom of the frame. Attach trailing stems flowing upward. They will drape downward to give more dimension to the arrangement when the piece is hanging.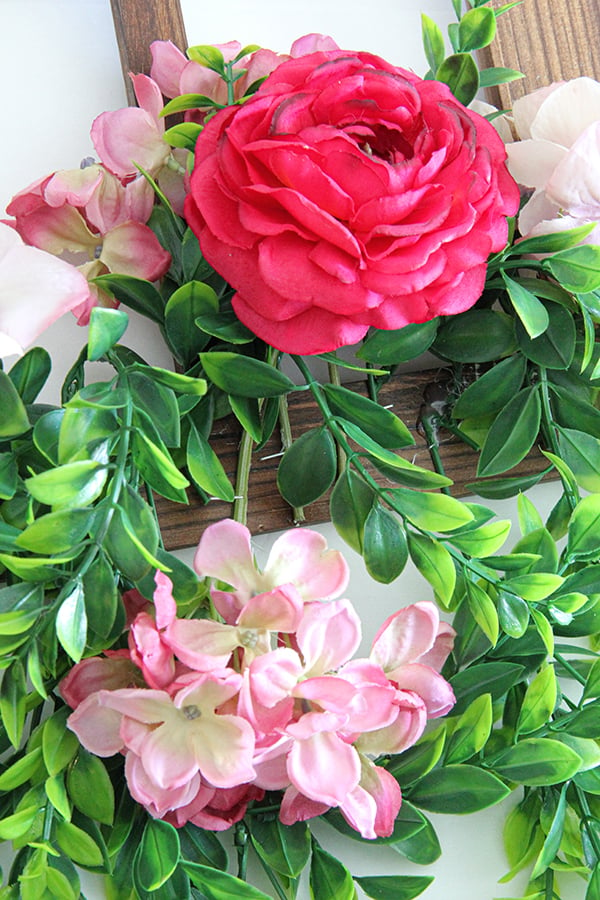 Next, fill in the next layer of the arrangement. Smaller sprigs and elements can be held in place with plenty of hot glue, which will be covered up by leaves and petals.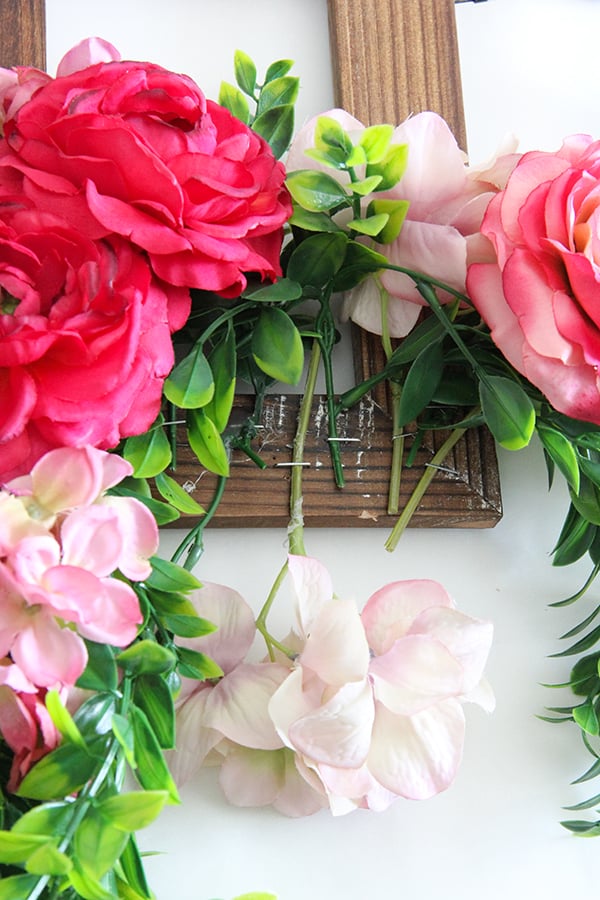 Be sure to add blooms and sprigs of greenery toward each side of the frame for a fuller effect. Some flowers can be attached pointing down. This gives the arrangement more layering and dimension. Any pieces of trailing greenery can be carefully pulled downward when all the pieces in the arrangement have been attached.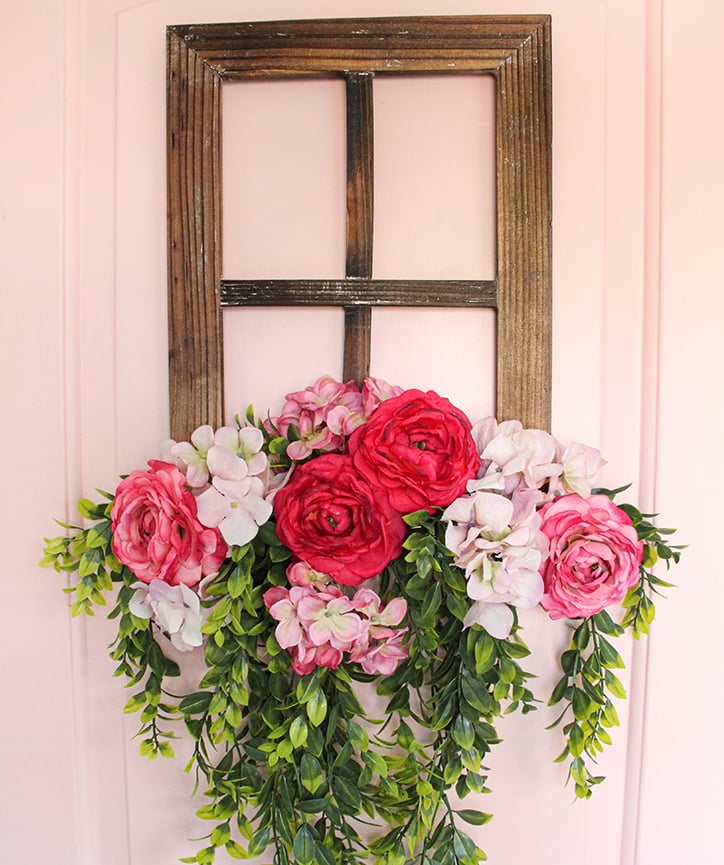 Use this project as an inspiration to create a piece of statement décor in your own style. It could be an unusual seasonal focal point to a room, or would add a whimsical touch to your front entry for extra curb appeal!