Make yourself a stylish and cozy winter poncho using knit material, in just a few easy steps.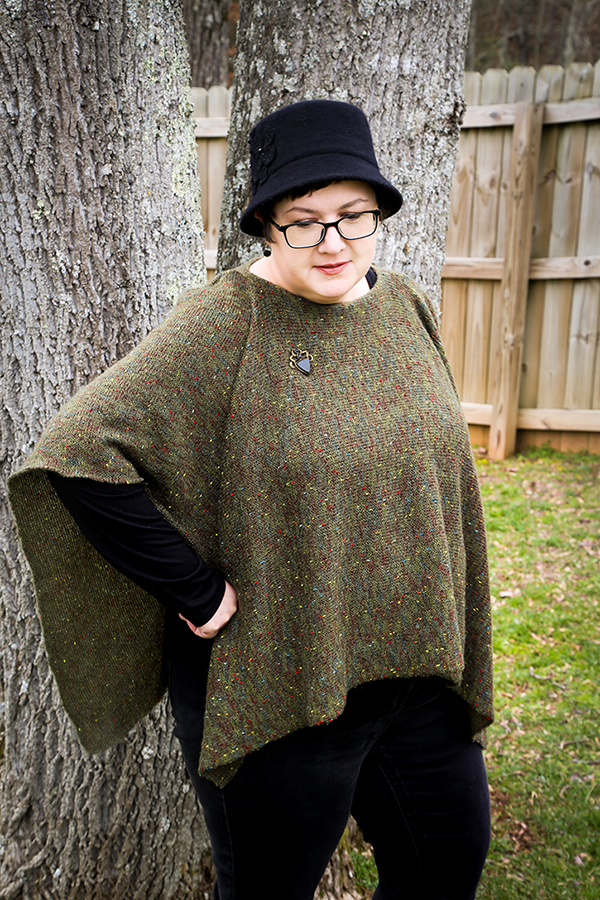 Spring may have sprung in our hopeful hearts and minds, but winter is still very much present with chilly temperatures and occasional snow flurries. Here's one good way to keep snug in these last days of winter – with a warm poncho!
Start by selecting an even yard of knit material that does not require a hem to keep it from unraveling. I selected this knit material for a dressier look, and the fabric leaves a neat raw edge after cutting. But any fabric that leaves a clean edge when cut will work well, such as fleece or flannel if you prefer.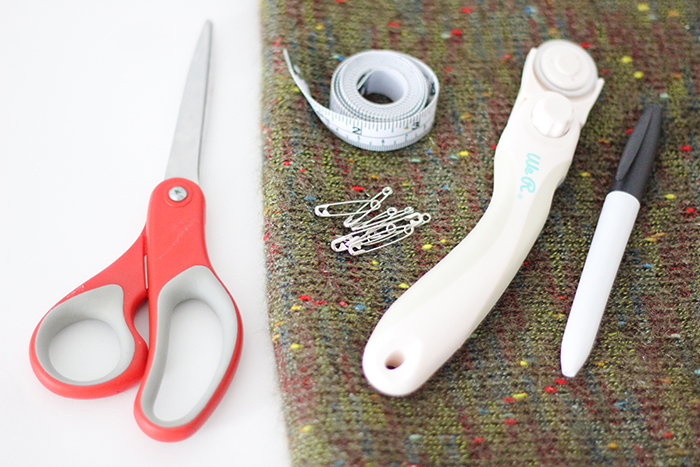 You will need a sharp pair of scissors or a rotary cutter, a washable fabric pen, plenty of safety pins, a fabric tape measure. You might also want a needle and some thread to match your material if you choose a more loosely knit fabric.
It only takes a few easy steps to create, and could be a no-sew project depending on the fabric you choose.
What you end up with is a stylish poncho that is versatile enough to be worn many different ways, that can vary with your choice of layers and accessories.
DIY Cozy Winter Poncho
Easily make yourself a stylish winter poncho!
Ingredients
1

yard

knit fabric

scissors

safety pins

fabric tape measure

washable fabric marker
Instructions
Make sure your fabric is an even square and trim down any irregular corners. Fold the square in half, and line up the outer edges. Pin the two layers of edges together with safety pins, leaving 4 to 6 inches between pins. This is to keep stop the fabric from slipping, and to hold it into place as a square. Fold the pinned fabric over again into a quarter, and pin the inner corner again through the four layers. This inner corner should be the exact center of your yard of fabric.

Using the tape measure, make a mark 4" in from the top edge of the inner corner, and another 2" down from the top of the inner corner.

Using the washable fabric marker, draw a curved line freehand from the 4" mark at the top, down to the 2" mark at the side of the folded fabric. This is the outline for the neck opening. Carefully cut along this outline through all four layers of fabric. It will end up making an 8" x 4" long oval opening in the fabric.

Unfold the fabric, and remove all the safety pins from the outer edges of the fabric. If you are working with a more loosely knit material like the one I used, turn the fabric inside out and tack the outer right and left ends of the neck opening with a needle and thread, to prevent any stretching or unraveling of the material.

Wash the your poncho by hand or on a gentle cycle and dry it before wearing, to remove any fabric sizing or lint. Trim off any long excess threads from edges.