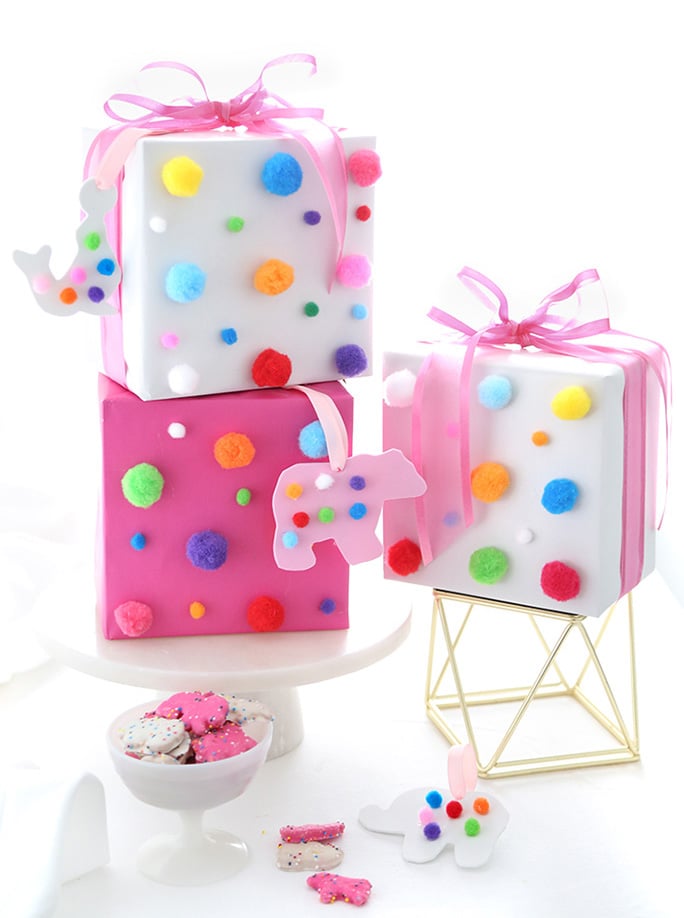 Gift wrap is made extra cute with a little inspiration from Frosted Circus Animal Cookies! The animal-shaped shortbread cookies are frosted hot pink and white and finished with a scatter of sprinkles – which is our color palette for these gifts!
You'll need a few simple craft items that are easy to find at dollar stores and online. Hot pink and white gift wrap create the blank canvas of cookie colors on which to decorate. Standard and mini size pompoms in rainbow colors are the colorful 'sprinkles' on top. Foam sheets are trimmed to animal shapes using a template and scissors, and 3/8-inch grosgrain ribbon will serve as our hanger for the tag. You'll aslo need a crafters BFF, a hot glue gun! (And glue sticks, of course!)
Gather your gifts and wrap them up! I prefer using double stick tape on my gift wrapped packages to make them extra neat at the seams.
When all the packages have been tidily wrapped, arrange the standard size poms on top of a box. Once the puffs are arranged to your liking, glue them on.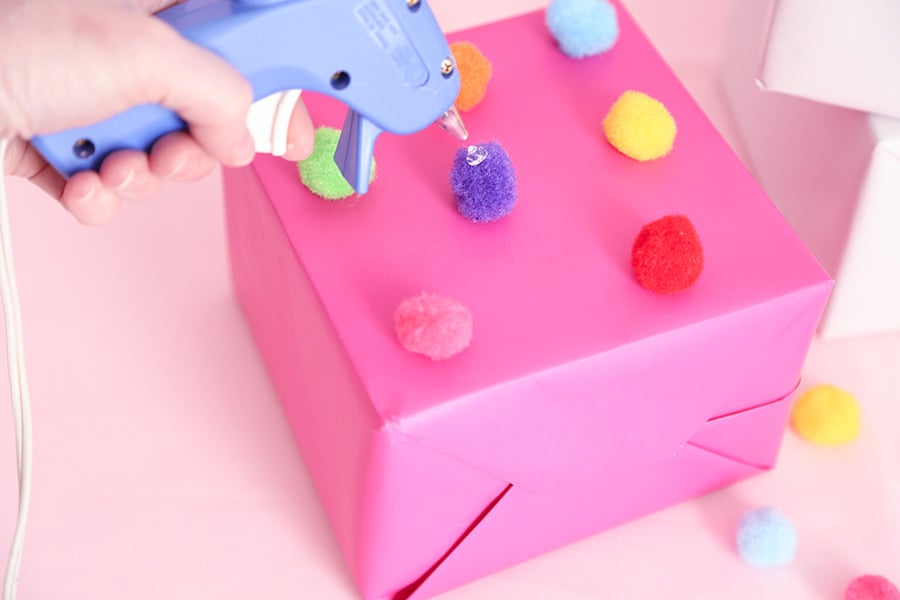 I like to place a small amount of glue on each pom and then flip them over in their place.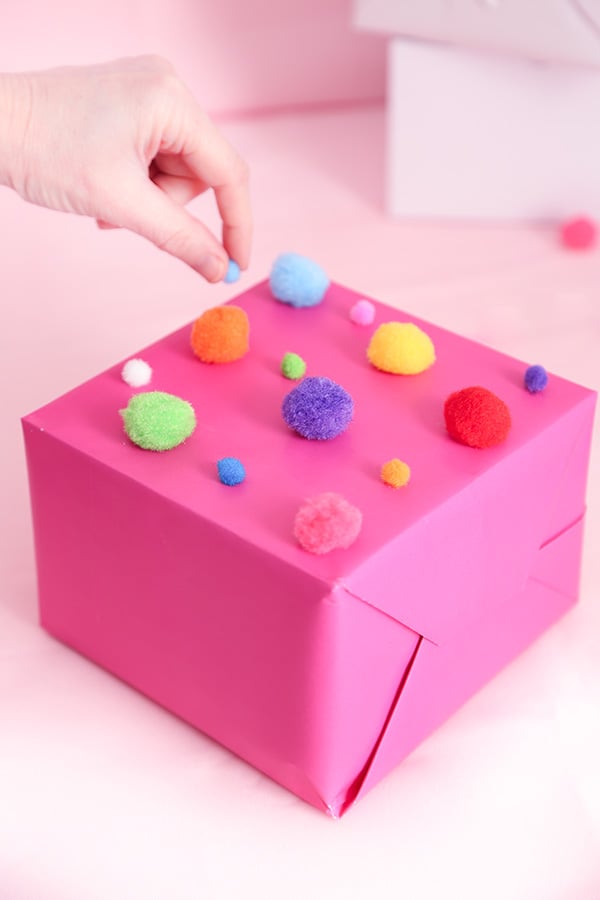 Same thing, smaller poms! Arrange mini poms around the larger ones and attach them with a tiny dot of hot glue.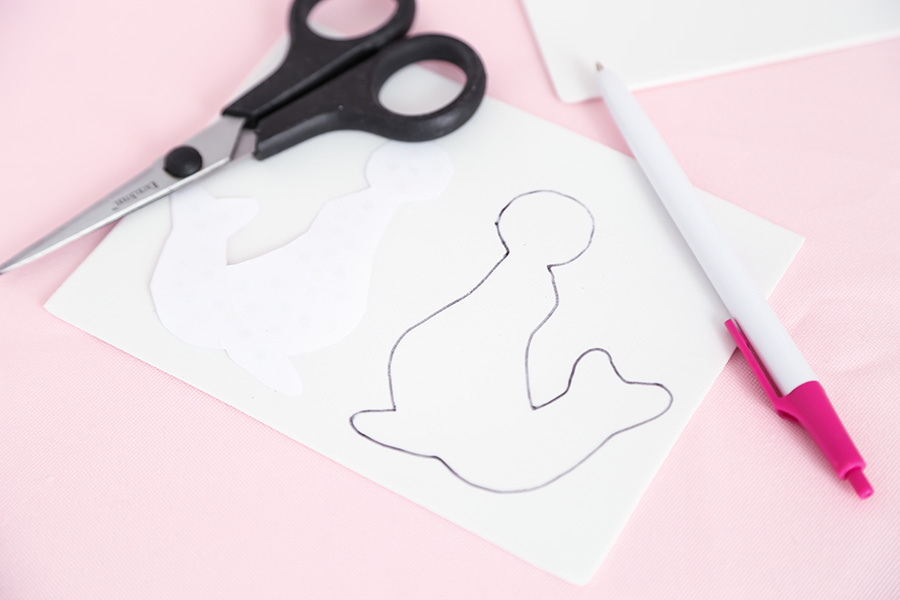 You can find the templates we used for the foam tags at this link. Cut out the shapes provided and trace them onto a sheet of the foam (pink or white for cookie colors). Cut them out using a pair of scissors.
Arrange a few mini poms on the cut-out, and glue them on.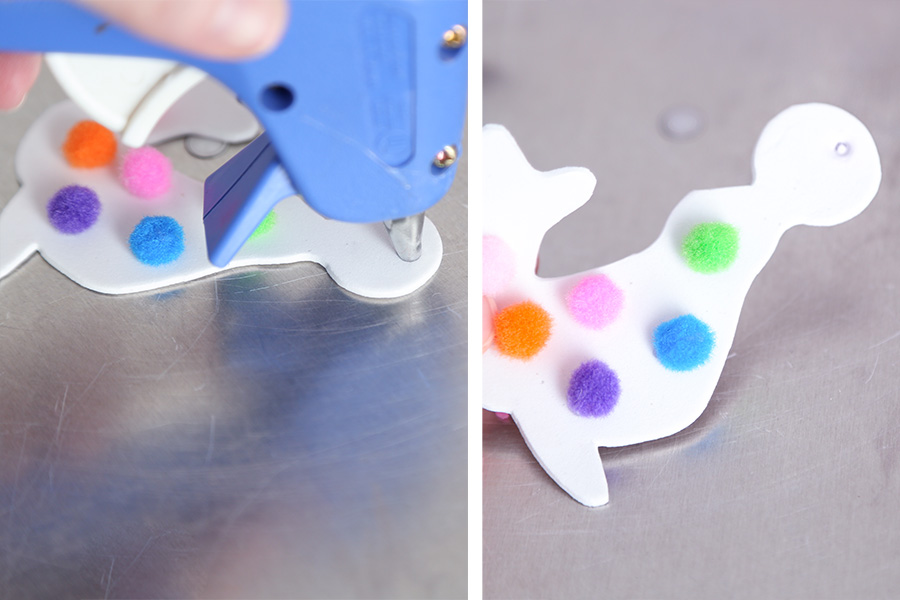 The tip of a glue gun can be used to score a hole in the foam. This is a low-temp glue gun, so I held it on for a good 30 seconds. Be careful if you are using a higher powered glue gun, it may scorch the foam! Once the hole is made, you can thread a small ribbon through the hole to hang the tag.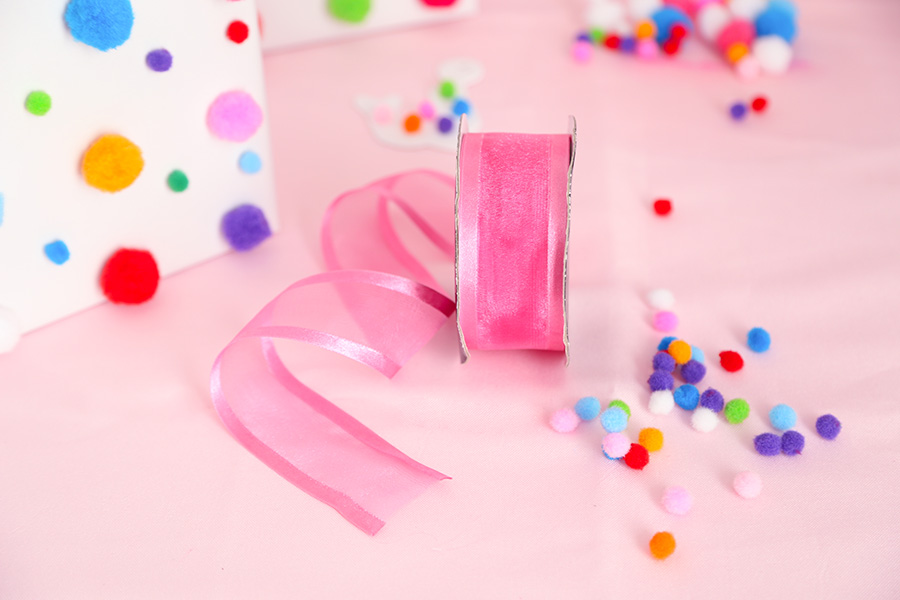 The gifts look pretty cute with just the pompom decor, but adding a bow or ribbon will make the packages look even better! I used some 1 1/2-inch pink organza ribbon with a satin edge. So pretty!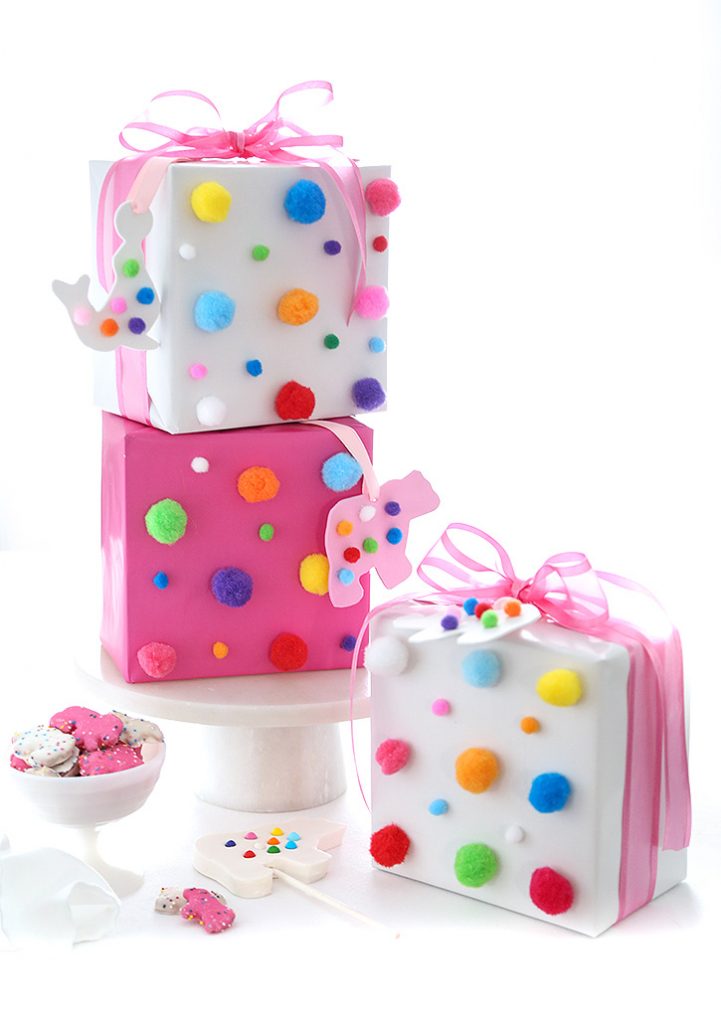 This is such a fun and easy project, and I can't wait to wrap up some birthday gifts using this technique. It's so cheerful! I might even package some frosted circus animal cookies in cellophane to tie on the packages. Everyone loves a snack!
Happy wrapping!