Send your bridal shower guests home with a special spa favor! These therapeutic bath salts are infused with essential oils and beautifully packaged in single use vials.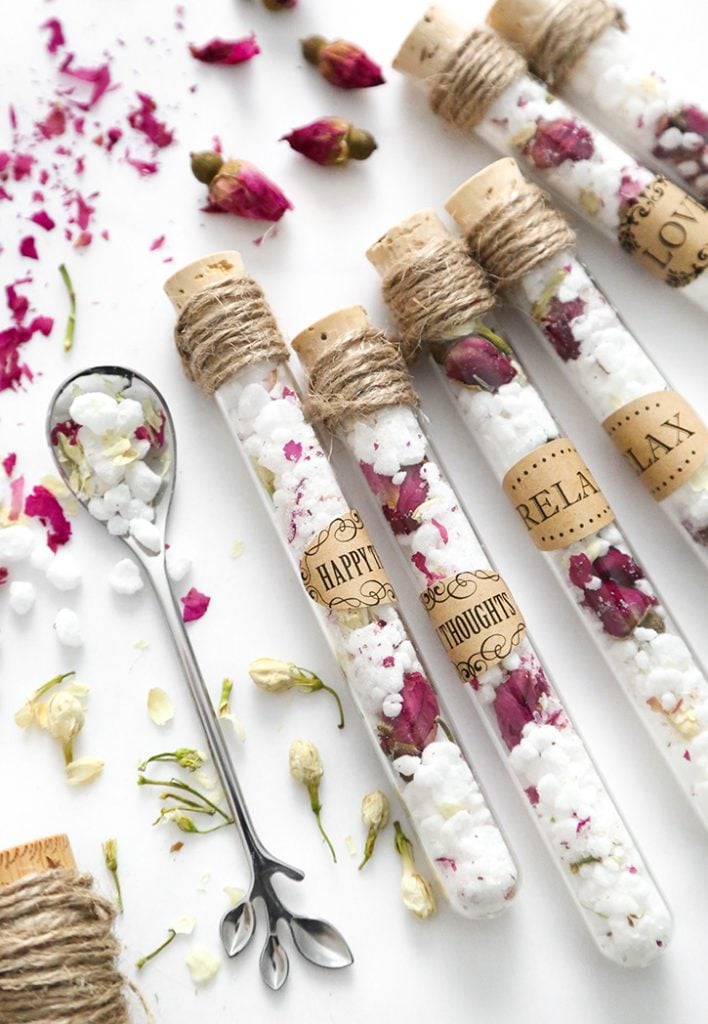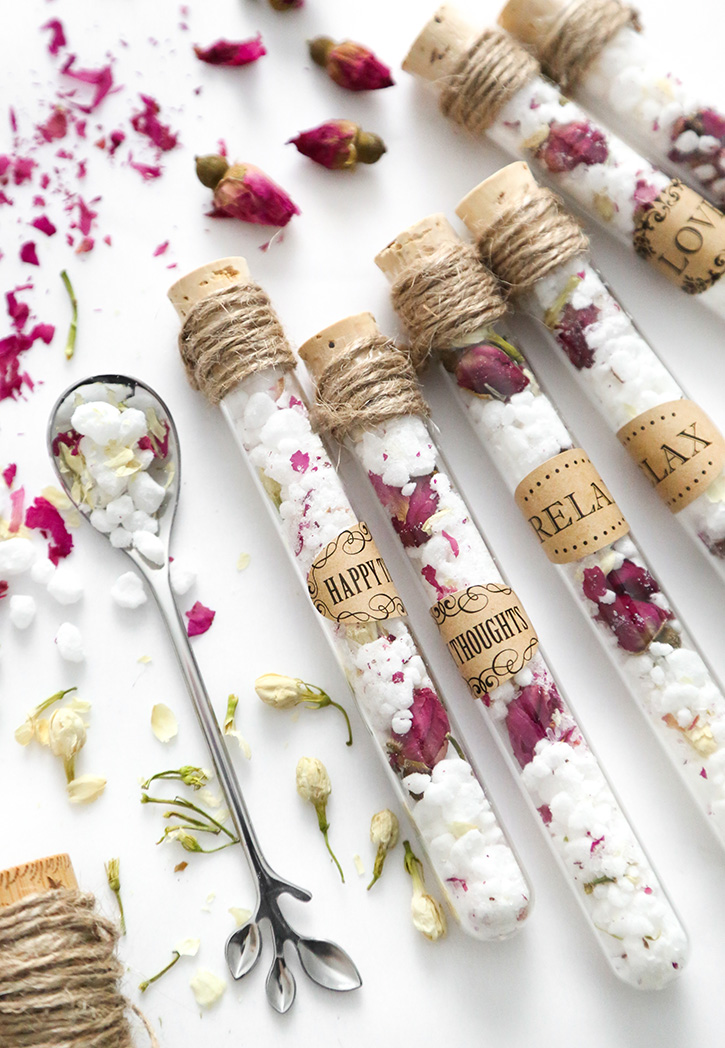 Soothing soaking salts are great for relaxation and stress relief, and make a lovely thank-you to guests for coming and sharing in your special day. These are great favors for nearly any soiree, but they are especially thoughtful gifts for dutiful bridesmaids.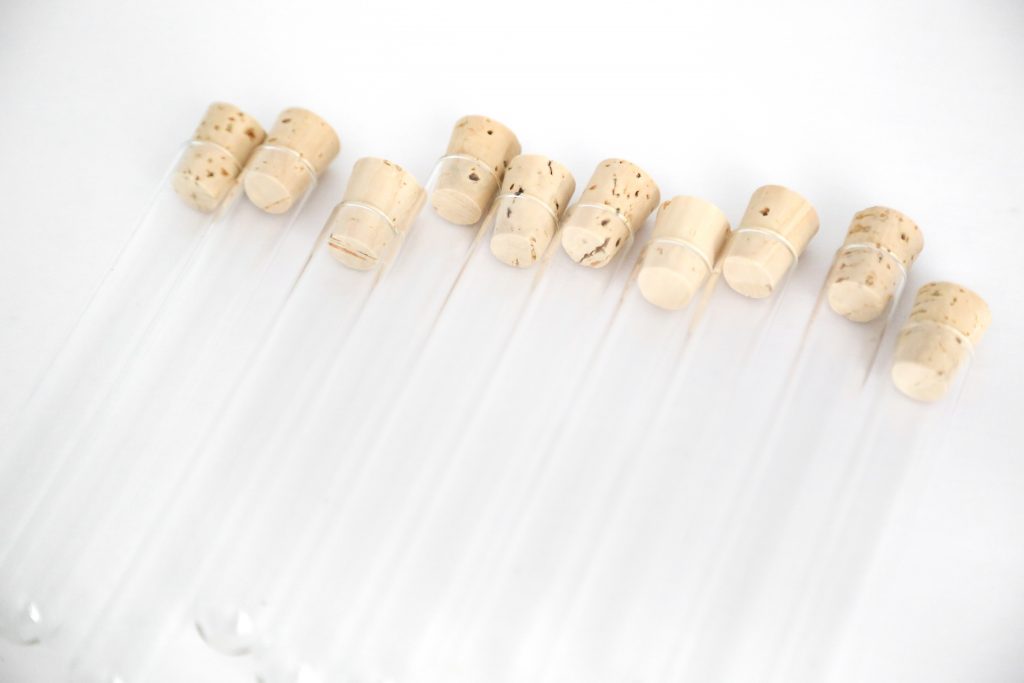 Creating your own beauty products is a little bit like making your own food. You have the benefit of choosing the best ingredients and bypassing all kinds of questionable preservatives and chemicals. Our recipe for spa salts has natural, therapeutic ingredients and the salts can be endlessly varied with your favorite essential oils. To package them for favors as we have, you'll need glass vials with cork stoppers. The recipe provided will yield about 24 test-tube favors.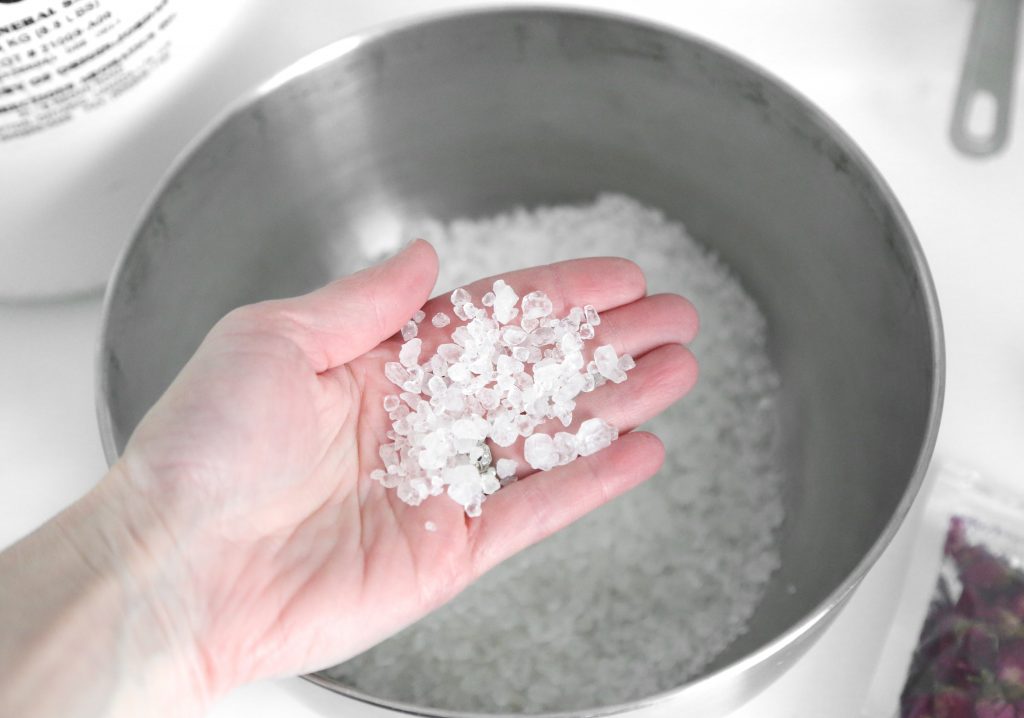 The base recipe has three ingredients that you can endlessly vary with oils and herbs.
Coarse Dead Sea Salt is rich in essential minerals such as magnesium, bromide, iodine, potassium, sulfur, calcium, sodium and zinc and many more! Adding Dead Sea salts to your bath helps treat inflammation, encourages wound healing, soothes joint pain, and relieves tired and sore muscles. It is reportedly good for treating eczema and acne.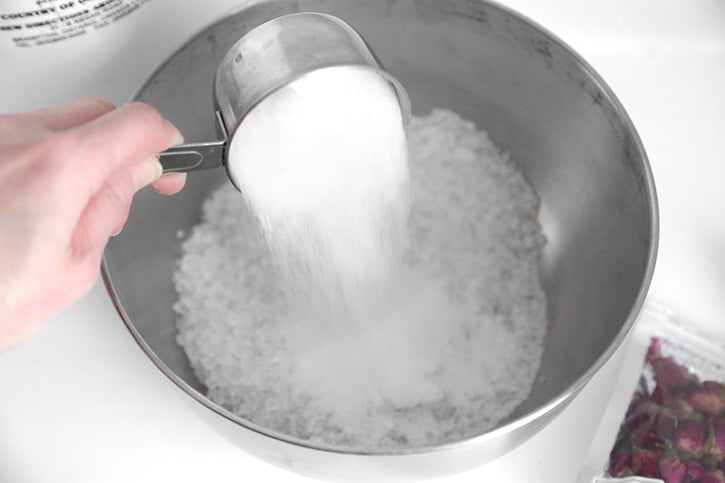 Epsom Salts are not actually salts, but a mineral compound of magnesium and sulfate – both of which are easily absorbed through the skin. When used in a bath soak, the magnesium in epsom salts help to produce serotonin, a mood-elevating chemical within the brain that creates calm, happy feelings. They also help to soothe muscle pain and detoxify the skin.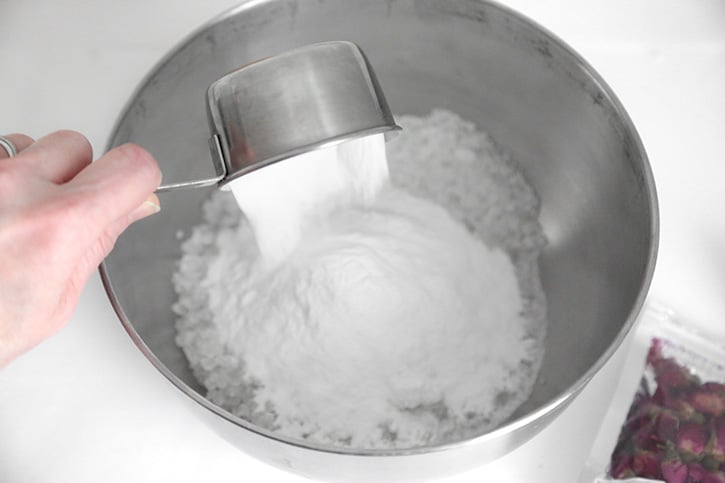 Sodium Bicarbonate – yes, good old baking soda is a wonderful addition to bath soaks because it is alkaline and can help balance your body's pH. It will also make your bath water feel super silky and luxurious.
Mix those three ingredients together in a big bowl and that's your spa salt base!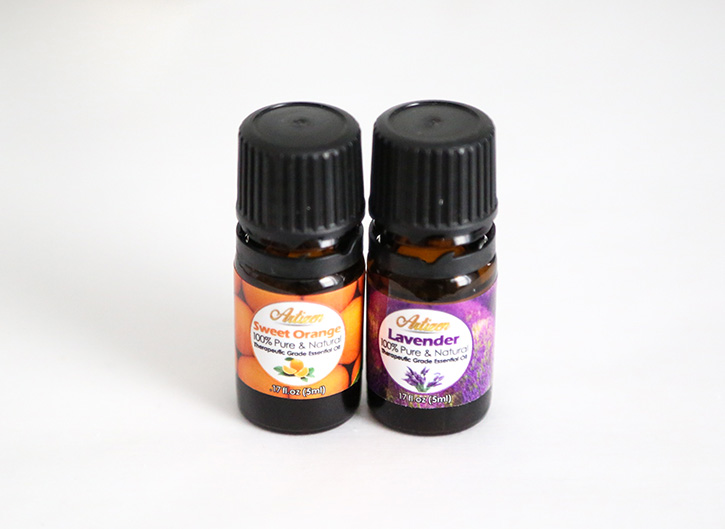 Essential oils will add the benefit of aromatherapy to your bath. I love the scent of Lavender Oil , so I added some to my batch of salts. It has anti-inflammatory, antidepressant, and antibacterial properties. A few drops of Sweet Orange Oil also went into the mix. It also has anti-inflammatory properties and a zesty mood-boosting scent!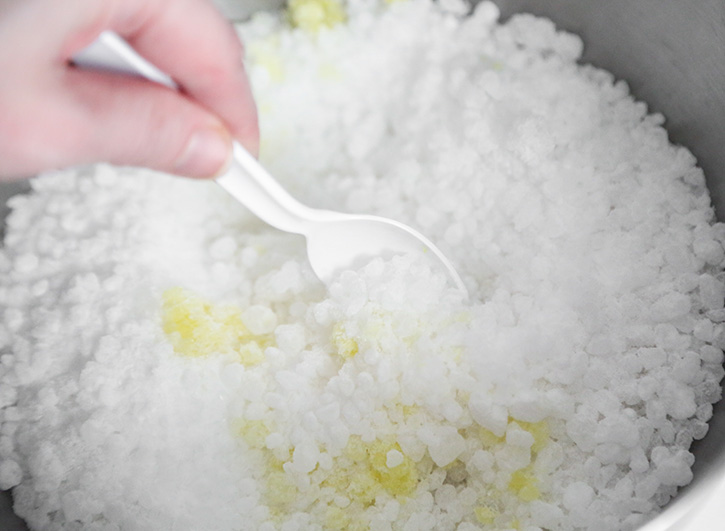 Some of the oils will be colorless, like the lavender oil, but some will have a little natural color. The orange oil has a slight yellow tinge, but that disappears with mixing.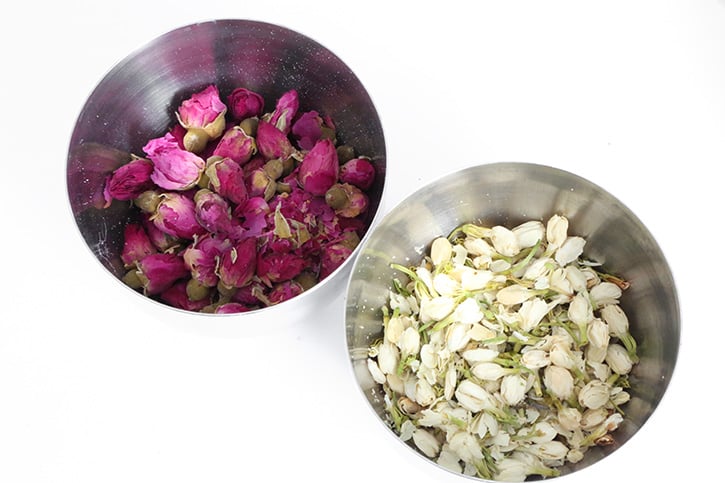 Food grade dried flowers make a pretty addition and add subtle scent to the salts. As the flowers steep in the bath water like tea, they may release some natural color. Here I've used tiny tight rose buds and jasmine.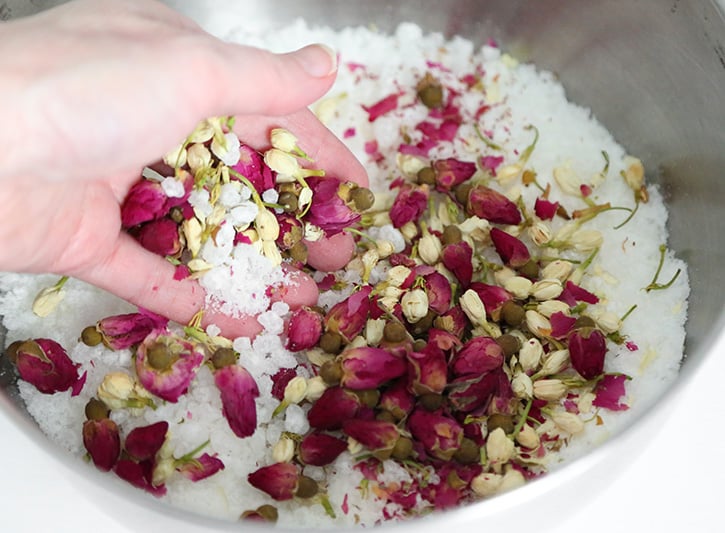 Gently fold the flowers into the salts. I crushed a few of the rose petals between my fingers to disperse a bit more color throughout the base mixture.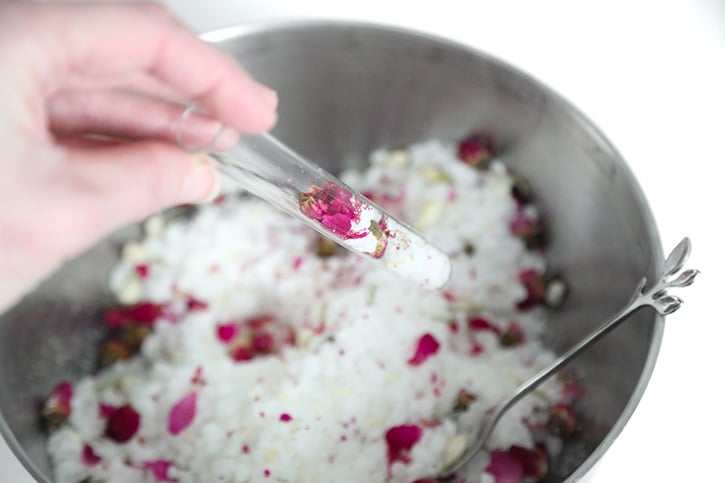 Use a small spoon to fill the vials. Avoid overpacking the salts into the vials, or they may be difficult to pour out.
I found some cute ready-made essential oils kraft labels online, and decided to use them for packaging. "Happy Thoughts" was my favorite label, although many others fit well, too. You can find them here.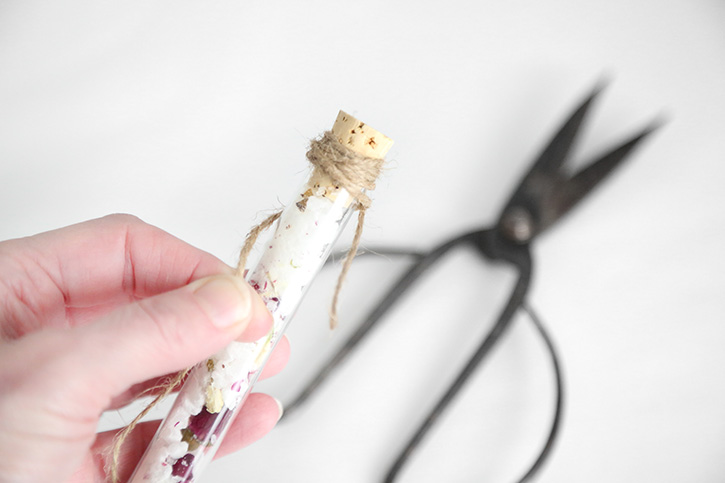 I used clear cellophane tape to seal the tube around the cork, then coiled some jute twine around the top edge to hide the tape. I just love this natural-looking touch on the favors.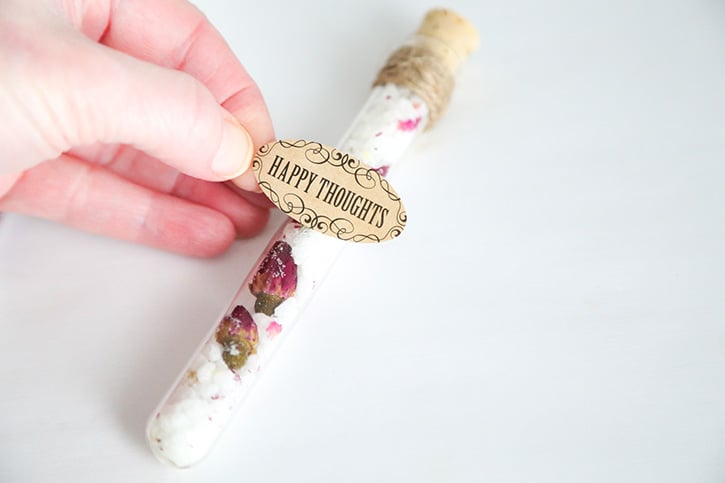 A long therapeutic soak is definitely one of my recharging rituals, and even if you don't make these for favors, I hope you'll give the recipe a try!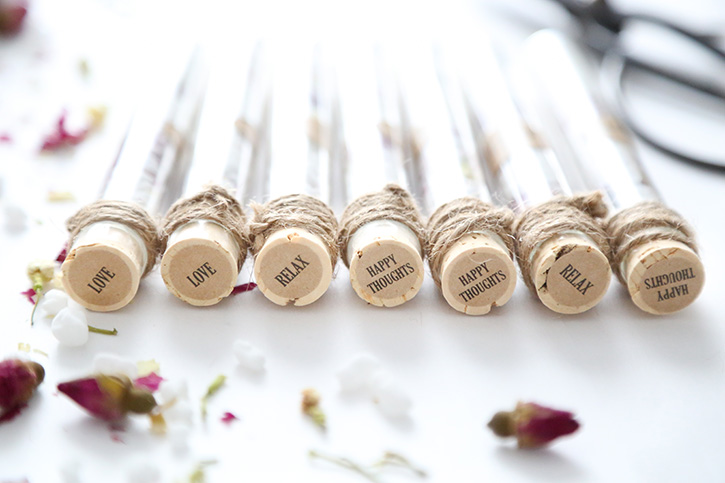 The labels I purchased also come with little round bottle top labels, which looked adorable on the corks. I really love little details like this. It makes the favors look like they were made with love and care (they were!).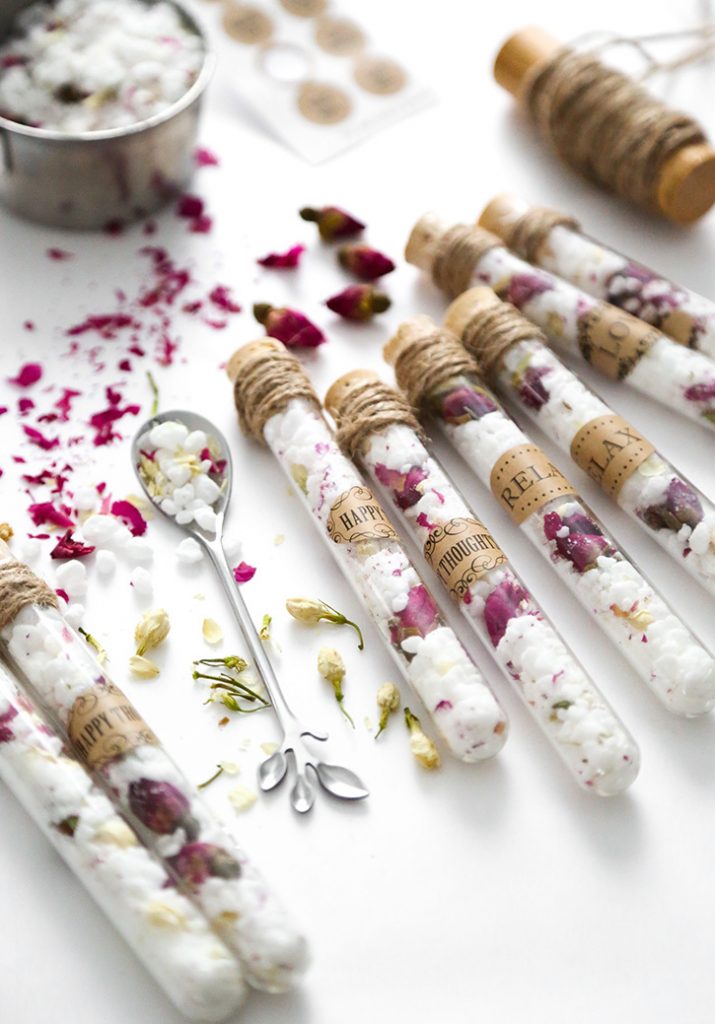 You may want to bookmark these favors for more than just bridal showers. I think they'd be wonderful for other holidays such as Valentine's Day and Mother's Day. Those of us that plan for Christmas year-round will appreciate these as easy stocking stuffers or office gifts.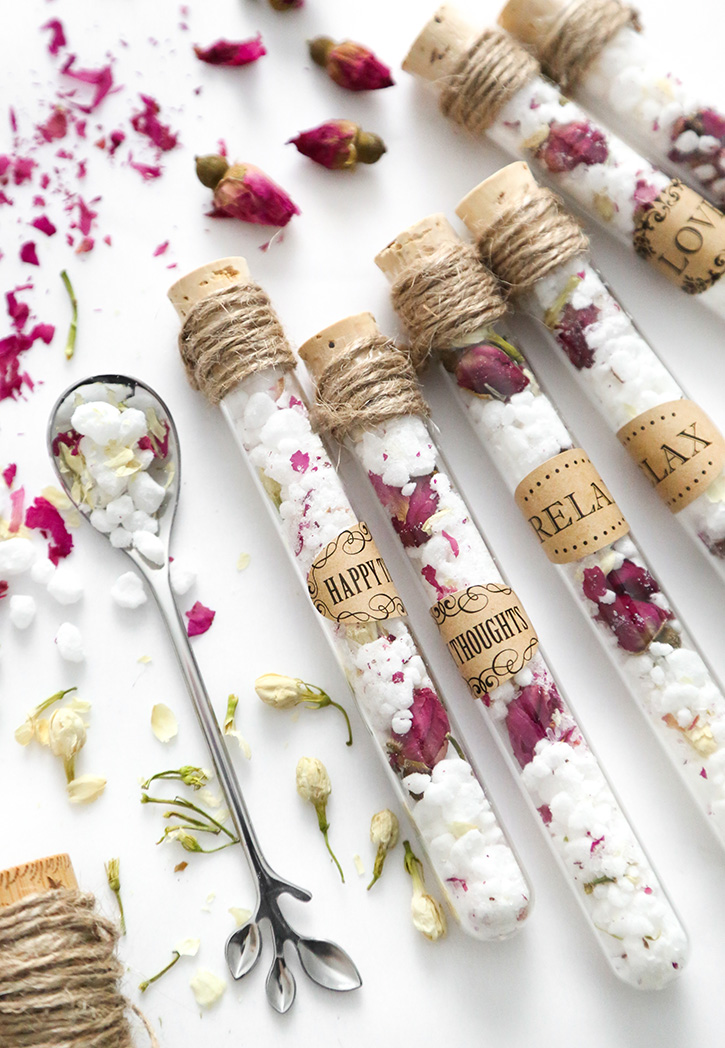 DIY Bridal Shower Favors: Spa Bath Salts
Send your bridal shower guests home with a special spa favor! These therapeutic bath salts are infused with essential oils and beautifully packaged in single use vials.

Ingredients
1 1/2

cups

coarse Dead Sea salts

1/2

cup

Epsom salts

1/2

cup

baking soda

30

drops

lavender oil

15

drops

sweet orange oil

1/4

cup

food grade dried rose buds

3

tbsp

food grade jasmine buds

24

count

glass vials with cork stoppers

14 ml volume

1

sheet

1.5x.75 preprinted kraft labels

Clear cellophane tape

Burlap twine

scissors
Instructions
In a large bowl, combine the Dead Sea salts, Epsom salts, and baking soda. Mix well using a cosmetics-dedicated rubber spatula to combine.


Add the lavender oil and orange oil. Mix into the salts using the spatula. Keep turning the mixture over and mashing the salts until the oils are completely dispersed. The addition of the oils will cause the baking soda and Epsom salts to cling to the surface of the coarse Dead Sea salt, making them look like little opaque ice pellets.


Add the rose buds and jasmine. Fold them in with a rubber spatula. Crush a few rose buds between your fingers to disperse more color throughout the salts, if desired.

Use a small spoon to scoop the salts from the bowl and funnel them into the vials. Avoid over-packing the salts into the vials, or they become stuck inside the vials. (If this happens, use a long skewer to coax the salts out of the tube.)

Place the corks in the tubes and wrap a small length of clear cellophane tape around the tube where the glass and cork meet. Wind burlap twine around the top edge of the tubes to cover the tape. Knot the twine and cut off the excess.

Place labels on the centers of the tubes, and corresponding labels on the cork tops (if applicable).

Present the tubes in a pretty vase so guests can take one as they leave, or lay a vial at each place setting at your reception tables.
Notes
Guests who do not use bath salts may use this as a healing foot soak. Consider including small mesh bags with your vials for steeping the salts in hot bath water. This removes the need for cleaning the rose petals out of the tub after the spa treatment.