Create your own coastal candle holders and bring the beach to your house!
They make beautiful accents for powder rooms, coffee tables, sideboards, or unique dining table centerpieces.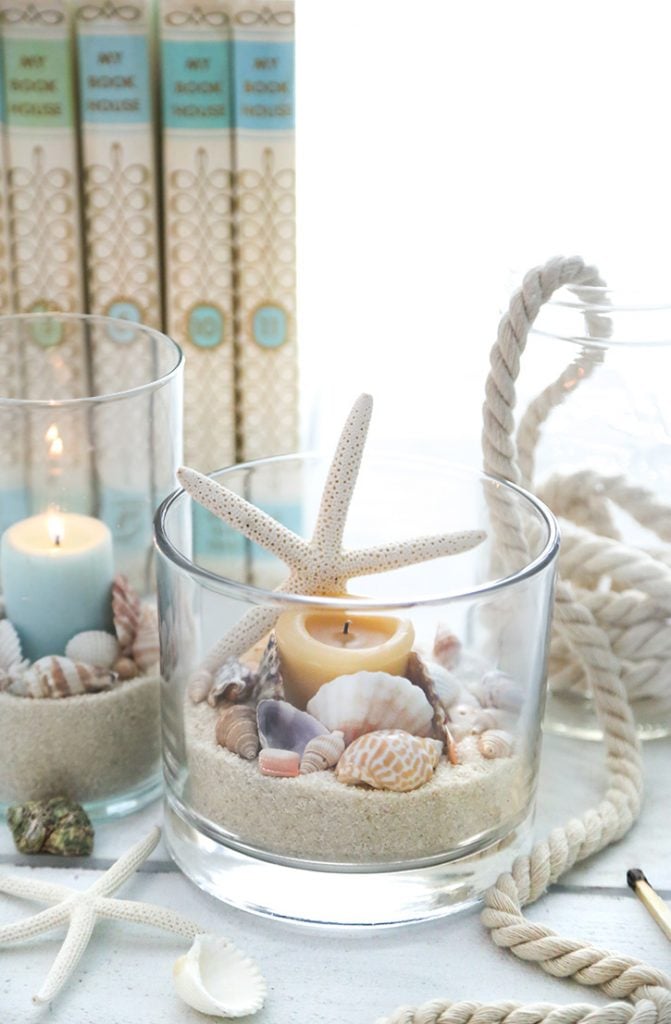 This is a very easy seasonal decor project that can be endlessly varied. The size, color scheme, shape and style of container can be assembled into a custom decorative candle holder to fit into any setting. You can even create multiple small candle holders to use as table decorations that can also be favors for guests at a beach-themed wedding!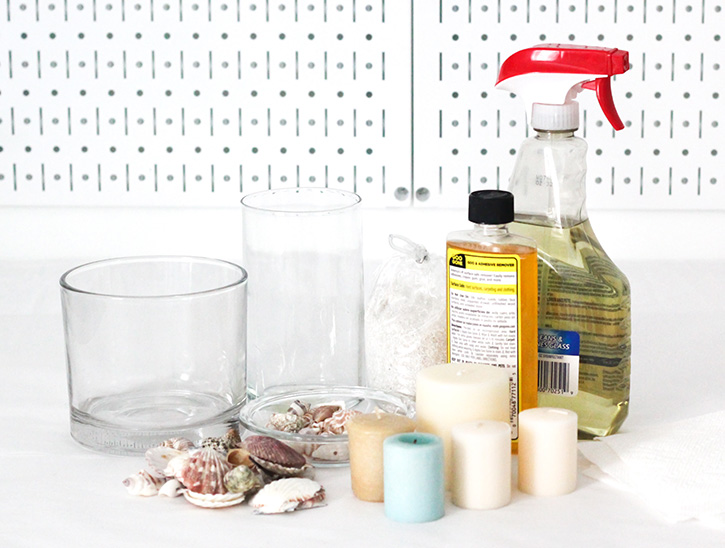 The materials you need are adhesive remover for removing labels, glass cleaner, a sturdy glass container, decorative filler sand, a selection of votive or pillar candles to choose from, and a variety of sea shells.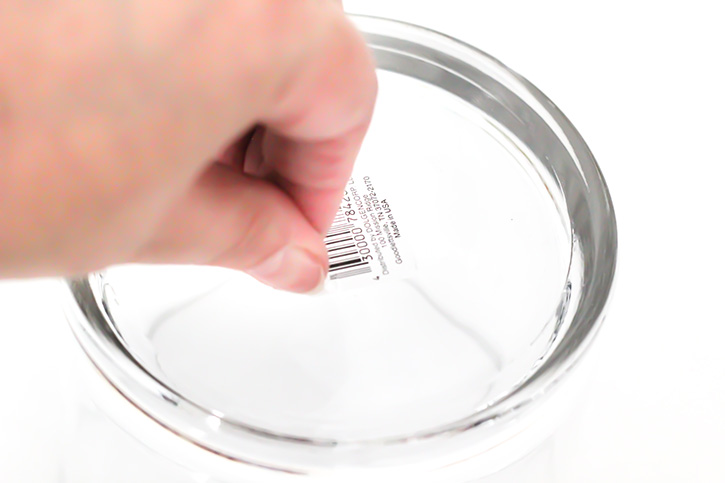 Remove any labels from the surface of the glass, then thoroughly clean any residues off the container. You can use any sturdy glass container with an open top, such as bowls, cylinder vases, drinking tumblers, mason jars, even an old-fashioned fishbowl! Any container that is the right size and shape to fit the setting you would like to put your candle holder in will work, so long as it clear glass to show the materials inside.
The next step is simply to pour the sand into the container, filling it up to depth of at least a quarter full, depending on the height of the container. You can adjust the amount of sand to your liking. Decorative sand can be found at most craft sores and discount stores. It's inexpensive, and available in a variety of colors. Level out the layer of sand by flattening it with your fingers, or shaking the container slightly for a smoother surface.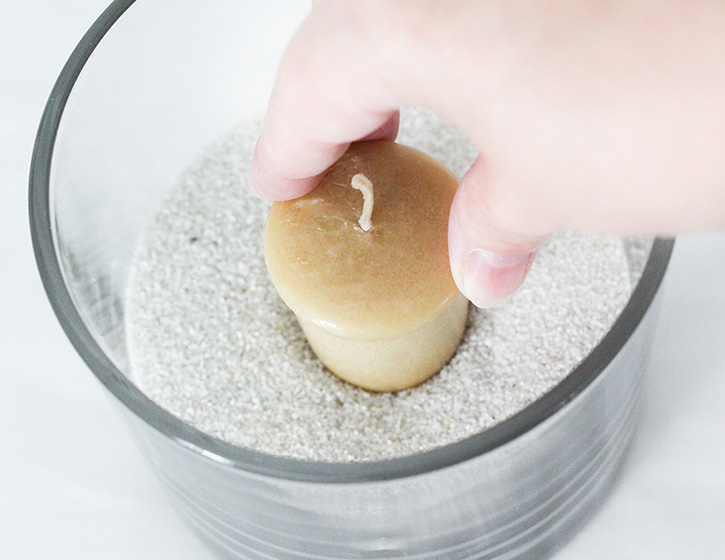 Next, choose a candle to fit the size of your container. A votive candle or tealight works well for smaller containers. Pillar candles look great in hurricane glass vases, and other larger glass containers. Center the candle and lightly press it into the sand, making sure that you leave at least an inch to two inches of space around it to place shells into.
A wide variety of sea shells can be found at craft stores. You can usually buy smaller ones in a bag of assorted shells, and sometimes they will sell the really beautiful medium and larger shells individually. Or, you might be a compulsive shell collector like me, and already have a lot at home to choose from!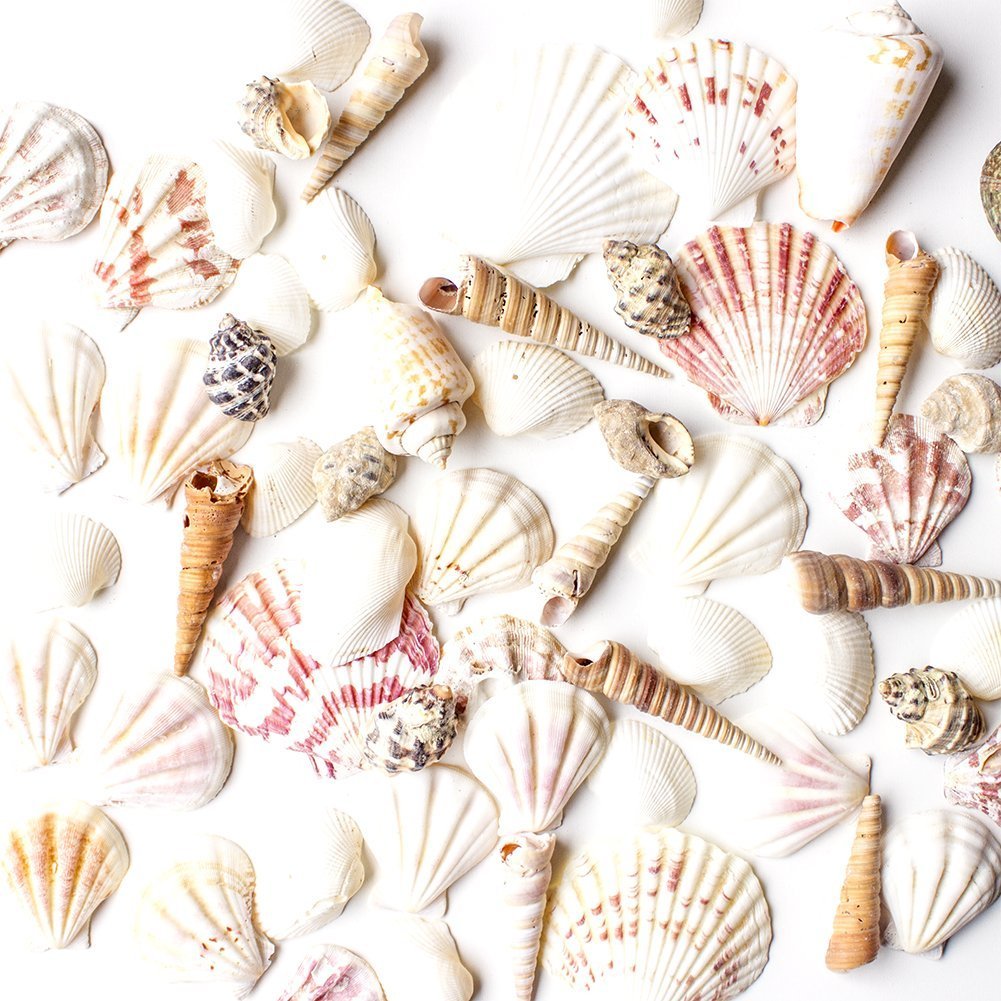 Choose the shells you want to add to your container and simply drop or place them in around the candle, starting with the larger shells first, then adding medium shells, and then the smallest ones as accents. Rotate the container around, and look through the sides to check that the shells are placed the way you want them. A pair of long tweezers can be used to place and move shells around in tighter spaces that you can't fit your fingers into.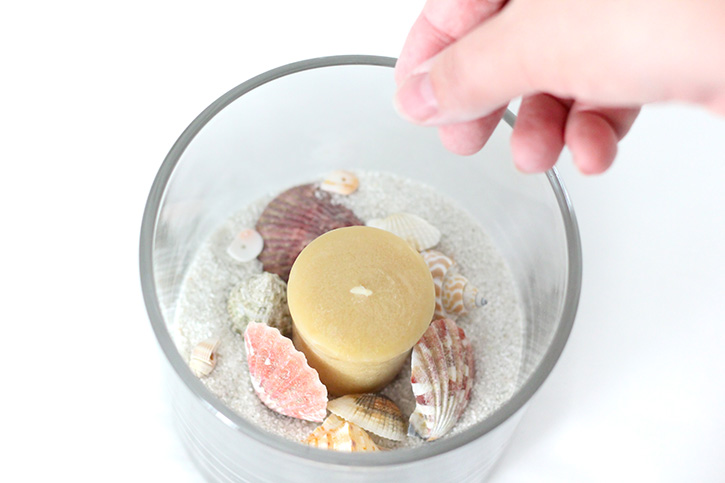 A starfish, pieces of coral, or even twigs of driftwood can be added to add some height to the arrangement. Just make sure that anything flammable is placed clear of the top of the candle.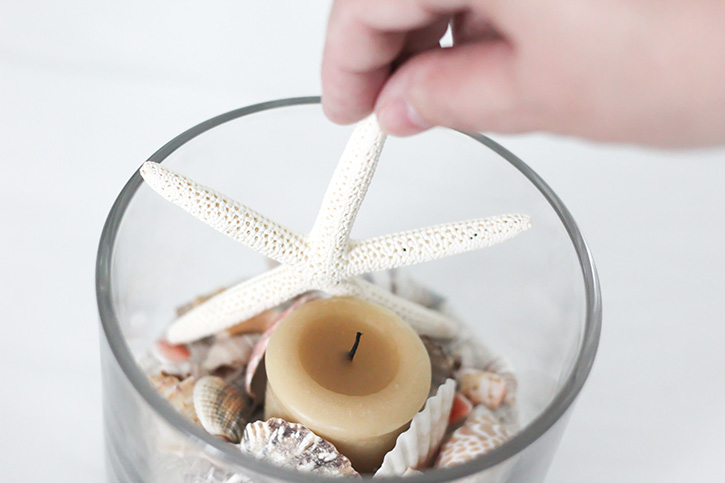 The effect will be like a beach-themed shell terrarium, with a candle inside for a soft ambient light. I chose a light natural sand color in both candle holders for a neutral base layer.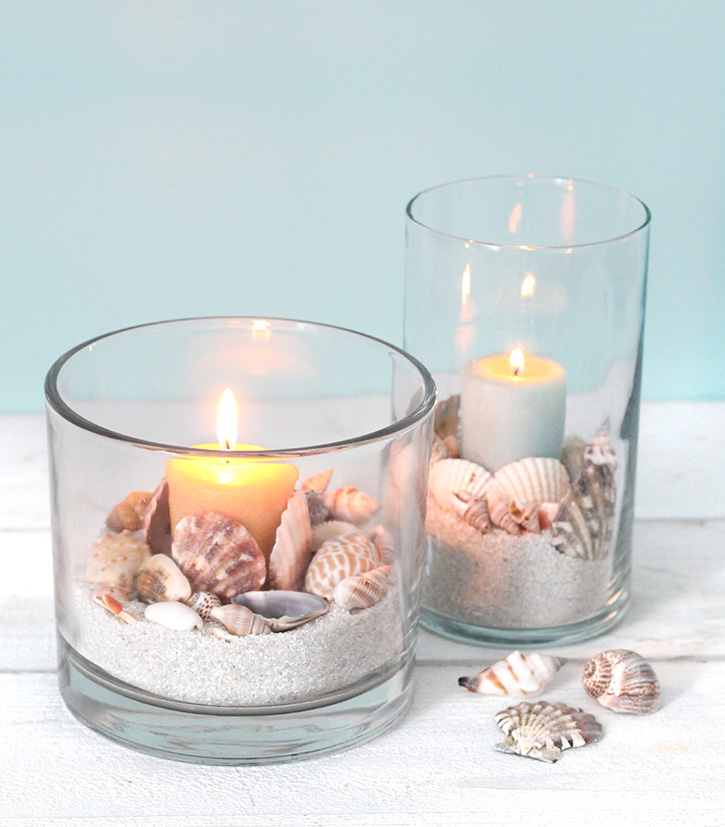 For one candle holder, I chose a light tan candle to add a warmer tone that brings out richer colors, and to highlight all the beige and brown markings on some of the shells. I selected an aqua colored candle for the second candle holder, and used whiter shells in it to create a cooler, crisper color scheme. You can really play with the colors of the sand, candles and shells to create your own combination for this project.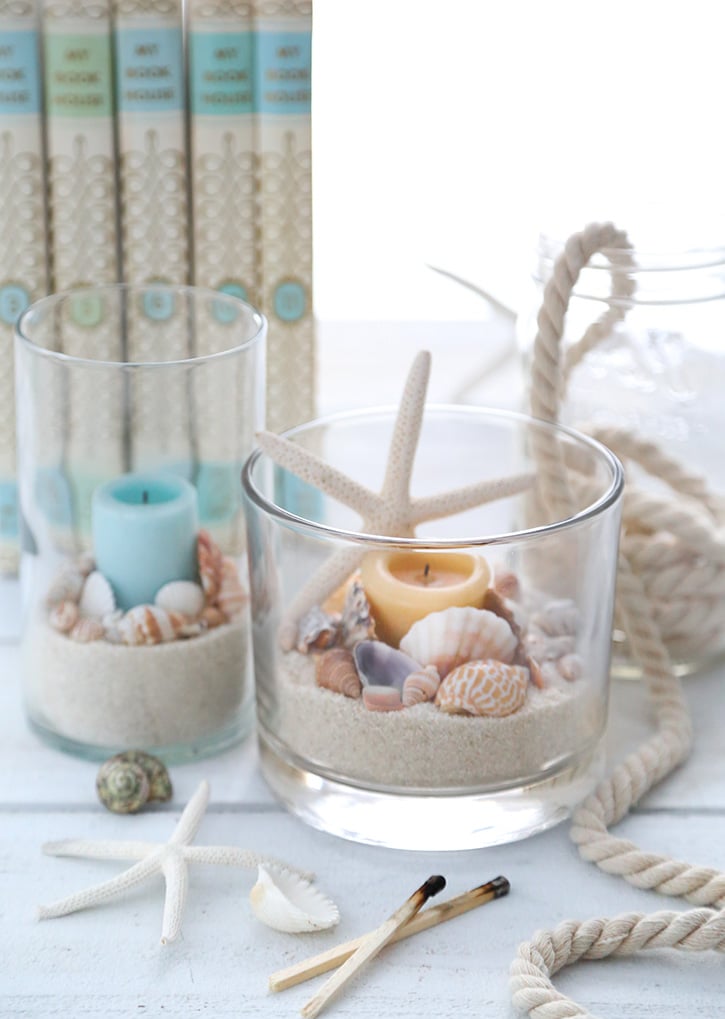 A candle holder with a natural sand and shell theme brings a coastal, summer touch into any room. Use shells you picked up on a favorite vacation to make these candle holders extra-special. It's a beautiful way to display them and a nice way to bring back happy memories.