Add a little magic to your St. Patrick's Day with a beautiful moss and shamrock-covered wreath. It's embellished with a kiss of gold leaf and quartz crystal points also known as faerie wands.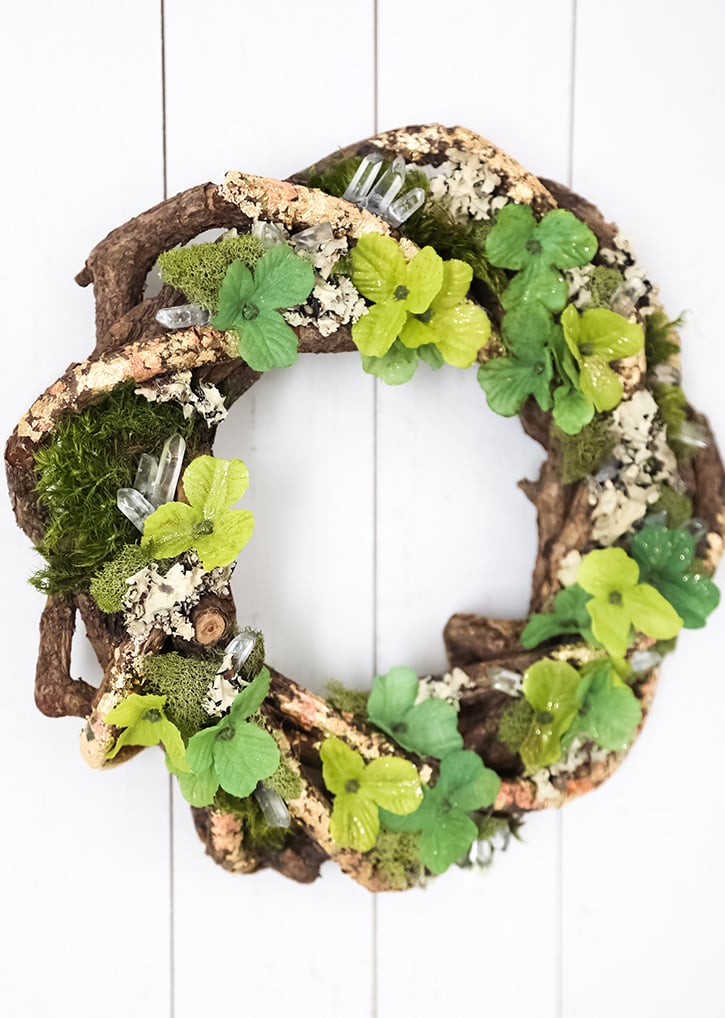 When I spotted a gnarled and twisted vine wreath in a craft store, I was immediately inspired by its complex interwoven look. In its undecorated state the twining vines looked strikingly like Celtic knot work. I immediately thought of it as the basis for a decoration that evokes the folklore and mystery of the Emerald Isle. It was something that could easily incorporate natural elements and a little whimsy. Keeping this vision in mind, I gathered materials and the project took on a life of its own.
Mosses and lichens are easy to find in the floral department of any craft store. Gold leafing could be harder to procure, and may require a trip to your local art supply store (where I found mine!). I had originally envisioned a simple gold leaf sheet embellishment, but a package of flaked gold leaf in colorful hues inspired me most, and resulted in a look that worked better with the texture of the bark.
I had trouble locating artificial shamrocks, but finally discovered a few stems at Michael's (they are available in stores, or online at michaels.com). While I was there, I came across the crystals among the strung beads in the jewelry making aisle, as I was looking for findings for a different project.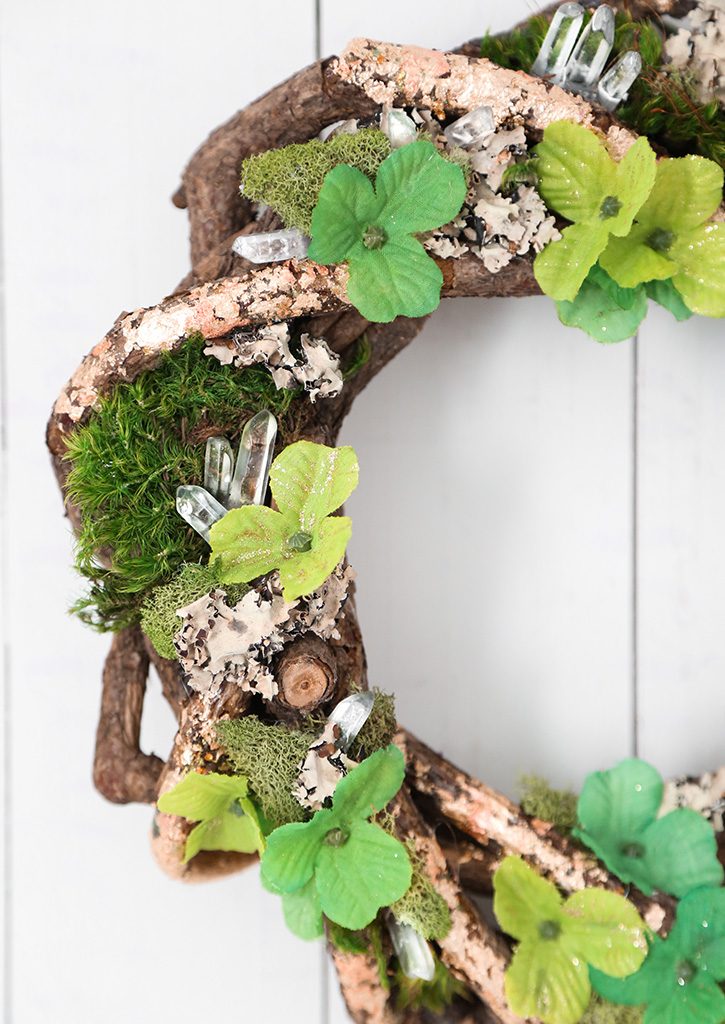 The result is like a mystical woodland landscape, full of little pockets of detail.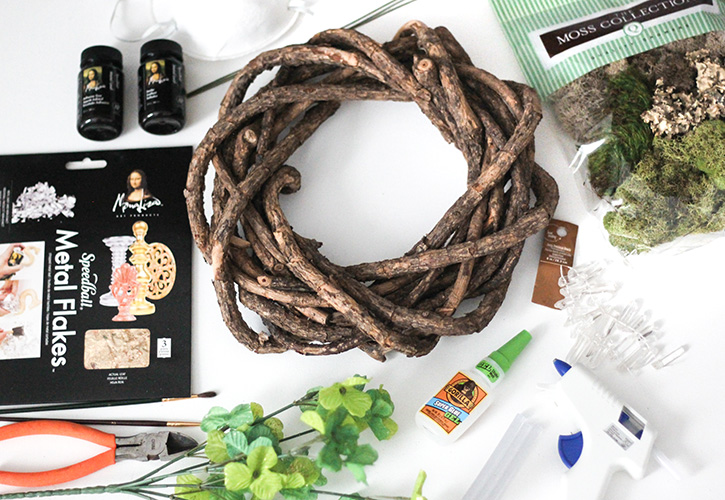 To create your own version of this, you will need a natural thick grapevine wreath, something with a knotted look to it (the knarlier and more interwoven, the better). You will also need two or three floral stem wires, a protective dust mask, adhesive size and sealer for gold leaf, gilding flakes, and at least two brushes for applying them. Also needed are one spray of silk shamrocks, a wire cutter, gel super glue, a glue gun and glue sticks, a strand of crystal stick beads, and a small moss variety pack.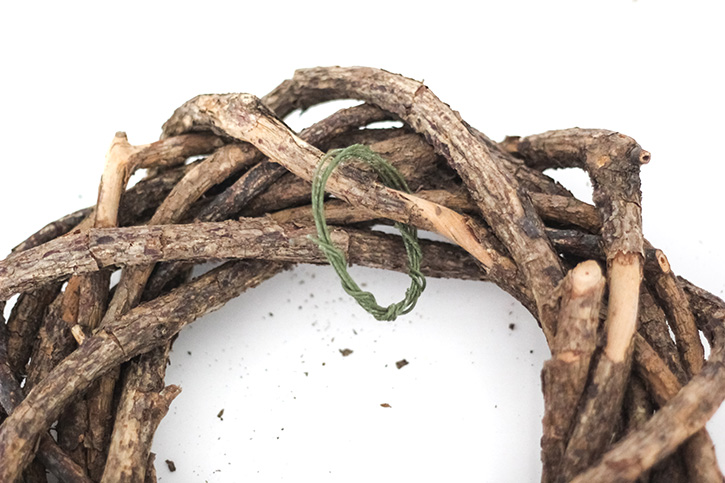 To start, lay the wreath face down and take two or three of the stem wires and thread them through the back. Loop them around two or three times and form a loose ring, and wrap the ends of the wires around the ring to form a hanger.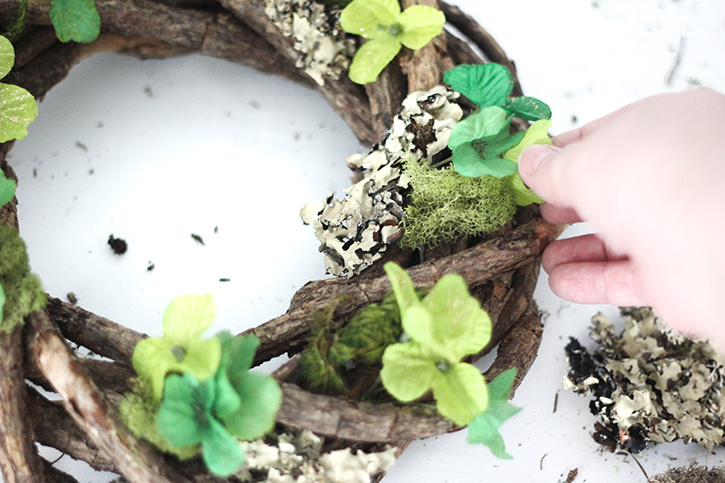 Lay the wreath face-up, and begin placing your decorative elements. You can choose individual pieces of moss to tuck into hollows, and lichens to layer with them. Cut the shamrocks off the spray in clusters and singles, and place them where you think they look best. Don't glue any of this down yet, but leave it in place, as you might need to lift individual pieces during the next steps.
Next, decide which areas you want to embellish with gold leaf. Follow the safety precautions by working in a well-ventilated area, and wear the dust mask while you brush on the adhesive sizing. Follow the product instructions, and wait about 30 minutes for it to become tacky so that you can apply the gold leaf. Use a dry brush to pick up clusters of the leaf and lay it on the adhesive, and to gently tack down larger flakes. Next, carefully brush the sealer over the gold leaf and let it dry at least 15 minutes before you go to the next step.

Use a hot glue gun to tack down the mosses, lichens and shamrocks. Cut the individual crystals off their strands and place them in different areas around the wreath, separately or in clusters. Glue the crystals in place with a cushion of gel super glue (wear the mask if you are sensitive to fumes). I find that gel works better than hot glue because it doesn't run and it actually takes a few seconds longer to dry. That means you'll have more time to make sure each crystal is at the angle you want it. Hold each crystal in place for a few seconds so that they set firmly. You can go back through and cover the bases of the crystals with a pinch of moss, or tuck mosses in behind them to create more structure behind them.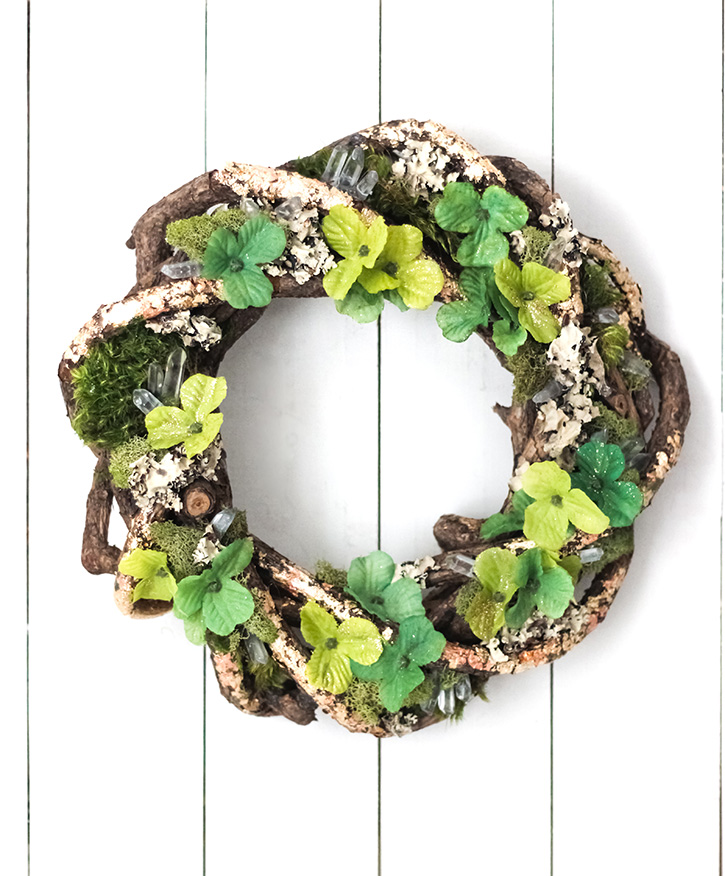 Hang your unique wreath to show your Irish spirit for St.Patrick's Day, and everyone who sees it will want to look closer to see if there are perhaps faeries hiding inside. Did a leprechaun make this?
You can just smile and keep them guessing!