Use a pretty scarf as gift wrap! It's a fun, eco-friendly alternative to using a gift bag, a box or wrapping paper.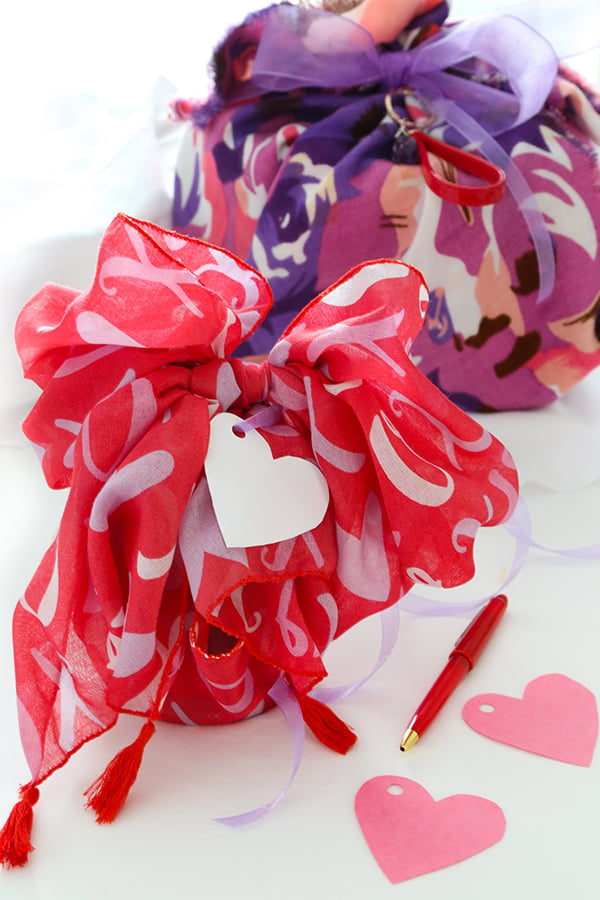 If you're looking for a unique way to present a special gift, then look no further! Using a scarf is a beautiful way to wrap a package, and can make easy work of items that are trickier to wrap. Whether you purchase a new designer scarf or a thrift shop treasure to use, this giftwrap is part of the gift!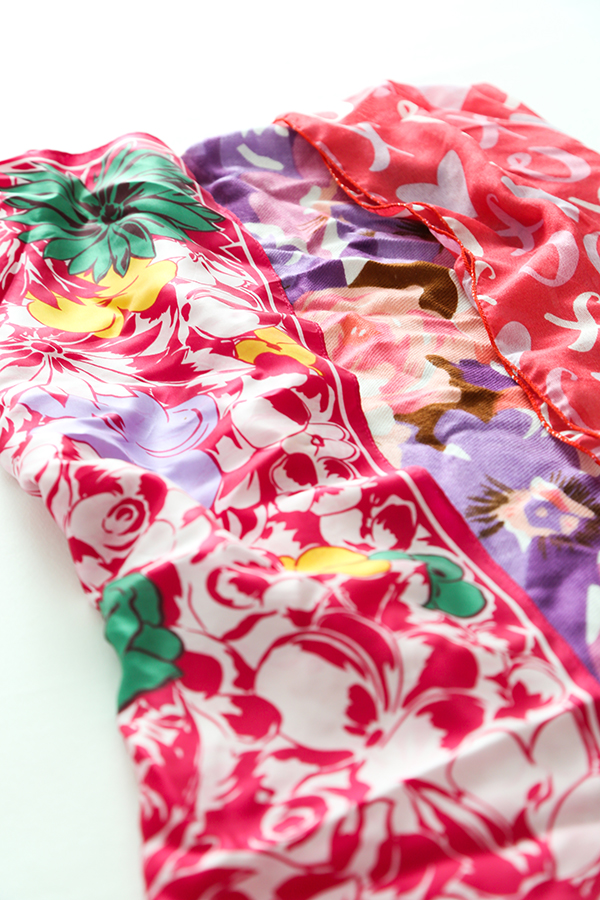 The best scarves to use are a more lightweight fabric, rather than the heavier knitted or crocheted kind (though you could probably make those work too, with some creativity). Be sure to wash the scarf if needed, and press out any wrinkles so that it looks its best for your presentation.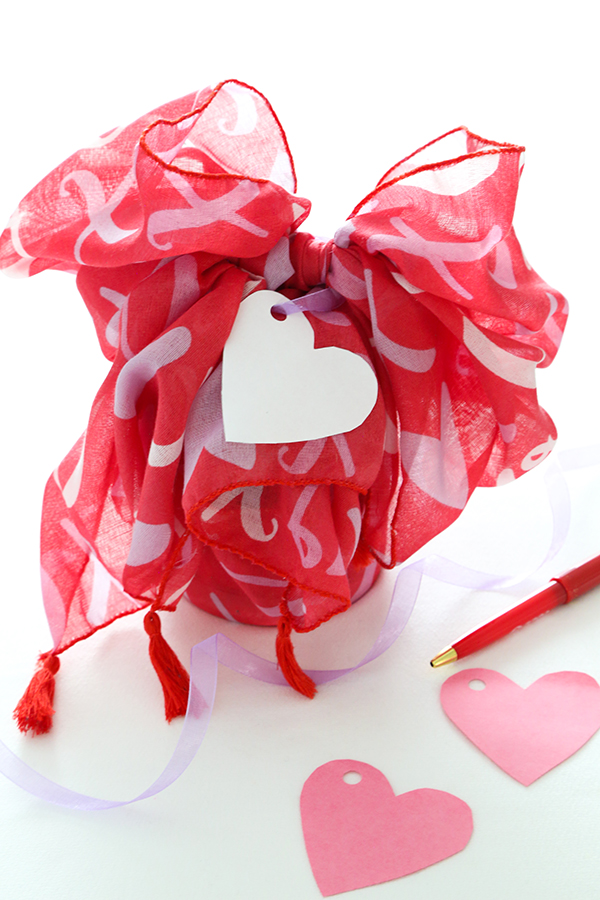 An oblong shaped scarf can be a nice way to wrap a jar candle. Place the candle in the center of the scarf, and stack any smaller items on top (I added some boxed jewelry). Just pull the both ends of the scarf up over the sides, and tie the scarf in a big floppy bow!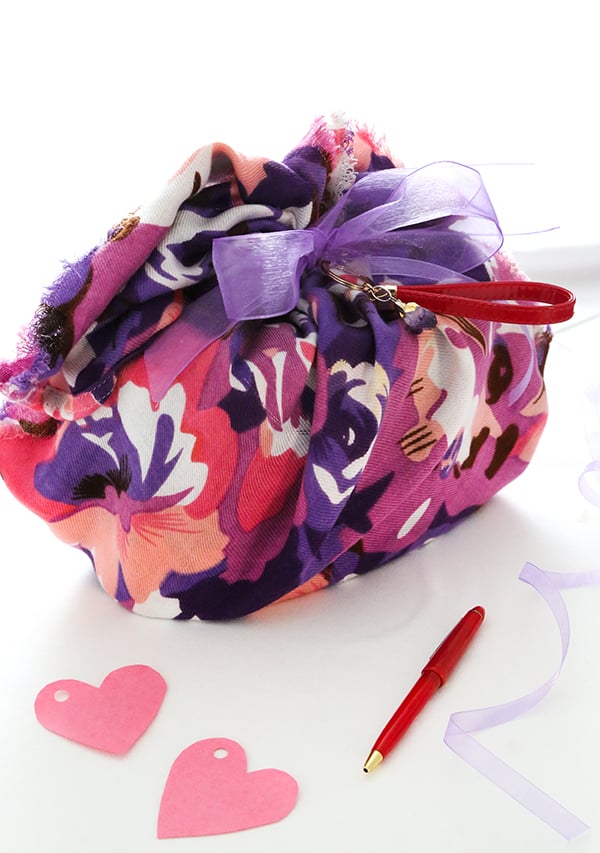 A large infinity scarf is an ideal way to wrap a handbag. Lay the scarf flat and smooth it out. Place the purse in the center, with the longer sides of the scarf to the front and back of it. You can even put other small gifts inside before you wrap it. Pull the long sides of the scarf over the purse, and grip the fabric together right over the purse in a bunch, the way you hold a bouquet of flowers together. Tie the bunch off with some ribbon or yarn – you could even hold it together with a scrunchie. I tied on a keychain and added a bow to make it more special.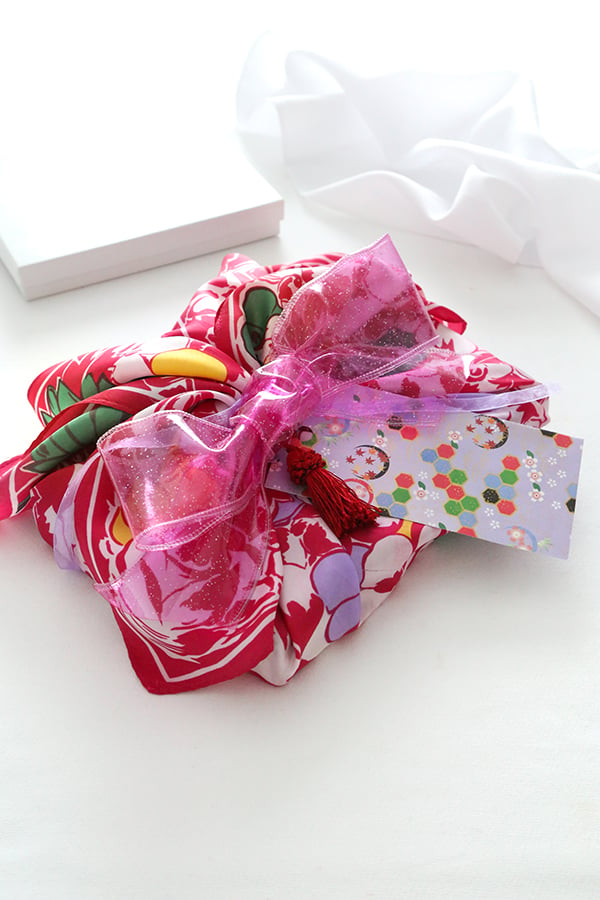 A square scarf can be a great way to wrap chocolates, artwork, cosmetic kits, boxed jewelry, books, or any other flat items. After smoothing this square scarf out, I placed a book in the center and pulled the corners of the scarf over it, and held the fabric together right over the book in a bunch. I tied the bunch off with some ribbon to hold it together, and added a bookmark. Adding a big bow to this gift presentation makes it extra!
You can make this giftwrapping as fancy as you like, with bows, add-ons and gift tags. Or you can keep it simple! Wrapping a gift for someone with a scarf can make a special occasion even more memorable.