Bring light to dark winter months with unique holiday oil lamps. They make wonderful hostess gifts and the semi-precious stones add a bespoke touch.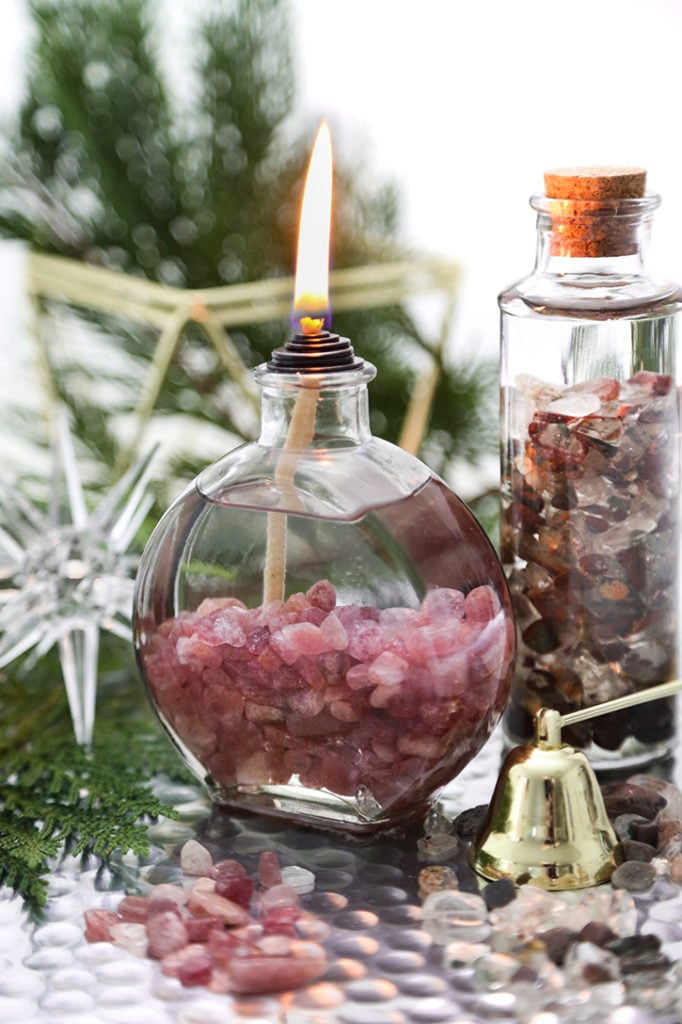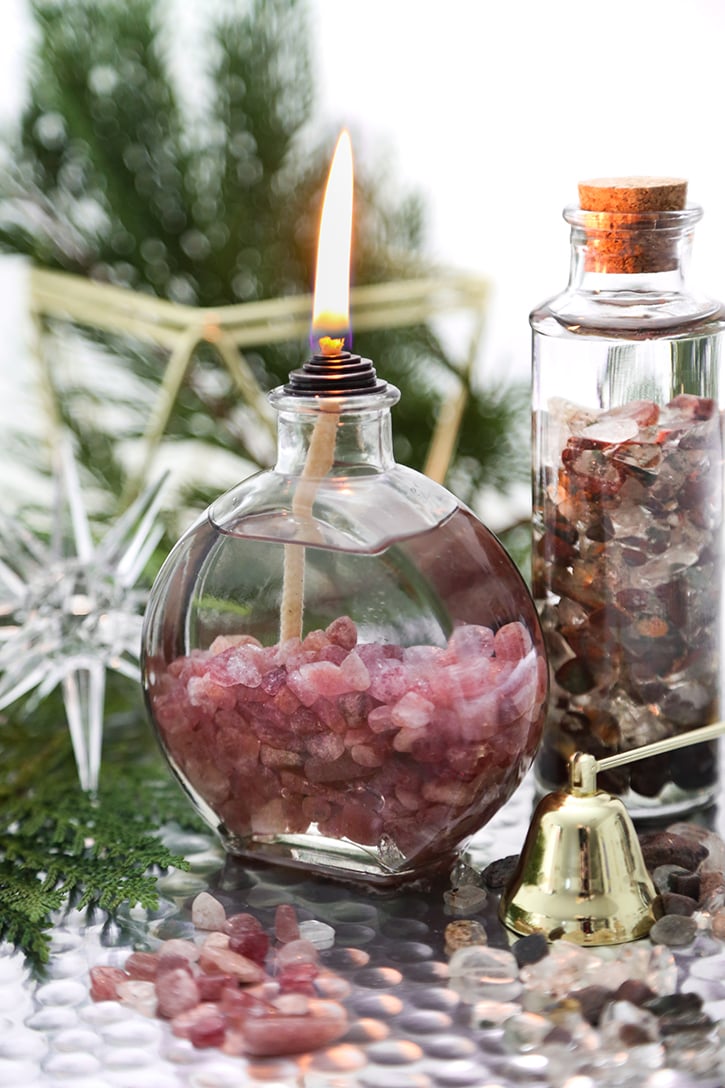 This is one of my favorite uses for small, clear, thrifted bottles – make them into oil lamps! It's so easy and a beautiful way to make your home feel cozy.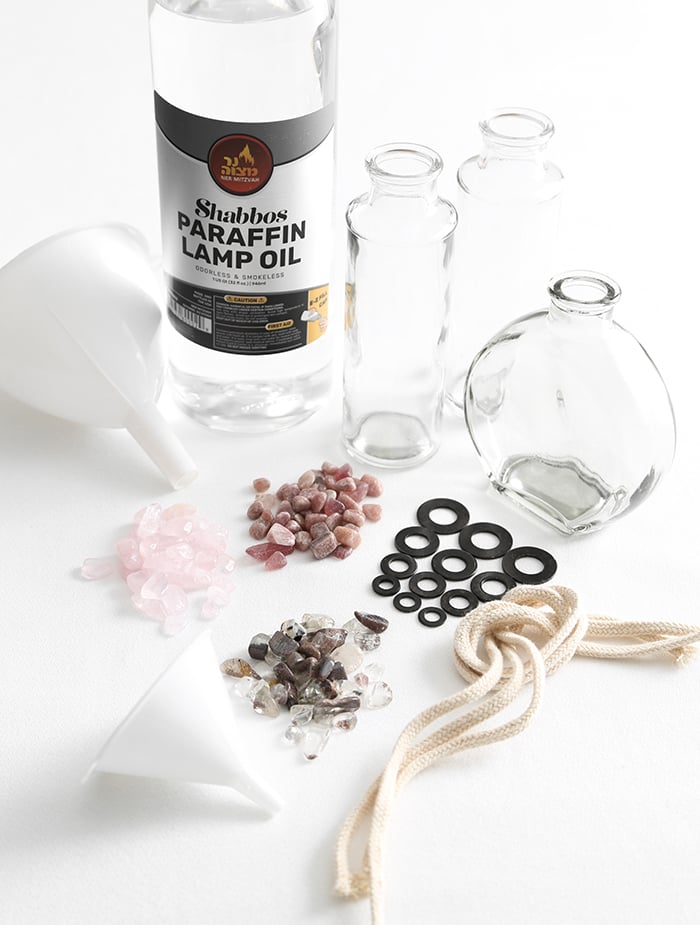 Different types of semiprecious stones hold different qualities in both beauty and meaning. I chose three types for my lamps: rose quartz (love), ghost quartz (luck), and strawberry quartz ( calm).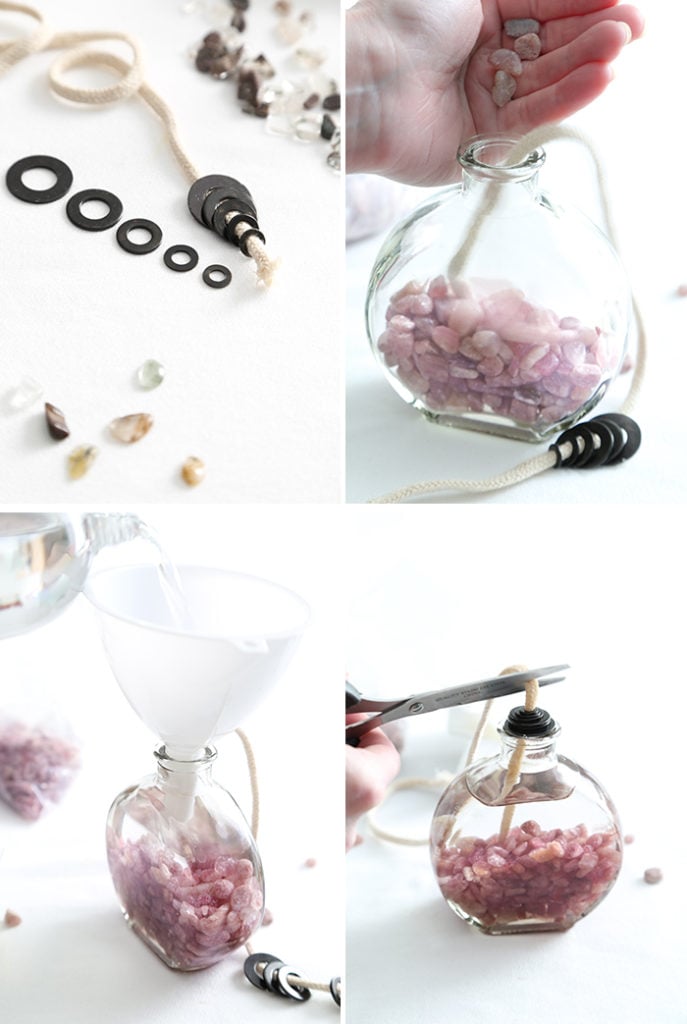 You'll need cotton wicks, but if you can't find any locally, then you can use cotton shoestrings with the plastic shealths removed. Parrafin oil at most well-stocked grocery stores, and certainly at your local hardware store.
I used graduated washers from the hardware store as a wick holder, but you could use a large glass bead with a hole through the center.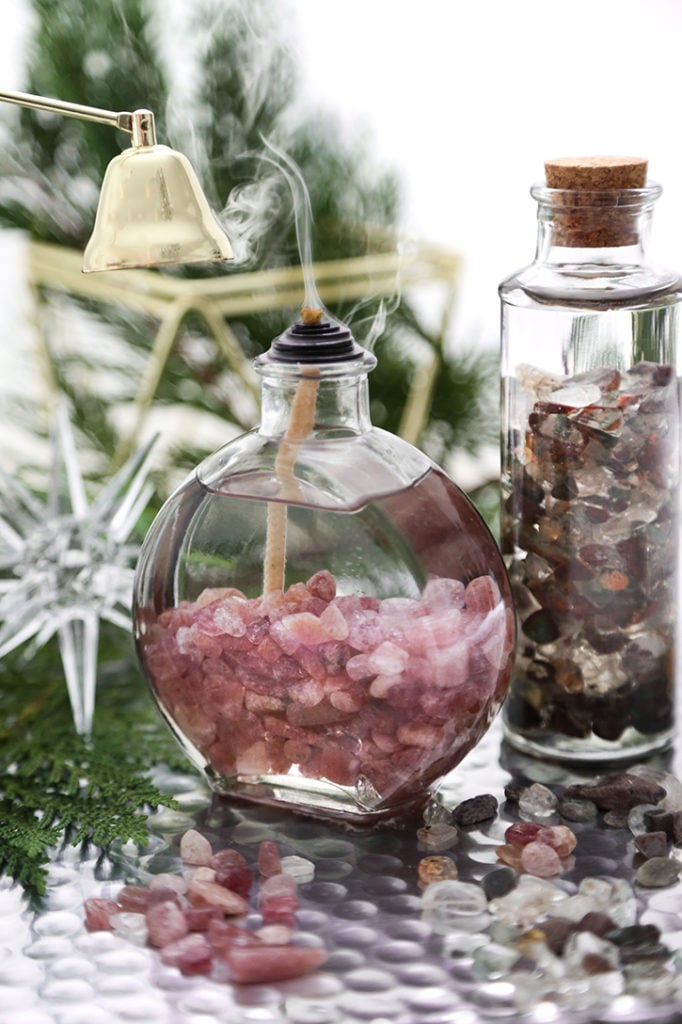 Fill your lamp and then light the wick! These are especially pretty on a mirrored or reflective surface.
If you're gifting a lamp, a pretty candle snuffer makes a lovely accompaniment.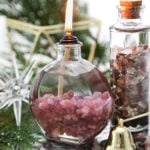 Print Recipe
DIY Semi Precious Stone Oil Lamps
Use a variety of bottle shapes and semi-precious stones to make one-of-a-kind gifts.
Ingredients
1

glass bottle

1

candlewick

2/3

cup

semi precious tumbled stone chips

1

heat-resistant bead or washer

(Use glass, stone, or metal beads. Do not use plastic or ceramic beads.)

funnel

2/3-3/4

cup

parrafin lamp oil
Instructions
Wash the glass bottle and let it dry completely.

Place the candlewick into the bottle.

Fill the bottle to the desired level with the semi-precious chips.

Using a funnel, fill the bottle with lamp oil.

For the wick holder, thread the washer(s) or the bead through the top wick so that it rests inside or just on top of the bottle lip.

Trim the wick to 1/8 inch above the wick holder. A short wick prevents excess smoke.

Allow 10 minutes for the wick to absorb the oil before lighting.
Variations:
Scent the lamp oil with a few drops of essential oil.

100% cotton shoelaces can be used for the candlewick.

Use seashells, charms, dried flowers, spices or glass marbles to fill the bottles.
Notes
For gift-giving, fill the bottle with the semi-precious stones and close with a cork. Provide a small bottle of parrafin oil and a wick threaded with the wick holder alongside the bottle.