These glam wine bottles are very easy to make using any bottled wine, and they're a memorable way to add some sparkle to your Valentine's Day (or Galentine's Day) celebrations!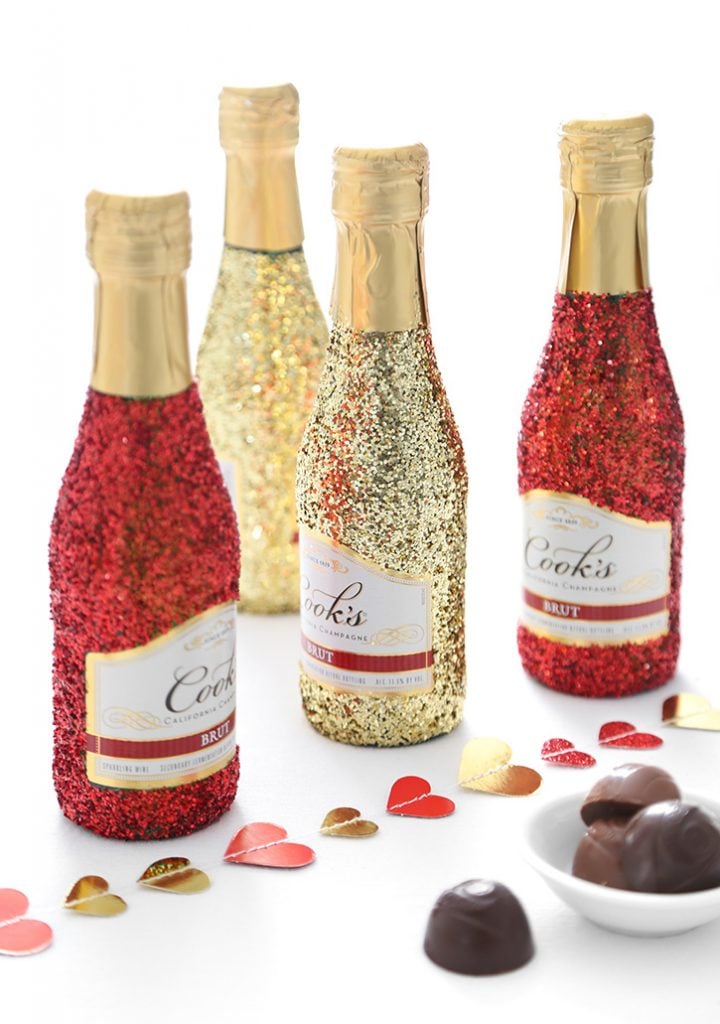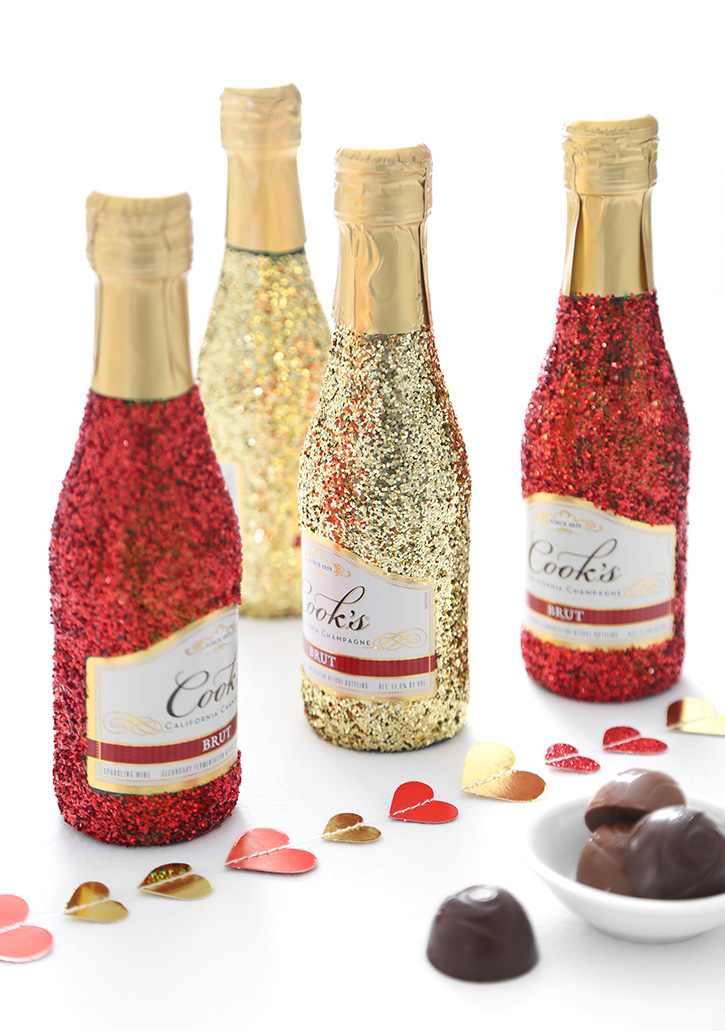 To get started you'll only need 5 supplies, and that's including the wine bottles!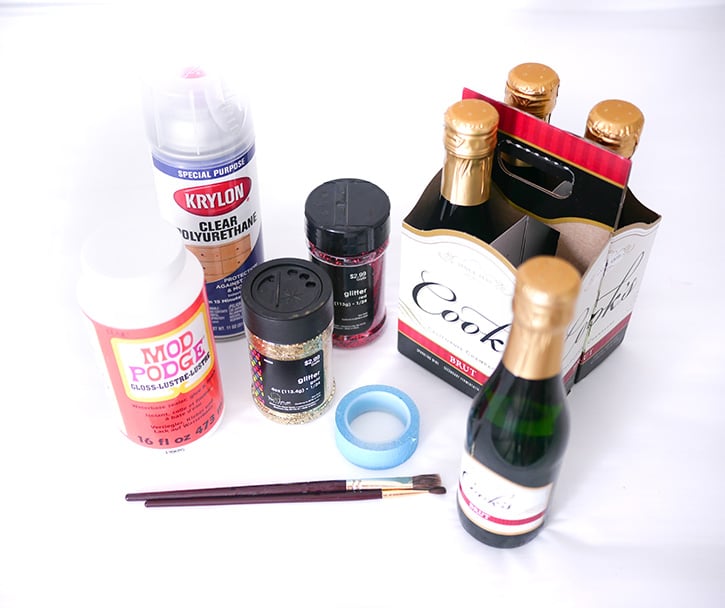 You'll need Mod Podge, clear polyurethane, two sizes of brushes (one for brushing on Mod Podge and a smaller one for touch-ups), painter's tape, and wine bottles of your choice. We chose these cute mini champagnes that come in a case of four. And most importantly, GLITTER! The coarser, larger flake glitters are the most eye-catching. We love gold and red from Treehouse Studio.
First of all, mask off the labels and any foil sleeves with painter's tape, just around the edges, to protect them. Labels can be kind of delicate so you might even want to stick the tape to your clothes to make it even less sticky before you put it over the label. Next, paint over the glass with the Mod Podge in sections (but leave the bottom clear).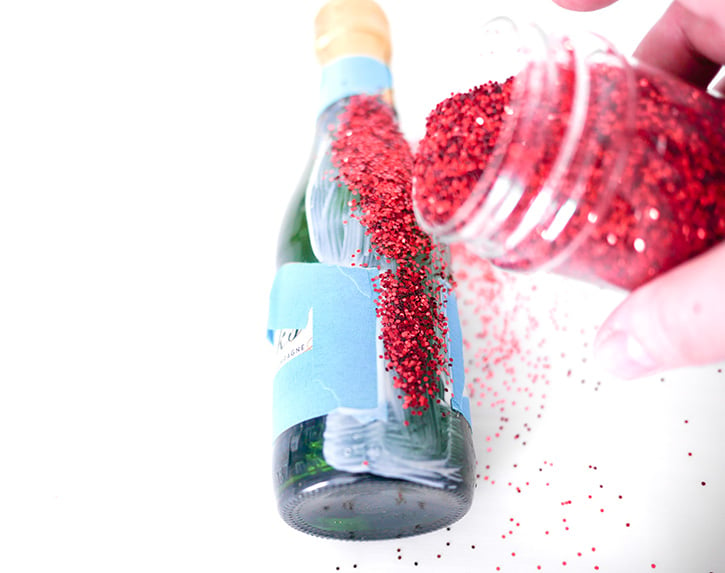 It's good to cover your work surface with a large piece of paper, even newspaper will work for easy cleanup. Pour the glitter on each section as you go, and pour it on really thick!
Stand the bottle up and give it a few taps to knock off excess glitter. When you're finished working with each color of glitter, pour the leftovers back into the container.
The smaller brush is good for touching up areas that need more coating, so that the bottles are covered evenly. Once the bottles are completed, let them set with the painter's tape still on them for about 20 minutes. While the Mod Podge is still damp, carefully peel off the painter's tape. You can still go back and touch up areas that the tape might peel the glitter off of.
Let the bottles stand for a few hours or even overnight, so that the coating can dry thoroughly and glitter will stay put. Then, take the bottles to a well ventilated area (you might want to wear a dust mask for this step) and coat the glitter with clear polyurethane to protect it.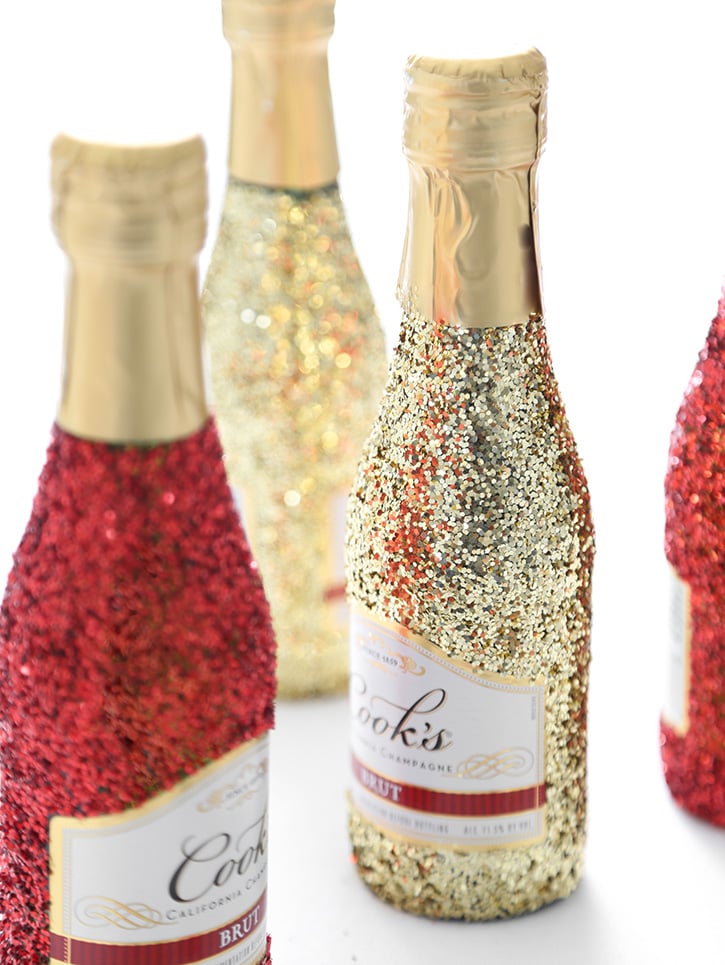 You'll end up with an expensive looking, custom look for bottles of wine to make the occasion extra special! This is also a great idea for other important celebrations, like birthdays and anniversaries.